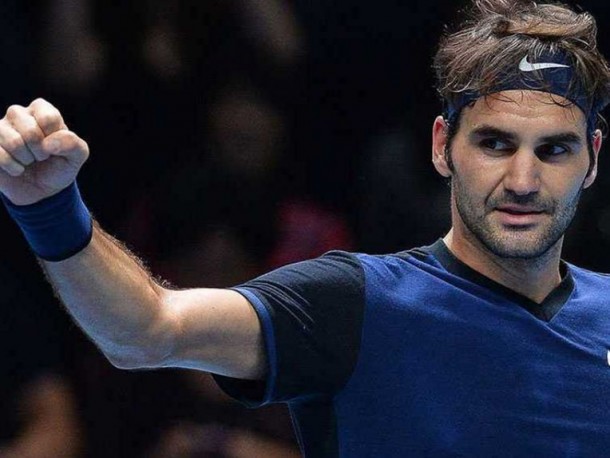 Roger Federer and Stan Wawrinka met once again in the semifinals of the ATP World Tour Finals, but this encounter was free from drama as Federer quickly moved past his compatriot with a 7-5, 6-3 victory. He will now face Novak Djokovic for the second time this week, having won their round robin match on Day 3 in a similarly dominating fashion.
Federer recovers from early service game troubles in first set
Federer started the match with a clear game plan to serve and volley on every point, including his second serves. While Federer was able to hold at love in his opening service game, he faced difficulties in his next two eventually going down an early break to Wawrinka. Not yet looking dialed in, Federer committed a double-fault, volley error and missed forehand while serving at 2-2 sending the game to deuce. On the second deuce point, Wawrinka hit a passing shot which hit the net cord, causing the ball to jump up forcing Federer to botch his volley. On the break point which followed, Federer hit a forehand which clipped the top of the net and went wide, handing Wawrinka an early advantage in the match. Wawrinka held easily in the next game to go up 4-2, but from this point Federer raised his game the match became one-way traffic.
No longer serve and volleying on every point but mixing up his strategies, Federer began to dominate on serve while looking sharp at the net. Wawrinka on the other hand, started hitting more errors, losing his break advantage serving at 4-3 with two forehand errors, a double fault, and a backhand which sailed long. Federer looked in control now that the match was progressing on serve once again, and he was able to go on the attack when he needed to break for the first set. Federer ended the set with an easy forehand winner followed by two forehand cross-court passing shot winners on mirror points which saw Wawrinka unsuccessfully trying to approach the net. Federer took the first set 7-5 successfully winning 11 of 16 net points and winning 64% of second serve return points.
Smooth sailing for Federer in set two
Carrying the momentum he ended with in set one, Federer quickly jumped to a 3-0 lead breaking Wawrinka in the second game of the set. Federer's net play and forehand continued to look impressive while Wawrinka struggled with consistency in his ground strokes. Federer missed an opportunity to take a 4-0 lead, sending a backhand long on a break point opportunity, but with a continued strong service performance, it didn't matter. The match moved at a quick pace with both players taking little time between serves and the points being kept very short thanks to Federer's constant net approaches. It was only just after an hour played in front of the O2 Arena crowd that Federer had his first match point on Wawrinka's service game at 2-5. The Swiss number 2 saved the match point with an inside-out forehand winner and managed to hold, but Federer calmly served out the match at love in the following game. Federer ended his impressive semifinal display hitting 30 winners to 19 unforced errors and winning 24 of 32 points at net.
Putting the past behind him
Twelve months ago, Federer reached the final with a semifinal win over Wawrinka and was set to play Djokovic, but a back injury forced him to pull out. With his current sharp form and victory over Djokovic in the round robin stage, Federer will not want to leave disappointed as he did last year. This will be Federer's 10th appearance in the finals of the tournament, having claimed the prize five times, most recently in 2011 with a victory over Jo-Wilifried Tsonga. Federer is not just playing to add another trophy in his collection, as a victory will see him rise to world number 2 overtaking Andy Murray.