Fresh off winning the biggest title of her career at the WTA Finals last month, Agnieszka Radwanska is hardly satisfied. The fifth ranked Pole and former Wimbledon runner-up has made her desire to win a grand slam title very clear.
In an interview with CNN correspondent and 1987 Wimbledon champion Pat Cash, Radwanska said "I'm going to do everything in my power to win a Grand Slam next year."
Radwanska's History at Majors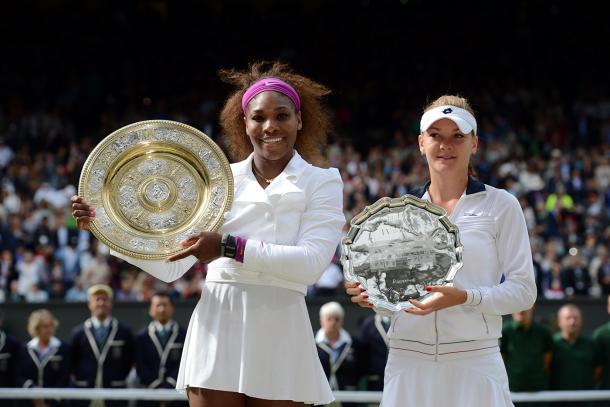 Serena Williams (left) and Radwanska after their 2012 Wimbledon final, won by Williams. Photo: lifestyleuncut.com
Radwanska has had a few close calls in majors in the past. She reached her first, and to date only grand slam final in 2012 at Wimbledon, losing in three sets to women's legend Serena Williams. Twice since, she has reached the semifinals at the All England club, most recently this past year where she lost in the semis to eventual runner-up Garbine Muguruza. She also reached the semifinals of the Australian Open in 2014, dishing out three bagel sets on the way including the third set of her quarterfinal against two-time defending champion Victoria Azarenka before falling to Dominika Cibulkova in the semi-finals.
Hurdles
Radwanska has shown flashes of brilliance in the past, most recently at the WTA Finals when she took out the second, third and fourth ranked players in the world in a row to win the title. She certainly has the capability of winning a grand slam title, it is a matter of finding that dominating form and peaking at the right moments.
In the past, Radwanska has struggled in big matches against power players who can hit her off the court. Radwanska is a brilliant counter-puncher who uses who superb court coverage combined with her super accurate ground strokes to break down opponents. However, she has a hard when she goes up against a player who can blast the ball, keep her on defense and prevent her from dictating. Hence winning slams can be tough for Radwanska.
Can She Win?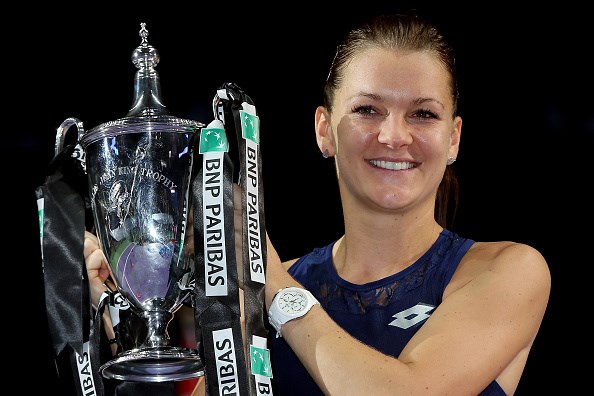 Radwanska with WTA Finals Trophy. Photo: livetennis.com
If Radwanska is to win a major, Wimbledon seems the most likely. She's had her best results there and grass appears to be her best surface. She has also done well at the Australian Open before and the slow hard courts in Melbourne would help her in theory, as she can out work opponents. Radwanska has always struggled at the US Open, which seems odd considering Radwanska's best results have come on fast courts. A fast hard court theoretically would work well for her, as it combines the fast elements she likes about grass with the slower elements that make it harder for her to be overpowered.
Finding a way to beat those power hitters that have given her trouble in the past over and over again in a major, which requires seven matches to win, is very difficult. However, her wins over power players like Halep, Muguruza (who beat her at Wimbledon) and arguably the tour's biggest hitter Petra Kvitova back in the WTA Finals not only should give her confidence, but is evidence that she knows how to break down these big hitters. Now she just needs to do that at a major.