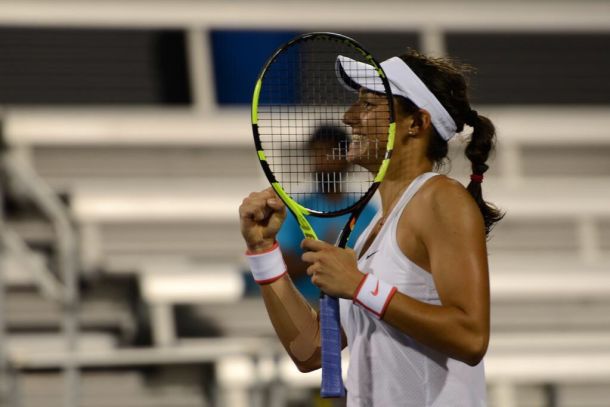 Caroline Garcia earned the biggest win of her career on Wednesday night, defeating two-time Grand Slam champion and world number 4 Petra Kvitova 7-5, 4-6, 6-2 at the 2015 Western & Southern Open.
Before the Match
Garcia and Kvitova had played twice before with Kvitova winning both meetings in straight sets. All of their previous meetings were played on hard courts so many were expecting the Czech to win this match.
Last week in Toronto, Petra Kvitova revealed that she had been struggling with mononucleosis in 2015, causing her to miss the short American hard court swing in March. On a humid night in Cincinnati, could Kvitova - who suffers from asthma - be struggling?
Garcia Takes Tight Opening Set After Two Hour Rain Delay
Coming into this match, both players were fully aware of the fire power that the other possesses and as a result, this could be one of the more hard-hitting matches of the season. Before the match even started, rain caused the players to wait an extra two hours before finally getting started.
When they did, both players served and hit incredibly well. With both players having chances to break the other's serve, the server was able to erase all of these break points until a crucial point during the 11th game of the first set. On her third break point opportunity, thanks to a somewhat lucky return, the Frenchwoman was the first player to break. From there, Garcia was able to consolidate the break thanks to some unforced errors from the Czech and some great serving from herself. She would win the first set 7-5.
Kvitova Opens Up Early Lead, Garcia Comes Back, Kvitova Too Strong in the End
To begin the second set, Kvitova was eager to get off to a good start. With a hold and break of serve at 15, the Czech was off to a perfect start. Using her lefty serve out wide in the advantage side effectively, the world number four was able to consolidate the early break. In the next game, the Czech had two chances to break but Garcia erased them both. But after hitting some incredible return winners, Kvitova converted her third break point of the game, going up a 4-0 lead. Could we be going three sets in this match?
Rattled but still positive, Garcia managed to get one of the breaks back on her third attempt of the game, thanks to a costly double fault from Kvitova. Again in the next game, the former Wimbledon champion had chances to break but they were quickly erased by her younger French counterpart. This time, Garcia was able to hold serve.
Now trailing by only one break of serve, the WTA Rising Star had the momentum of her side. Playing and swinging more freely now, Garcia was able to get cleaner strikes on the ball that rushed Kvitova, causing more unforced errors from the Czech. It had been a terrible day of serving so far for the world number four and another double fault down break point just rubbed salt into the wound. Garcia had recovered both breaks of serve and trailed 3-4, on serve. Thanks to some more unforced errors from Kvitova, Garcia held.
Now tied at 4-all, the Czech number one was desperate to make something special happen so she could stop the streak of games against her. With better and more consistent play from the world number four, she managed to do just that. The next game proved to be very important as a costly double fault from Garcia and some more sublime return winners from Kvitova, the set belonged to the two-time Grand Slam champion. She won it 6-4.
Garcia Capitalizes on Kvitova's Struggles
Focused and more determined than ever, Garcia managed to break Kvitova's serve in the first game, for the fourth time in the match. Understandably, the youngster looked fresher than her opponent who was battling asthma, the humidity, as well as Garcia. In an attempt to shorten as many points as possible, the Czech went for winners in positions where most players would have been a little bit more conservative. This led to even more unforced errors for Kvitova and Garcia held for a 2-0 lead.
A much-needed hold of serve for the former Wimbledon champion was needed here and she delivered to keep the lead at just one break. With a hold to love and a stunning backhand winner down the line, the Frenchwoman was not going to let this lead slip. In the next game, it was yet another case of third time lucky on the break point opportunities as Garcia broke her Czech counterpart's serve once more.
Now trailing 1-4, Kvitova was in desperate need of a break of serve to get back on track to making a come back. At the first bite of the cherry, the world number 4 recovered one of two breaks of serve. Despite this, Garcia continued to fight hard and with a glorious inside out forehand return winner, she found herself serving for the match. Making no mistake, Garcia held to 15 to get the biggest win of her career over world number four, Petra Kvitova.
What This Result Means
For Petra Kvitova, this is her third consecutive loss. This loss means the highest seeding she'll get at the U.S. Open will be five as she needed to make the semifinals to get a top four seed for the final Grand Slam of the year. After revealing that she had mononucleosis, there is a noticeable change in the Czech's energy on the court compared to her energy last year. Even though it is sad, she will find a way to work around her illness.
As of Thursday, August 20th, Kvitova is entered to defend her Connecticut Open title in New Haven. Even though she has been cleared to play, is it really worth it to risk your health? This is what the world number four will have to decide in the coming days.
For Caroline Garcia, this is only her second win in six matches. After defeating Sabine Lisicki in a high quality, hard-hitting match, the Frenchwoman had established some more belief in herself on a tennis court. It clearly showed on multiple occasions in this match. As far as the rankings are concerned, Garcia will move up to world number 35 with this win.
With the U.S. Open lurking around the corner, it is crucial for her to get a seeding so she won't need to face a top player in the first or second round. She can get seeded if she defeats Elina Svitolina in her next match and she'll just have to hope that Serena Williams is able to defeat Karin Knapp. With the final Grand Slam of the year in sight, this week will be and has been crucial for the young Frenchwoman.