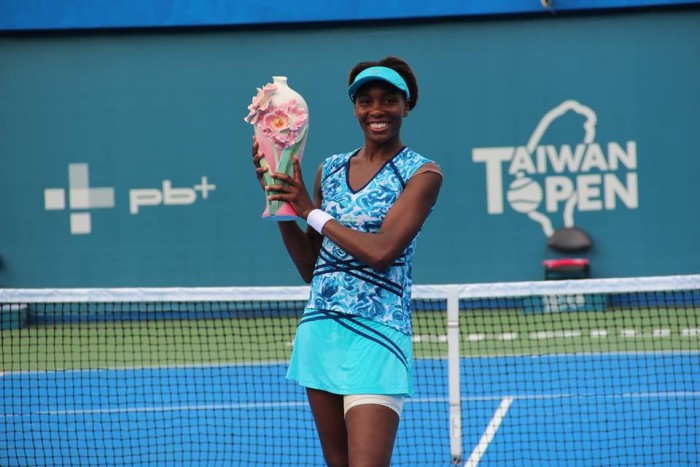 Top seed Venus Williams prevailed in a battle of the top two seeds on Sunday at the 2016 Taiwan Open, defeating second seed Misaki Doi 6-4, 6-2 to capture her 49th WTA singles title.
Williams Comes from A Break Down to Seal Opening Set
In the opening stages of the match, it was clear that Williams had settled into this match very quickly, striking the ball with great authority as Doi, the lesser experienced of the two, struggled to find her footing. Taking full advantage of a few early jitters in her Japanese counterpart's game, Williams broke at the first time of asking and jumped out to an early 3-0 lead.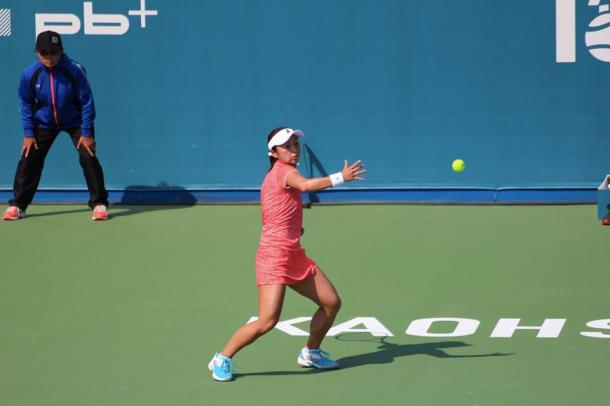 In a crucial fourth game, Doi found herself staring down yet another break point from the service line, but saved it courtesy of a lucky net cord winner. That one point seemed to change the momentum of the opening set completely as the Japanese number one would go on to hold, before recovering the early break not long thereafter. Within a matter of minutes, Doi found herself from 0-3 down to restore parity with Williams at three-games-apiece. As the set progressed, the 24-year-old seemed to grow in confidence, and began to produce some of the hitting that saw her dash the hopes of home favourite Hsieh Su-Wei a little over 24 hours ago. As Doi's relished the occasion, Williams seemed to falter under pressure, and found herself broken for the second time in succession.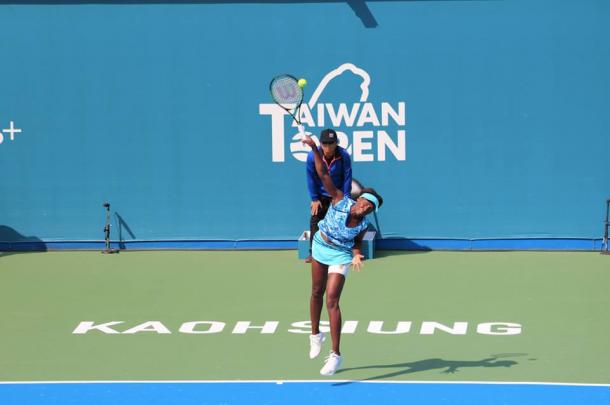 However, order would soon be restored as the top seed broke straight back, before edging her nose back in front to lead 5-4, with some massive serving and hitting. But when push came to shove, this time it was Doi who faltered at the worst possible moment. Beginning to play more high percentage tennis, it was only a matter of time until Williams converted her third set point to break and take the opening set 6-4 by the skin of her teeth.
Williams Overcomes Early Setback to Cruise to Victory
In contrast to the opening set, the second set began with a pair of breaks as both women's struggles to find their rhythm from the service line had returned. However, both players were able to overcome the early setback as a trio of holds were exchanged, before Williams began to apply the pressure from the receiving end once more. Despite not executing her game plan as well as she would have liked, Williams stayed calm under pressure, and saved all three of Doi's game points before converting her first break point, thus opening up a sizeable set and 4-2 advantage. The question now was -- could she close it out?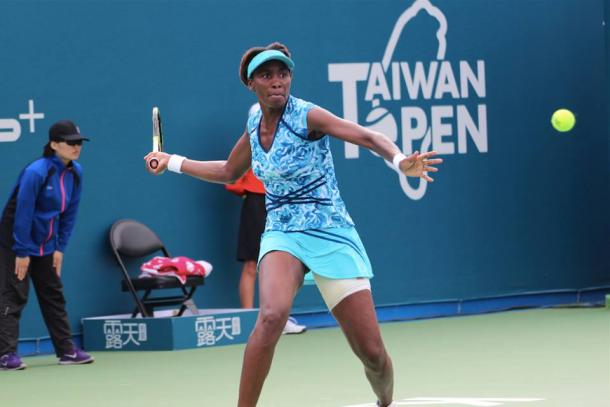 As the finish line got ever so closer, Williams inevitably tensed up as she quickly found herself staring down a trio of break points -- all at different stages of the game -- shortly after gaining the upper hand.
However, like all great champions, the former world number one refused to back down, utilizing her big serve and heavy ground strokes to full effect to save all three break points en route to consolidating the break.
Those missed opportunities came back to haunt Doi in the following game as the Japanese woman was unable to find a valuable answer to Williams' power, and the result was never in doubt from there; Williams sealing the deal with a beautiful backhand cross court winner to cap off a hard-fought 6-4, 6-2 victory in an hour and 27 minutes.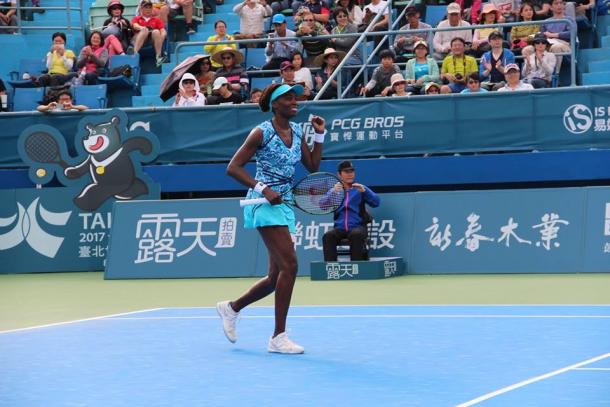 A Look at the Final Match Statistics
Statistically speaking, it wasn't the prettiest of matches from Williams, it must be said. However, she got the job done and did exactly what she needed to do to be successful against Doi, even if her execution did not always work in her favour. Behind the 52% of first serves she made, the world number 12 won 68% of the points behind her first delivery, but won only 48% of her second serve points. In contrast, Doi made 58% of her first serve points but only had a 52% success rate behind her first delivery and a poor 32% success rate behind her second. Williams was also the one who was being more proactive, sticking to her guns and going for her shots to create break point opportunities. Of the twelve opportunities she created, the top seed converted six of them, while Doi only converted three of the nine opportunities she was presented with.
Williams: It's Wonderful To Have Women's Tennis in Taiwan
"It's wonderful to have women's tennis here," Williams said during her speech. "It's been too long, it's the first time in 22 years."
"It's my first time in Taiwan, so thank you for making me feel so welcome and thank you for making me feel at home."
"I'm gonna invite my sister… Maybe next time we can play," Williams added, making the crowd erupt in a wave of applause and cheers.
Venus Williams' 49th WTA singles title puts her at seventh on the all-time list, as she closes in on the likes of Monica Seles and Lindsay Davenport, who won 53 and 55 titles, respectively.