 1990 had seen a slight power shift in women's tennis. While Steffi Graf remained the number one player in the world, she only won one major and it appeared as though the powerful German could be challenged. And a new challenger did emerge. Sixteen-year-old Monica Seles emerged as Graf's top opponent, winning the French Open and climbing up to world number one.
In 1991, the roles would be reversed, as Seles would go on a tear as assert herself as the tour's new top player. At only seventeen years old, Seles would overthrow one of the most dominant tennis players in history and had the best season of her career, claiming her spot as one of the game's best.
By the Numbers
Photo: AFP
Seles went 74-6 in 1991, the most matches she would win in a single season in her entire career. She reached the final of all sixteen tournaments that she played, winning ten of those finals. Three of those were Grand Slams, going undefeated in Grand Slam play. She rounded out her dominant year by winning the year-end championships for the second year in a row. In March, she reached number one in the world. She and Graf would battle for the top spot all year, but Seles would hold on to end the year ranked number one.
Highlights
Perfect in Majors
At seventeen years old, Monica Seles joined an exclusive club of tennis players who did not lose a match in Grand Slam play in a single season. Seles won all three Grand Slam tournaments she entered, going a perfect 21-0. She was unable to contend for a grand slam because she missed Wimbledon due to shin splints. Seles did luck out with draws, never having to face Steffi Graf in Grand Slam play in 1991.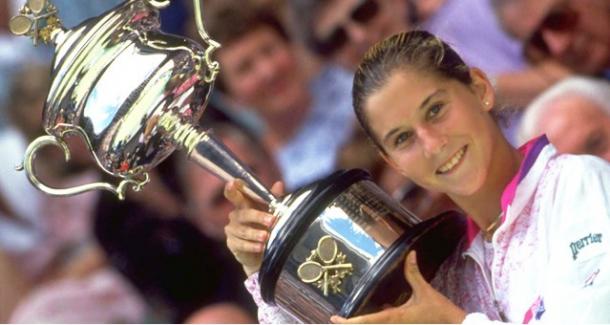 Seles after winning the Australian Open. Photo: WTA/Getty Images
Seles could not have started the year any better, winning the Australian Open. Seles was playing in Melbourne for the first time, which makes her title even more impressive. She made history in Melbourne, becoming the first woman in the Open Era to win the Australian Open after saving match poing, having survived a scare in the semi-finals against Mary Joe Fernandez. Seles followed her dramatic title run in Melbourne by defending her French Open title with a dominant run. Shin splints kept her out of Wimbledon, but she returned in New York and battled her way to her first US Open title.
World Number One
Seles' breakout in 1990, combined with Graf's struggles, put the number one ranking up for grabs. On March 11th, 1991, Seles took the top spot away from Graf for the first time in three and a half years. At the time, Seles was the youngest person ever to be ranked number one in the world. She was also the first tennis player from Yugoslavia to be ranked number one in the world. Graf and Seles would exchange the top spot five times in 1991 until Seles claimed it for good after winning the US Open. She would not surrender it until her 1993 stabbing.
Career Best Season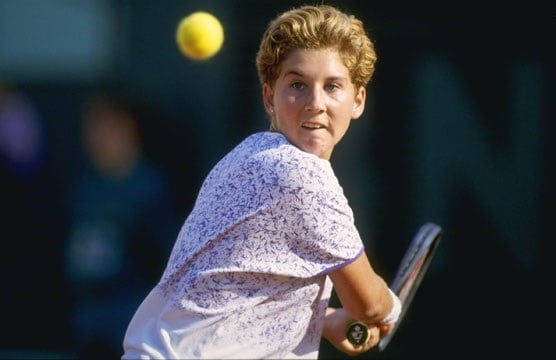 Photo: WTA/Getty Images
Statistically, 1991 was and remains Seles' best season. Her ten titles were a career high and were matched in 1992, but never beaten. Her sixteen finals were a career high, and 1992 was the only time in Seles' career that she would reach the final of every tournament that she played. It was the only year in her career that she would win all her matches in grand slam play, although in 1992 she played in all four majors, still winning three.
Why is it So Great?
Stopping Steffi
Steffi Graf had been the undisputed Queen of tennis since 1988 and had held the number one ranking since 1987. While some women had pushed Graf a little bit leading into 1991, she still held on to the top spot. Seles would become the main challenger to Graf's reign, eventually surpassing the German in 1991. In 1990, she had emerged as a challenger and was the first legitimate challenger to Graf's dominance since Martina Navratilova in 1987.
When Seles claimed the number one ranking, she ended the longest reign at number one in the Open Era at the time. Graf had been number one for 186 weeks, a little over three and a half years at the top. That remains the record for the longest stint at number one by a woman and the second longest overall (Roger Federer was number one for 237 consecutive weeks).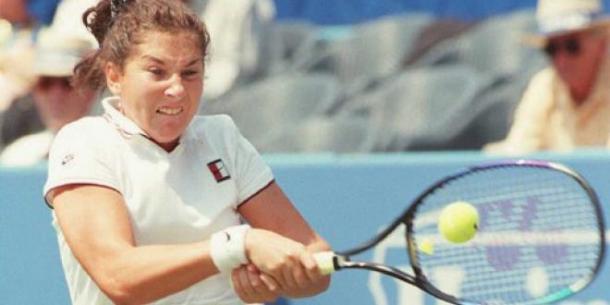 Photo: Tim Clary/AFP
By winning three slams to Graf's one in 1991, Seles became the first woman not only to win more slams than Graf since 1987, but became the first woman to win multiple grand slams in a season other than Graf since Navratilova won a pair in 1987. When Seles reclaimed the number one ranking in September 1991, she cemented herself as the best player on the WTA tour, officially ending Graf's first era of dominance.
Ironically, Seles did not beat Graf in 1991. They played twice, with Graf winning on both occasions. However, Graf did lose early more often than Seles, meaning that Seles did not get many chances to play Graf while she was player at her highest level.
Near-Slam
In 1991, Seles fell one major short of a Grand Slam. However, that was because shin splints kept her out of Wimbledon. Seles still managed to win all the majors that she entered that year, a perfect 21-0. She was the fourth woman in the Open Era to go undefeated in grand slam play, joining Billie Jean King as the only other player to go 21-0, missing the fourth slam preventing her from completing the Grand Slam.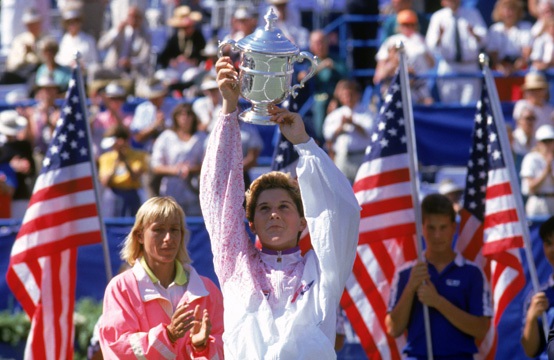 Seles victorious at the US Open. Photo: WTA/Getty Images
At the time, Seles was the youngest tennis player to win three Grand Slams in a season (since beaten by Martina Hingis) and remains the youngest to go perfect in Grand Slam play. It is unfortunate that injuries prevented Seles from attempting a grand slam. There has been debate as to whether or not she could have won Wimbledon and completed the grand slam in 1991. She did reach the final in 1992, but lost the biggest blowout final in Wimbledon history at the hands of Graf. However, with Graf struggling in 1991, it is possible that Seles could have pulled it off.
The New Queen
The idea of someone else ruling the tennis tour after years of Steffi Graf's dominance seemed impossible. But with Graf struggling with injuries and form, it would be Seles who would take advantage and take control of the game. 1990 would open the door, and in 1991 she took absolute control of the game. 1991 kicked off the age of Monica Seles.
While it was statistically the best year of her career, 1991 was just the beginning for Seles. She matched most of the results in 1992, winning three Grand Slams again, this time reaching the fourth final. Most importantly, she would not surrender the number one ranking after winning her 1991 US Open title until her tragic stabbing in April 1993. If not for that crazy German fan in Hamburg, who knows how long Seles would have dominated the tour considering that she was still a teenager at the time. But, her 1991 remains a turning point in tennis history.