 Milos Raonic defeated David Goffin 6-3 3-6 6-3 on stadium one to book his spot in the final of the BNP Paribas Open on Sunday.
Milos Raonic lands first blow
Milos Raonic and David Goffin were going head-to-head in a bid to land a place in Sunday's BNP Paribas Open Final. Raonic started the match by holding to love, with Goffin also holding his service game pretty comfortably.
At 1-2 on the Belgians serve, Raonic had three chances to break the world number 18 as he raced away to a 0-40 lead. David Goffin hit a forehand into the net and the Canadian had drawn first blood in the semifinal. He then consolidated to go 1-4 up in the opening set. Raonic did not look back and would serve it out and take the first set 3-6.
Goffin levels
Both players started the second set by holding serve. With Raonic serving, Goffin found an opening as he hit a spectacular forehand shot down the line, he then broke for 3-1 as the Canadian faultered hitting a long forehand. In the next game, the 25-year old Canadian broke back immediately, striking a backhand down the line that Goffin failed to retrieve. Raonic held his next service game to take the set to 3-3.
At 3-4 on the Raonic serve, Goffin took advantage of a poor game with a break point chance at advantage. The 25-year old Belgian forced the error of the forehand side from Raonic and broke once more, this time it was significant as he would be serving for the second set. Goffin ran away to a 40-0 lead, but Raonic saved two set points, but on the third Goffin served it out to take the set 6-3 and level the match.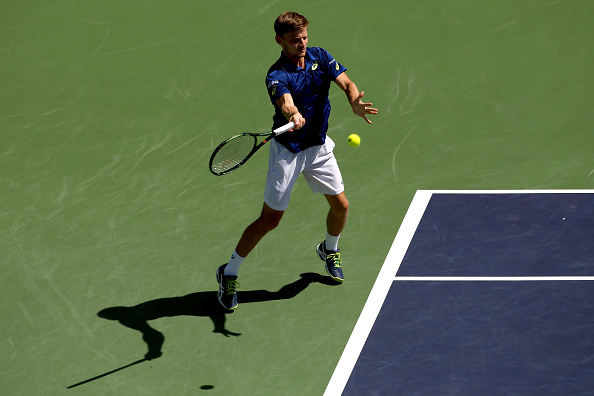 Milos Raonic takes third set, books his place in the final
Raonic held to start the third set, and in the following game, the Canadian broke at 15-40 and consolidated for a 0-3 lead to take full control of the final set. Goffin finally got on the board for 1-3. At 1-4 in the set, the Belgian came from 0-30 down to hold. Raonic was in full control at this point, pushing Goffin in every game.
Raonic and Goffin held their next service games and the 25-year old Canadian found himself serving for the set. Raonic got ahead to a 40-15 lead and tucked away match point to reach his third career Masters 1000 Final. The previous two were against Rafael Nadal at the Canadian Open where he made his breakthrough, and Paris Masters against Novak Djokovic, losing both in straight sets.
Stats
David Goffin served three aces and five double-faults. The Belgian won 70% of points on his first serve and only 40% on his second. He didn't save any of three break points he faced, but did manage to break twice out of three, giving him 33%. He won a total 46% of total points.
Milos Raonic hit 11 aces and five double-faults. He won 82% behind his first serve, but struggled only winning 32% on his second serves. The Canadian saved one break from three giving him 33% and on break points won he was perfect, breaking three out three times. He won 63% of total points.
Final opponent
Milos Raonic will play Novak Djokovic in the final of the BNP Paribas Open. Djokovic overcame Rafael Nadal in straight sets. The two have met five times with the world number one coming out on top every time. In their last meeting, Djokovic won in straights at the 2015 Australian Open quarterfinals.