 For modern tennis fans, it is very easy to forget that Andre Agassi, one of the greatest and most popular tennis players ever to play the game, seemed to be at the end of the road in the mid 1990s. Personal problems saw Agassi fall out of the top 100 in 1997 and it seemed as though Agassi, an ever-promising talent, would end his career with a mere three Grand Slams.
But then something amazing happened. A tennis player, who hated the sport he played and seemed to have no motivation to continue, found a desire he had never had before. Andre Agassi chose to continue his career, fight back from obscurity and mount one of the greatest comebacks in tennis history, culminating in his spectacular 1999 season.
By the Numbers
Agassi re-found his top form in 1999, going 63-14, the third most match wins of his career. His 82% winning percentage was the second highest of his career after his 1995 season. He won five titles for the second year in a row. However, in 1998, his biggest title was the International Series Gold (equivalent of today's ATP 500) event in Washington. In 1999, he won two Grand Slams and a Masters 1000 event. Agassi returned to number one for the first time since 1996 and finished the year at number one for the first time in his career.
Highlights
Best Year at Majors
Even in his prime, Andre Agassi was inconsistent at majors. Twice before he had reached two Grand Slam finals in a single season, but in 1999 he reached a career-best three Grand Slam finals during the season. More importantly, he won two Grand Slam titles in a season for the first and only time in his career.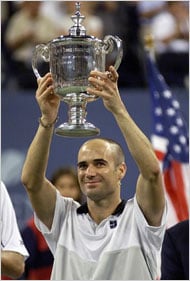 Agassi victorious at the 1999 US Open. Photo: Stan Honda/AFP
His hot run in the majors started at the French Open, where he finally cleared the hurdle he had tripped over several times previously, winning the one slam that eluded him to complete his Career Grand Slam. He rode the confidence gained in Paris to London, where he reached his second Wimbledon final. After putting up a great fight in the first set, he fell to Pete Sampras, who claimed his sixth Wimbledon crown. After the match, Sampras would say that the first set of their final was the best Agassi had ever played against him. Agassi, who had a history of struggling after big losses, did not miss a beat, bouncing back to win his second career US Open title.
The amazing thing was that Agassi's great form in majors did not end in 1999. He went on to win the 2000 Australian Open, reaching four consecutive major finals, winning three out of four. He went 27-1 over four majors and Agassi was happy to point out in his autobiography "Open" that only Rod Laver, Margaret Court, and Agassi's future wife Steffi Graf had done better in the Open Era.
French Open
The French Open was not only the completion of Agassi's epic comeback, but it was in fact the pinnacle of his entire career. By winning the French Open, Agassi became man in the Open Era, and only fifth ever, to complete the Career Grand Slam. He was also the first an since the grand slams were played on hard courts to complete the Career a Grand Slam. And perhaps most importantly, he became the first man in history to complete the Career Golden Slam.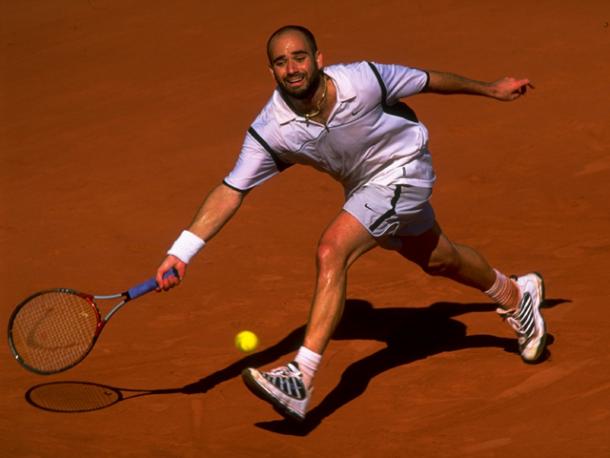 Photo: Getty Images
The 1999 was the culmination of the amazing comeback that had seen Agassi fall out of the top 100 in 1997 when it appeared as though his career was over. Entering Paris that spring, Agassi had not won a Grand Slam title since the 1995 Australian Open. Moreover, of all places for Agassi to make his return, Roland Garros seemed the least likely. He had suffered a handful of crushing defeats in Paris before, including finals losses in 1990 and 1991. Agassi himself believed he would never win the French Open. In fact, he wanted to skip the 1999 French Open and had to be talked into playing by his coach Brad Gilbert.
Considering that Agassi did not want to be in Paris, he played like a man inspired. In seven matches, he came back from a set down four times. That included his fourth round victory over defending champion Carlos Moya, who he defeated in four sets after dropping the first. Agassi also came back after dropping the first set of his opening round match against Franco Squillari, and came back after trailing two-sets-to-one in his second round match against home-hope Arnaud Clement.
The last comeback was the biggest and most impressive of all. In the final, Agassi dropped the first two sets to Andriy Medvedev 6-1, 6-2. The giant Ukrainian was crushing Agassi and seemed well on his was to ending the American's historic bid. But Agassi dug deep, and turned the tables on Medvedev, roaring back to win the last three sets and claim the title with an improbable 1-6, 2-6, 6-4, 6-3, 6-4 victory which completed his Career Golden Slam.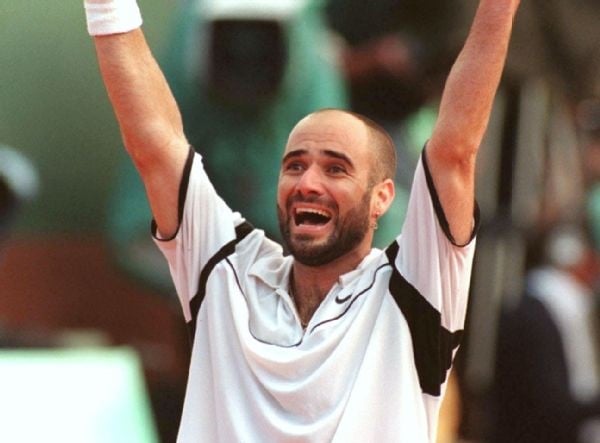 Agassi immediately after Medvedev's final shot went long. Photo: Henri Szwarc/Getty Images
The win was the culmination of all his hard work over the last two years to get back to the top and marked Agassi's return to superstar status. The win was not only redemption for his previous disappointments in Paris, but for all his struggles over the past three years. Agassi would return to Paris in November to win the Paris Masters event, becoming the first man since Ilie Nastase in 1973 to win both Paris titles in a single season.
World Number One
Despite losing the Wimbledon final to Sampras, just reaching the title match was enough for Agassi to reclaim the number one ranking for the first time since 1996. After having been ranked outside the top 100 a little over a year earlier, it was a remarkable for him to return to the top spot. He would lose it a few weeks later, but returned to the top of the rankings after winning the US Open in September and would not surrender it for a full year. He ended 1999 as the world number one for the first and only time in his career in 1999. Most significantly, he ended Pete Sampras' six-year reign as the year-end world number one.
Why is it So Great?
The Golden Slam
By claiming the French Open title, Agassi became the first man in history to complete the career golden slam, accompanying his 1992 Wimbledon title, 1994 US Open, 1995 Australian Open and Gold Medal at the 1996 Olympics in Atlanta. Agassi was the second tennis player ever to complete the Career Golden Slam, the first being Steffi Graf.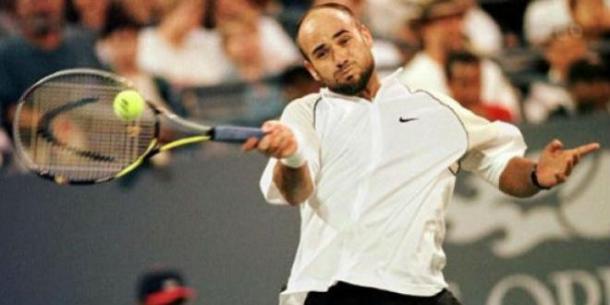 Agassi at the 1999 US Open. Photo: AFP
Agassi was the first man in history to complete the Career Grand Slam in the hard court era. All the previous men to complete the Career Grand Slam had done so at a time when all the majors were played on grass and clay. Only Rafael Nadal has since matched Agassi's Career Golden Slam on the men's side. However, the French Open title also completed Agassi's Career Super Slam (all four grand slams, year-end championship, Davis Cup, Olympic Gold), which remains an unmatched record in the men's game.
The Comeback
While statistically there have been better seasons than Agassi's 1999, it is what Agassi's 1999 season represents that makes it one of the greatest seasons in tennis history. Agassi's comeback is probably the greatest that the tennis world has ever seen and it culminated in his incredible run at the end of the decade.
After a crushing defeat at the 1995 US Open and some bad results in 1996, Andre Agassi's career was going in the wrong direction. He was having some injury issues and was seriously struggling with a lack of motivation. Throw some personal problems on top of that and it was a recipe for disaster. Agassi completely fell off the map in 1997, with his ranking falling as low as 141st in the world. To make matters worse, Agassi was struggling with personal issues which included his use of crystal meth. His career looked over.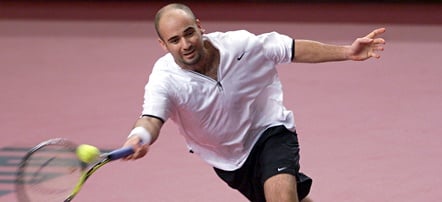 Agassi during his title run at the 1999 Paris Masters. Photo: FFT
But instead of giving up, Agassi made the decision to fight back. He chose to put in the work and fight his way back. This included playing events on the Challenger Tour. He got back in shape, found the motivation that he was lacking, and managed to get himself back on the main tour in 1998. However, he still was not at the level he had been before his collapse and still was not looking like a contender for the big titles.
That is what makes his 1999 season so spectacular. He quite literally brought his career back from the dead. All his hard work and personal perseverance resulted in some of the best tennis that not only Agassi ever played, but that the tennis world has seen in recent years. What Agassi managed to accomplish in 1999 after all he had been forced to overcome is nothing short of incredible. It was the most amazing and improbable comeback in tennis history.
The Legacy
Andre Agassi is remembered as one of the greatest tennis players of all time, and that is a direct result of his comeback and results in 1999. Had Agassi given up in 1997, he would have retired having only won three majors, with a 3-4 record in major finals, and having only spent 32 weeks at number one. Many of his best results came after the comeback and solidified his status as one of the game's greats.
After the comeback, Agassi would win five more grand slams, including his two in 1999, bringing his grand total to eight all time. His four Australian Open titles would be an Open Era record until 2015. He also spent sixty-nine weeks at number one in the second part of his career, more than double the number of weeks he spent before his fall from grace.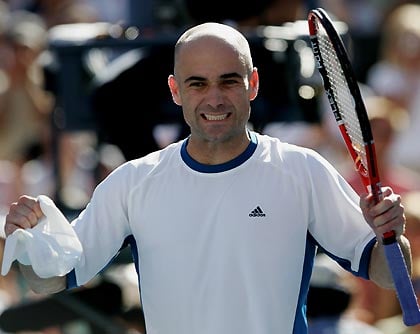 Agassi during his run to the 2005 US Open Final. Photo: Reuters
Andre Agassi is remembered today for his longevity. In 2003, Agassi became the oldest man ever to be ranked number one in the world, at 33 years of age, a record that still stands. He also became the oldest man since Ken Rosewall in 1974 to reach a grand slam final when he reached the US Open final in 2005, losing a tight four-setter to Roger Federer.
Agassi was one of the premier players on tour in the first half of the 2000s. He turned 30 in April 2000, meaning he was well into his thirties and was still contending for Grand Slam titles. In fact, he won a pair of Grand Slam titles in his thirties, the last coming at the 2003 Australian Open when he was 32. Most tennis players are in decline by their late twenties and retire in their early thirties. When Agassi turned 29 in 1999, he was just getting started.
If not for 1999, Andre Agassi would be remembered as just another pretty good tennis player. Instead, he is a legend. 1999 was a turning point for the man from Las Vegas, who came back from the tennis wilderness to cement himself as one of the best tennis players the world has ever seen.