 Roger Federer has decided to withdraw from Miami Open due to a stomach virus
Federer was to come back from a knee injury he suffered whilst bathing his twin girls, but the 34-year old has withdrawn from the tournament due to a stomach virus he has picked up.
Federer recently underwent his first ever surgery due to a knee injury that kept him out for eighth weeks, missing Dubai and Rotterdam.
The Miami Open was not in Federer's original plans when the season started, but made the decision to play after a lengthy layoff.
Lucky Loser has Place in Main Draw
The 17-time Grand Slam winner was to face Juan Martin Del Potro of Argentina in the second round on Stadium one in the night session, who himself has also comeback from a lengthy wrist injury.
The current world number three will now not take part in the tournament, but will be replaced by the 30-year old from Argentina, Horacio Zeballos who will go up against his countryman. Del Potro. Zeballos lost to Japanese Yoshihito Nishioka in the last qualifying round, but has been given a chance after the Swiss pulled out.
Previous results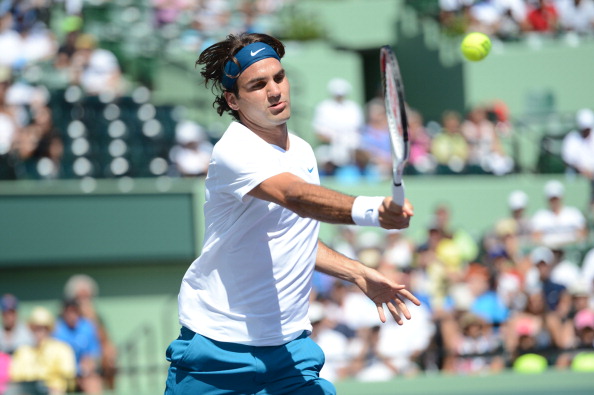 Roger Federer made his debut in Miami in 1999, losing to Kenneth Carlsen in round one and his first win came over Justin Gimelstob in 2000. Federer currently has a 44-13 record in Florida and was expected to make his 16th appearance. In his last visit two years ago, the father of four reached the quarterfinals, losing to Kei Nishikori.
Roger Federer has won this tournament on two occasions back in 2005 and 2006, but has not won the title since.
In a statement released to the Media, Roger Federer said, "I am very sorry that I have to pull out of the Miami Open with a stomach virus, I feel bad for the tournament and the fans as I have rarely ever had to withdraw at such short notice. I have not felt great for a few days, and unfortunately it got worse in the last 24 hours. I was really excited to have my comeback in Miami but I am in no condition to play. I tried to warm up this morning, but it was clear that I could not compete."