 Flavia Pennetta, who retired in the end of last year after winning the US Open and competing in the WTA Finals, is currently in Rio de Janeiro supporting her fiancé Fabio Fognini. There, she gave a press conference talking about the evolution of tennis into a powerful and physical sport, while in the same time citing the difference between Maria Sharapova and Serena Williams and the rest.
"I would like to see tennis, not just physical strength," Pennetta admits.
The Italian took food for thought from the her Grand Slam final in New York and spoke to the press for the evolution of the game. She admitted that the new generation is really powerful and the tennis players have become more professionals with diets and workouts that make them more complete athletes. However, she misses tennis at its purest type and she feels like we need more of this to protect the sport from getting lost.
Pennetta was known for her elegant playing style, possessing some really sharp shots despite not having the biggest muscles and physical characteristics. Many fans miss her beautiful two-handed backhand and even more are the ones who agree with Pennetta's talk about tennis becoming more power-centered. Especially, when few are the ones of the upcoming generation to be playing with less power and more variety and tactics like the old days.
Pennetta: "Maria Sharapova and Serena Williams are the strongest physically and mentally"
The US Open champion did separate Serena Williams and Maria Sharapova from the other players, admitting that they are in a completely different level. She said that they are the strong in both the mental and the physical aspects of the game, even though both can have bad days as human beings.
With Williams and Sharapova seeming to be the most dominant the past years from the active players around, Pennetta's declaration seems logical. Both are awesome fighters and really powerful players and have accomplished almost everything. Also, rarely do we hear about early round and surprising loses from these players and that makes her even more accurate.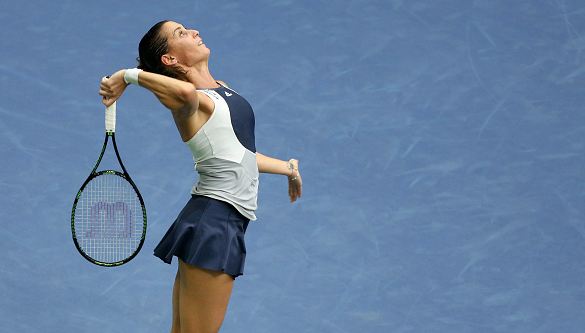 Pennetta is still in the rankings, even though she has retired. It is obvious that she has not asked to be removed, leaving to herself a window of opportunity to play in the Olympics if she changes her mind.