 Martina Hingis was recently interviewed by Tages Anzeiger. During the interview, the Swiss player talked about her compatriot Belinda Bencic as well as her doubles partner Sania Mirza. Hingis gave her thoughts on Bencic's recent injury, before suggesting that the youngster needs to take more care of her body. Hingis also denied that herself and Mirza are parting ways, after a Twitter post by Mirza sparked a lot of speculation.
Hingis Says Bencic Needs To Put Her Body Before Tennis
Bencic had to withdraw from the Swiss Fed Cup team and announced that she will be out for at least four weeks, due to a back injury. During the interview with Tages Anzeiger, Hingis gave her opinion on Bencic's injury and talked about what her young compatriot should do in the future to make sure she is as healthy as possible. Hingis said that Bencic needs to start putting her body first. "At some point your body says: "Ok, you have to put me before tennis," she said.
Hingis told the interviewer that Bencic made the wrong decision to play as many tournaments as she has so far this year. The 35-year-old said, "Instead of always playing tournaments, she should have practiced." Hingis ended by saying that as a tennis player you have to know that you do not "only have to play well or in a smart way."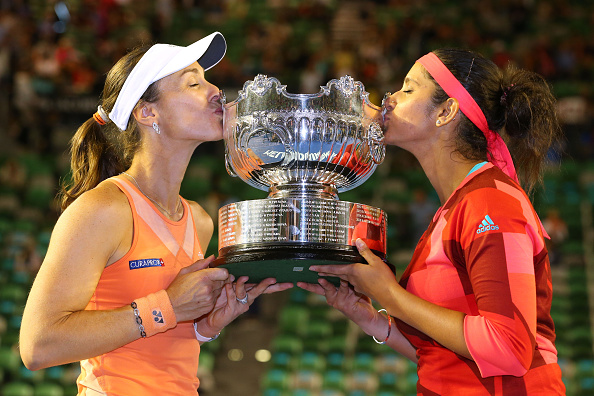 Mirza And Hingis Not Parting Ways
During the interview, Hingis denied speculation that she and her doubles partner are parting ways. The Swiss was questioned about her partnership with Mirza, following a tweet by Mirza which many assumed was suggesting a split. Talking about Mirza's tweet Hingis told the interview that Mirza is very poetic and philosophical. Hingis continued to say that, "I do not know anything," which for now dispels any rumors regarding the team.
Hingis said that the pair played a lot of tennis so they had to take a break. The 35-year-old and Mirza went on a 41 match winning streak before a couple of disappointing results occurred. They will play the upcoming tournaments in Stuttgart, Madrid, Rome and Roland Garros, hoping to get back to their winning ways. Hingis added that herself and Mirza "have to find ourselves" during these tournaments and that even though they do not believe that clay is their best surface they are "looking forward."