 Kei Nishikori, the second seed and the defending champion, stepped out on Pista Central Court to battle it out against Thiemo de Bakker in the round of 16 in this year's Barcelona Open. The Japanese tennis star has won 11 straight matches at the tournamnet, and he kept up his winning record after a straight sets win today. This was the pair's second meeting this year, and this time was no different than the last, Nishikori winning in an hour and 9 minutes.
Nishikori Breaks Early And Doesn't Let Up
It didn't look good for the Dutchman early on as Nishikori, with fantastic returns and aggressive net-play, got himself to a break point. A double fault from de Bakker would gift the second seed the game and the break lead. A comfortable hold from the Japanese star then consolidated the break, an amazing forehand down-the-line to get the 2-0 lead. The 102nd-ranked player in the world would then find himself with his own comfortable hold, a backhand shank from Nishikori to end the game. Trailing at 1-2, de Bakker would start returning fantastically, and earn himself multiple break points. But Nishikori was too good, a couple of back-to-back winners to win the tight game and save a couple break points, too. De Bakker would then go on to hold serve comfortably, a couple of body serves right at the Japanese to seal the deal. Multiple forehand winners from Nishikori would help him get the score to 4-2, in favor of the Japanese.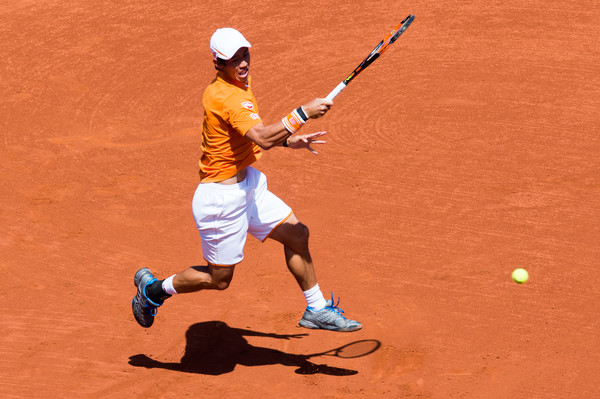 Both players would have comfortable service games as both of them seemed more confident on their own service games. On his first clay court match of the season, the Japanese tennis star was serving for the first set, up a break and 5-4. And a love service game for Nishikori would see him take the first set 6-4 in exactly 39 minutes.
Nishikori Takes The Match in One-Sided Second Set
The second set would start off with the Dutchman de Bakker to serve, and Nishikori would waste no time in break de Bakker to love to get the break lead already in this second set. The Japanese would then have another easy hold to consolidate the break and, just like in the first set, go up 2-0. De Bakker would them hold a tight service game, Nishikori obviously getting more comfortable on the de Bakker service games. Serving at 2-1, the two-time defending champion would hold serve again with ease, a backhand winner helping Nishikori get up 3-1. De Bakker would also hold serve, as uncharacteristic unforced errors made their way into the Nishikori game. The Japanese player would then hold serve, as multiple unforced errors starting coming from the Dutchman. Nishikori would then find himself up 40-0 on the de Bakker serve, as it seemed that de Bakker couldn't make a ball in. Another backhand error in the net from the Dutchman would give Nishikori his third break of the match, and a 5-2 lead. De Bakker would have some resistance on the Nishikori serve, but it wasn't good enough, as Nishikori found his way to match point. A backhand return that sailed long from de Bakker gave Nishikori the match 6-4, 6-2 in just under an hour and ten minutes.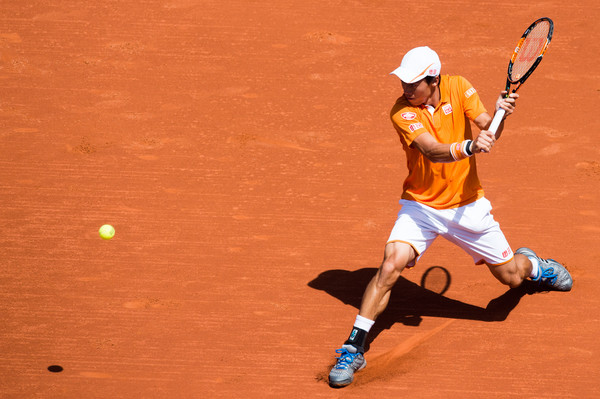 Match Statisics
Nishikori hit no aces or double faults, while de Bakker hit 3 aces and 2 double faults. The Japanese got 71% of first serves in, while the Dutchman only got 52% of his in. Nishikori also won 78% of his first serve points, while de Bakker was right behind him with winning 68% of his first serve points. Nishikori also won 100% of his break points (3 of 3), while de Bakker was 0% on break points (0 for 2) as he did not win any of his break points.
What's Next?
Next up for Kei Nishikori is Jeremy Chardy, as he defeated Victor Estrella Burgos 7-5, 6-2 on Tuesday. Chardy is the 13th seed and he is also from France.