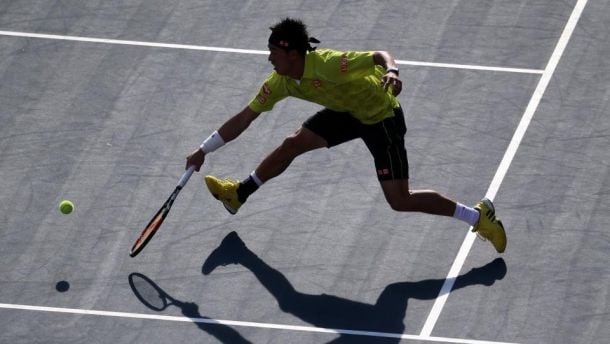 World number six Kei Nishikori has pulled out of the Swiss Indoors in Basel next week with a shoulder injury. Nishikori has suffered from multiple physical problems throughout the season, including a hip injury, and a calf injury that forced him to withdraw from Wimbledon.
Nishikori fell in the first round of the US Open, the semifinal of Tokyo, and the third round of the Shanghai Masters, so it's not been the end-of-season run he would have hoped for. The injury could not come at a worse time for the 25 year old, as the season (and his chances to qualify for London) are rapidly closing in. Nishikori, who is 52-13 this season, is looking to make his fifth appearance at the O2 Arena, where he reached the semifinals last year.
Nishikori's Fight For London
The Japanese player, who was a finalist in Basel in 2011, is still in the running for a place at next months's ATP World Tour Finals, but this withdrawal won't help his chances. Nishikori is currently seventh in the ATP Race To London, and just 240 points away from the qualification cut, he's in prime position for one of the remaining two spots. Behind him stand David Ferrer and Jo Wilfried Tsonga, who sit at number eight and nine in the race, attempting to pick up as many points as possible to qualify. If Nishikori doesn't play in Paris for the final Masters 1000 tournament of the year, and the players close behind him do well, he could be at risk of not qualifying. Nishikori is defending semifinal points in Paris, so will be hoping to equal or better his performance from last year.