 Ekaterina Makarova won eight consecutive games to put away Andrea Petkovic in three-set fashion, 3-6, 6-4, 6-0. The Russian needed an hour and 41 minutes to send the German packing. With the win, Makarova tallied her first career win over Petkovic after four previous failed attempts. With the win, Makarova now sits in the quarterfinals in Eastbourne.
Petkovic wins eight consecutive set over Makarova, German needs one break for one-set advantage
The German kicked off their fifth career matchup with a demanding hold to love, but her lead soon vanished as her opponent held in a deuce game. The first three games lacked a single break point before Petkovic stepped up to the challenge and broke for a 3-1 edge. Makarova lacked answers for Petkovic's game, and yet another hold to love gave the German a three-game cushion. But Makarova stayed steady to grab the sixth game and keep her hopes of a comeback in reach.
Petkovic maintained her form on her serve and kept her foot on the gas pedal to get within a game of a first set victory. However, the lefty applied pressure with a comprehensive service game. But time had run out for Makarova, and Petkovic sealed the opening set with a strong finish to her perfection on serve. The 36-minute set was convincingly in the 2014 Roland Garros semifinalist's favor as she did not face a single break point, and won 79 percent of her serve points.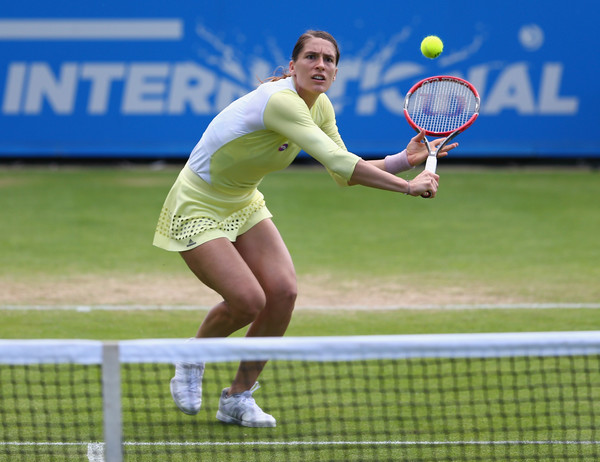 Makarova clinches crucial break in deep second set stage, wins first set over Petkovic since 2010
The pair of 28-year-olds continued to lack opportunities on her return as their holding pattern continued into the majority of the second set. Four straight routine holds brought the set to two games apiece, but it was not long before a break point came along. Despite facing a break point in the set's fifth game, the Russian lefty held on and inched ahead. Like her Russian counterpart, Petkovic faced a break point in the following game, but she pulled out her eighth consecutive hold for a level scoreboard.
Three holds later, Petkovic found herself in danger as she was to serve to stay alive in the second set. Makarova reeled off four straight points to steal the set. With Makarova's 42-minute second set win, she forced a deciding set to see who would advance to the Aegon International quarterfinals.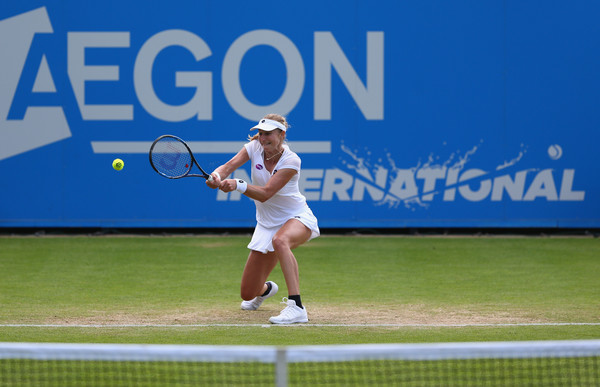 Russian rolls into final eight with dominant final set, needs less than 30 minutes
The lefty built off of her late second set momentum, and soon found herself up an early break in the decider. She seemed to have left Petkovic in the dust as she took 12 of the first 15 points in the set. Makarova captured an insurance break and sat comfortably up four games to love. She followed her third consecutive break with a hold to love to nearly guarantee a first-time win over Petkovic. As she did in the second set, the world number 39 concluded a dominant finishing performance with four straight points. Makarova advanced to the quarterfinal in Eastbourne where she will face yet another player who she holds a winless record against.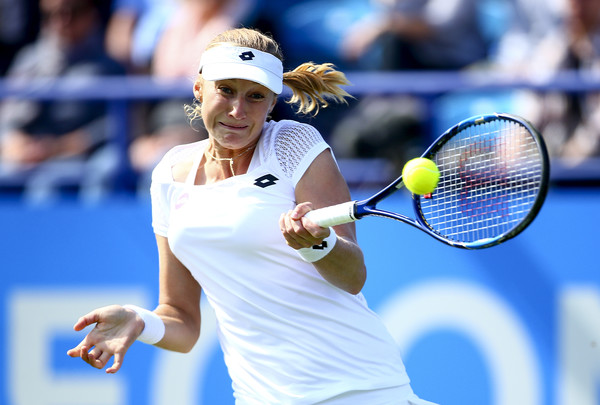 Makarova to play top-ranked Brit, trails 2-0 in head-to-head
The Russian number four will take on Johanna Konta for a spot in the semifinals at the Aegon International. Konta holds two wins over Makarova, with one win coming earlier this year and the other win dating back to last year in Eastbourne. The match will be played on Center Court on Friday and is to follow the conclusion of Radwanska-Cibulkova.