 Sometimes a sibling's influence can be so great that they drive you to a new passion, but handling the pressures of living up to their successes and stepping out of their shadows to create a name for yourself is easier said than done, and Sara Tomic knows this narrative all-too-well. The younger sister of former world number 17 and current Australian tennis star Bernard Tomic, the teenager has openly admitted to the inevitable pressures she faces to replicate the successes of her older brother.
"It's been hard making me own name considering I'm the sister of Bernard and I think it's always going to stick there forever," Tomic said. "But I always love a challenge and I can not wait to prove to everyone what I'm capable of and so, [with that] being said, hopefully I will be my own name."
However, at the end of the day, it's these pressures that are what motivate the 18-year-old to put in the necessary hours to accomplish her long list of long-term goals, especially the ones involving being amongst the world's elite and a winner of all four Grand Slams, and it certainly helps to have someone in your corner who knows what it takes to be successful at the highest level.
"I definitely have learned a lot from Bernard," she said. "I learned so much just by watching him play over the years. It's nice to have a brother to give you tips on the big games so he definitely gives me [a] few tips."
"I definitely do extra work sometimes, [I] have to catch up to him!" she concluded, laughing.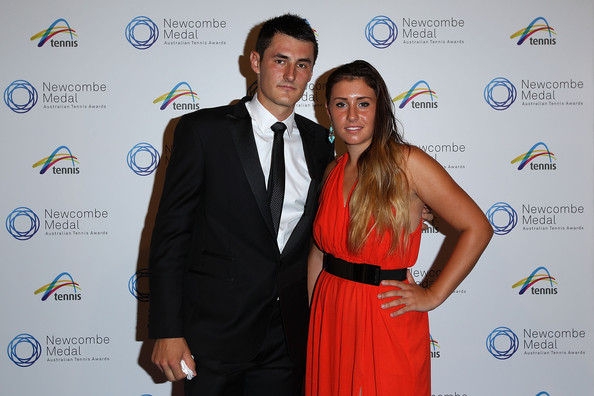 In an exclusive interview with VAVEL USA, Tomic discussed her dynamic with her tennis-loving family, how she balances the books with the ball, as well as her short and long term goals for the forthcoming years.
Tomic's Introduction to Tennis
The daughter of Croatian and Bosnian immigrants, Tomic was unsurprisingly introduced to the game of tennis, in part, by her older brother at the age of nine, a fairly later stage to begin junior development, but it was the greatest sister act of all time that ultimately influenced her decision to pursue a career as a tennis professional.
"I was around about nine years old when I started tennis," she recalled. "I firstly started because of my brother. Then about when I was ten, I was watching Serena and Venus [Williams] play tennis and at that point, I pretty much just spoke to myself and told myself that I wanted to be a professional tennis player."
Nine years on, and Tomic has already begun to make some major strides on both the junior and the professional tours. After a 2015 season majorly highlighted by her first professional title and first WTA-level win, the 18-year-old competed at her home slam, the Australian Open Junior Championships, where she would progress all the way to the last four before falling to eventual champion Vera Lapko. Despite the straight-sets defeat, Tomic remained optimistic, saying it was an incredible experience and one where she thoroughly enjoyed herself, while receiving a clear indication that all of her hard work was beginning to pay off.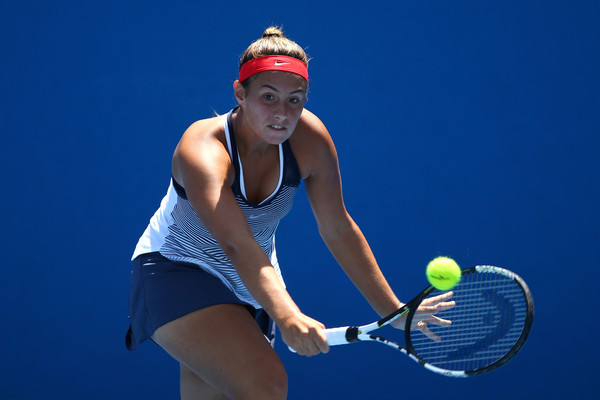 Sara Tomic Currently Working with Father John to Make Bigger Breakthroughs
But she certainly hasn't done it alone. Under the tutelage of her father John, Tomic's hard work and dedication have earned her a place inside the world's top 400 and at this point, the only way to go from here is up. "It's great working with my father," she mentioned. "Obviously, he was with Bernard before traveling around the globe and now that he is helping me, it's great and it's nice to spend more time with him."
With that being said, the sudden transition from the junior to the professional circuit is no simple task as the sudden change in level, as well as the physical and emotional demands, can be incredibly overwhelming. "Pro level is much harder than the juniors," Tomic remarked. "I think the women's game is getting much tougher each and every year. They obviously have had more experience on the pro tour their for they won't give you any free points. You need to be mentally prepared and physically."
Tomic's Thoughts on the ITF's Age Eligibility Rule
Up until this past February, Tomic was one of the juniors under a strict Age Eligibility Rule by the International Tennis Federation, meaning she was only allowed to play a specific number of events during a 12-month cycle, depending on her age. Originally, this regulation was put in play to protect the game's next generation of stars in order to avoid lacks of motivation, burnouts, and early retirements, after a generation that saw the likes of Martina Hingis and Jennifer Capriati—still in their formative years—burst onto the scene at an early age before injuries and lacks of motivation forced them into retirement in their mid-twenties.
"I think it is a good rule," Tomic said. "The younger players need rest and need to play the right tournaments and at the right time [and] in their own pace. But then again, some girls might be liking to play more tournaments. I definitely wished there was an extra three to five tournaments that I could play, but didn't get a chance to considering I don't have any tournaments left!"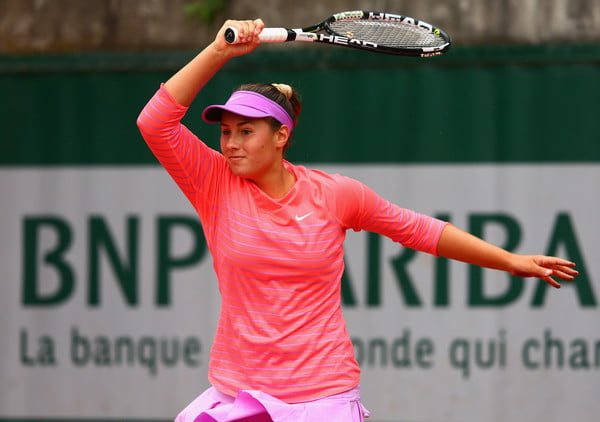 Though she was under that strict Age Eligibility Rule, Tomic did make the most of the tournaments she played, claiming her first professional singles and doubles titles on back-to-back days to claim the $10,000 title in Sharm El Sheikh last June. Eleven months on from her first triumph, the Australian returned to the winner's circle, following up her first professional singles and doubles titles with yet another sweep in the Egyptian city this past May, and at the age of 18, she is now allowed to play an unlimited number of events.
When asked about how those championship-winning victories motivated her to push for even bigger titles, Tomic said, "What motivated me was winning: the success of winning; the feeling of happiness and strength. To know that all my hard work was paying off and that I wanted to know the feeling of winning a bigger and more stronger tournament and [against] better players. So I'm motivated to always do better."
Tomic on How She Balances Her Schoolwork with Her Tennis
At the age of 18, the majority of teenagers are currently graduating from high school, and will begin college or university as a freshman this fall, but this is certainly not the case for the Queensland native, who says she's been homeschooled from an early age. "It's really flexible to do homeschooling and I really enjoyed it through," she said. "I have been doing homeschooling since year five in Australia. I still haven't finished high school. I had a very busy schedule last year so I paused my schooling. I don't think I will start this year either. But maybe next year, I will look to finish year twelve."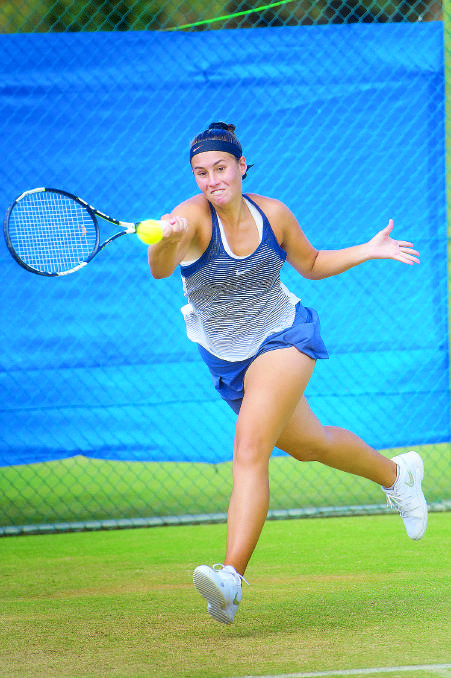 With a pause in her studies, Tomic now has the opportunity to focus exclusively on her professional career, and entered 2016 with four main goals: to be healthy; to be a better person, as well as a professional tennis player; and to break into the world's top 200 (she currently sits at a career-high ranking of number 378 in the world halfway through the season).
Tomic's Long-term Goals: Break into the Top 10, Win All Four Grand Slams
For someone so young in their professional development, it's not uncommon for them to set ambitious yet realistic short-term goals, which is often necessary in the hopes to achieve even bigger long-term goals. And in the case of Tomic, these goals stretch further past a tennis court than the naked eye can see. "So much I can say [in regards to my long-term goals]," she said.
"Definitely being top 10 in the world; to win all the Grand Slams; to help people all over the world [through] charity; own a business and clothing line; finish a degree in business and law, also architecture and design; have my own TV show; and definitely admiring my career [once I hang up my racquet]," she listed. "Be a rapper or singer and dancer. So much more!" she concluded, laughingly.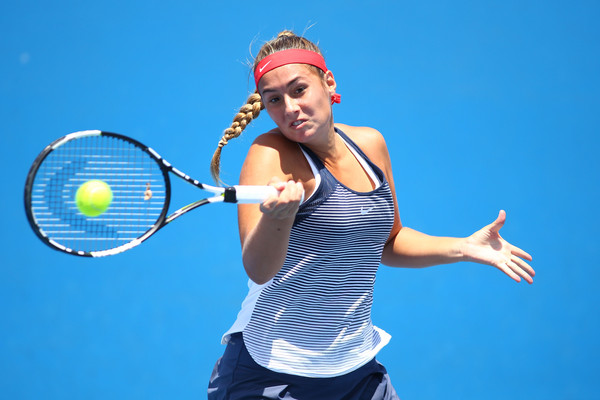 With all jokes aside, this young Australian tennis sensation certainly has the talent to accomplish goals not only in the tennis world but also in the business world. With the right motivation paired with dedication and mandatory technical and tactical adjustments, Sara Tomic could be quite the force to be reckoned with in the forthcoming years.
Sara Tomic, remember the name.