 Following her finest hour at the French Open earlier this month conquering Serena Williams in a brilliant display of aggressive clay court tennis, Muguruza returns to the most prestigious tennis tournament in the world at Wimbledon.
The Spaniard has already been in two Grand Slam finals as she reached the final here at the All England Club last year losing out to Serena Williams.
Muguruza looked relaxed in her press conference as she wore the jersey of her beloved Spain national football team, who are currently competing at the European Championships in France.
Muguruza on her national team, Spain
The second-seeded Spaniard speaking in her press conference speaking about the European champions Spain said, "In Spain if you don't follow football, you're dead."
The French Open champion was also put on the spot about who was her favourite Spanish footballer but she listed three who played for Real Madrid and Barcelona in the past and present, "Sergio Ramos, Iniesta, Xavi."
Muguruza: Nothing has changed
Muguruza continued in her press conference with a smile etched on her face and she is treating her return to Wimbledon no difference to her previous three visits.
"Nothing has changed for me to look at Wimbledon different. I'm actually thinking that it's weird to be back here because of last year (having reached the final), not because of a Grand Slam winner just two weeks ago."
The defending finalist from last year also added, "It's so quick and a lot of things had happened in between. I mean, I can't believe it."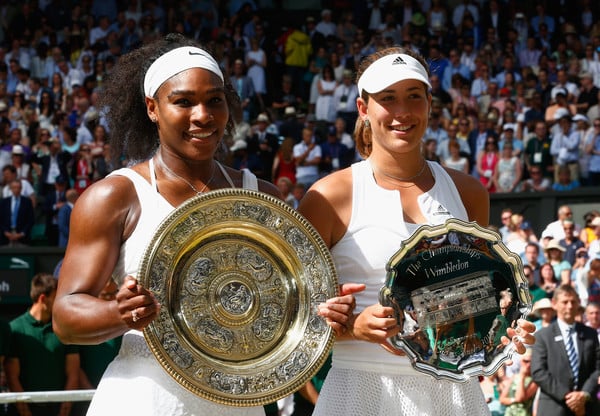 Spaniard looking to keep her feet on the ground
The past eight first-time Grand Slam winners have failed to reach the quarterfinals at the next major they played in. The most recent to be a victim of this run was the Australian Open champion, Angelique Kerber who lost to Kiki Bertens in the first round of the French Open.
"Well, when I touched the grass court, I'm like, "OK, I know you come from a lot, but this is tennis," Muguruza said after coming down from winning the French Open and preparing for the grass court season.
She also added, "One week you win, next week you're like new tournament. It's hard because you still enjoy, you're still (remembering) that match, As soon as I step on the new court, new surface, I'm like, 'OK, let's try to start fresh.'"
Muguruza begins her quest for her first Wimbledon title and second consecutive Grand Slam championship against Italian Camila Giorgi on Monday in the bottom half of the draw.