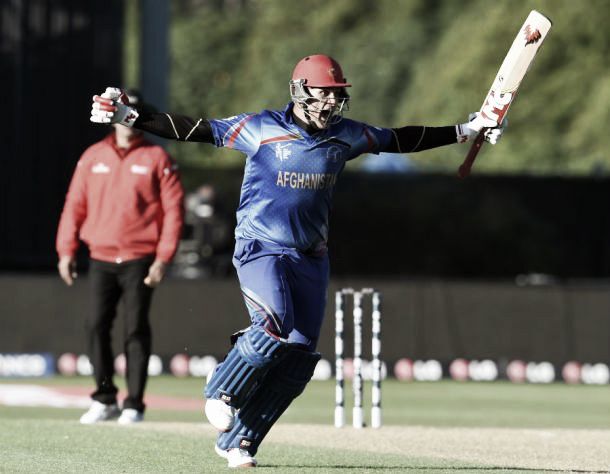 Afghanistan 211 for 9 (Shenwari 96, Berrington 4-40) beat Scotland 210 (Shapoor 4-38, Dawlat 3-29) by one wicket
Afghanistan defeated Scotland by one wicket in a final over classic in Dunedin as an all-associate match thrilled for the second day in a row.
Both teams were looking for their first World Cup victory heading into the game with Scotland also looking to avoid the unwanted record of most World Cup matches – ten - without victory which they shared with the Netherlands.
The World Cup is reliant on entertainment. Regardless of the BCCI's insistence that the World Cup requires the crucial TV royalties on offer in the Indian market, the World Cup needs entertaining fixtures to prove successful.
Once again, a match the ICC fought to avoid occurring in this World Cup before facing stern opposition provided the sort of entertainment that lingers long in the memory.
Both sides suffered middle-order collapses only for a wagging tail to bail the sides to the 200 mark.
This match dispelled another myth surrounding not only this current World Cup, but ODI cricket as a whole in the current generation; a score of 300+ is required for victory and fans entertainment.
The world has become aware of the threat possessed by the three Afghan fast-bowlers, all capable of touching 90mph with dangerous movement and bounce.
On a pitch that looked destined for early movement, Afghanistan won the toss and chose to bowl.
The first wicket didn't take long in coming as Dawlat Zadran ended an over of unplayable bowling combined with leg-side wides with a short, wide freebie for Scotland and Durham opening batsman Callum McLeod.
McLeod could only cut the ball directly to a waiting Najibullah Zadran at backward-point to send the Afghan fans wild.
McLeod has a penchant for hitting the ball cleanly and powerfully, yet his World Cup scores of 0,4,0 have been extremely detrimental to Scotland's cause.
Combined, the three Afghan pace bowlers, Hamid Hassan, Dawlat Zadran and Shapoor Zadran combined for figures of 30-3-99-8 with Shapoor the pick of the bowlers collecting 4-38.
Scotland lacked any momentum in their innings as they regularly lost two wickets in rapid succession due to consistent Afghan bowling.
Scotland were reduced to 40-3 with Hamish Gardiner LBW to Hassan for five and dangerman Kyle Coetzer, who had begun brightly, dismissed for 25 bowled by a beauty by Dawlat Zadran.
Zadran had been generating prodigious outswing from close to the stumps to produce unplayable deliveries. For the Coetzer wicket, he delivered from wide of the crease and the angle generated a gap between bat and pad to crash into the off-stump.
Of numbers 4-10, only Josh Davey failed to get into double figures as Matt Machan and Majid Haq top-scored with 31 which is the lowest top score in an innings over 210.
This shows two things, batsman were settled at the crease and transferring the pressure back on the Afghan bowlers before losing their wicket which ultimately left Scotland in a constant state of rebuilding.
210 seemed below-par especially due to Javed Ahmadi's early striking. Ahmadi danced down the wicket and lofted the ball down the ground with consummate ease in the early proceedings despite losing two partners early on.
Nawroz Mangal was bowled by Alasdair Evans for seven and three balls later, Asghar Stanikzai followed attempting a lazy cut shot that he could only edge behind for four to leave Afghanistan 43-2 after eight overs.
Ahmadi would be next to go after he and Shenwari rebuilt the innings scratchily. Ahmadi departed for a run-a-ball 51 as he mistimed an attempted loft down the ground against Richie Berrington, with Machan taking a smart catch.
When Ahmadi departed, the Afghans were 85-3. Six overs later, they were 97-7 and seemingly out of the contest.
Berrington, who had provided a vital 25 late in the Scottish innings, combined with Josh Davey to tear through the middle and lower-order of the Afghans with intelligent medium-fast bowling.
Shenwari played a majestic innings. His World Cup began with ignominy as he was removed from the bowling after seven balls in Afghanistan's first World Cup match having received two warnings for stepping on the 'danger area' of the pitch in his follow-through.
However, he can now claim to have won Afghanistan their first World Cup as his 97 anchored the innings despite the chaos of clustered wickets that fell around him.
When the seventh wicket fell, Shenwari was on 24 from 65 deliveries with only three boundaries. He rebuilt carefully with Dawlat Zadran before taking calculated risks to smash a total of seven fours and five sixes.
The mature innings left Afghanistan on the brink of victory before Shenwari attempted one six too many as he holed out to Josh Davey at mid-on via the bowling of Majid Haq having taken 19 from the over previously.
Afghanistan were left with 19 still needed from 19 deliveries but only the solitary wicket left.
Shapoor and Hassan nervily edged Afghanistan closer with a watching Shenwari left to hug his helmet in hope on the sideline.
With nine required, Richie Berrington delivered a wide with the final delivery of the penultimate over that would ultimately prove costly. Not only would the wide cost an extra, valuable run, the extra delivery was guided past fine-leg for four by Shapoor to leave only five required from the last over.
The tension was building as Shapoor set off for a run with four needed that was non-existent and was nearly caught short of his crease by a swooping Machan. Shapoor regained his composure and flicked a low Iain Wardlow full-toss past the short fine-leg fielder for four to hand Afghanistan their first World Cup victory and hand Scotland a heart-breaking defeat.
From a Scottish point of view, they will feel a sense of despair as they managed to snatch defeat from the claws of victory. The worst news for Scotland is, that snatching defeat from the brink of victory is an all too English cricketing trait.