England face an uphill battle to continue their quest to retain the Ashes as Australia turned the screw on the fourth day of the third Test at the Waca.
Finding themselves on 132-4 at close of play - still 127 runs behind - the tourists will be hoping that Dawid Malan (28*) and Jonny Bairstow (14*) can produce a partnership akin to that of their combined first-innings effort to stave off a series-ending defeat.
Prior to that, Australia had declared on 622-9 earlier in the day's play, helped by Steve Smith continuing his stellar form of the series to hit 239 - the highest score of his Test career.
Anderson demonstrates class - at last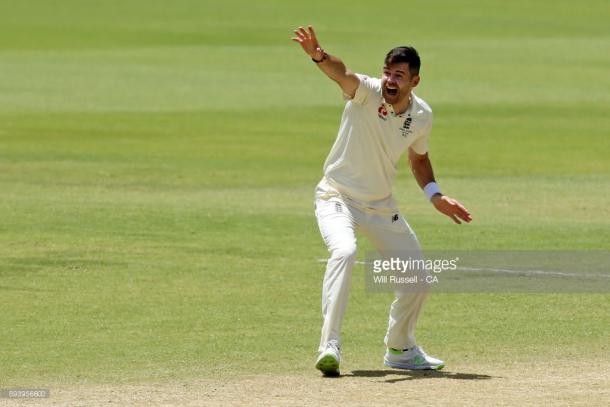 Having toiled all day for the benefit of only one wicket on day three, the pressure was on the England bowlers to quickly make a dent in the home batting card quickly; led by their most-experienced bowler, that is what they did.
Removing Mitch Marsh (181) leg-before to the second ball of the day, James Anderson (4-116) showed his expertise with ball-in-hand to produce lateral movement that had previously been unseen on a flat Perth wicket.
He proved too good for Aussie skipper Smith soon after, dismissed in the same manner as Marsh, whilst Mitchell Starc was run out in calamitous circumstances - stranded by Tim Paine (49*) as the Tasmanian, subject to an lbw appeal, set off for a quick single, leaving Starc with no chance - in the very same over, meaning England had claimed three wickets for 12 runs in the opening four overs of the day.
Alas, despite that early hope, Paine and Pat Cummins (41) added 93 together to really take the game away from Joe Root's men and push towards a mammoth first-innings total, their largest on home soil in an Ashes Test.
Cummins was the third victim of the day to be struck on the pads by Anderson, and when Nathan Lyon chipped to Moeen Ali, again off the bowling of England's leading Test wicket-taker, Australia declared.
Pressure rising on experienced duo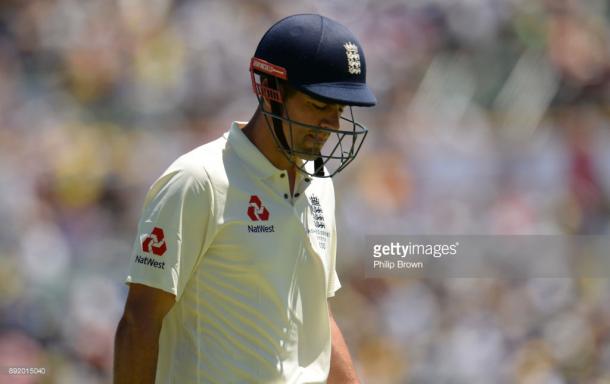 Coming into the series all expectations were on mainstays of the batting line-up Alastair Cook - he of 150 Tests, 31 Test centuries and more runs for England than any other man - and Root, averaging 53 in the longest format of the game, to be the main run-scorers, with doubts over their fellow, inexperienced members of the top five.
However, roles have been reversed, and it is the two senior men left with question marks as to their contributions.
Presenting a caught and bowled chance to Josh Hazlewood (2-23) for 14 via a leading edge, Cook is undergoing his longest streak without a Test half-century - ten innings - and moved his aggregate total for the series to only 83.
Captain Root (14) meanwhile played an uncharacteristic shot for his dismissal, wafting at a wide Lyon (1-28) delivery to edge straight to his Australian counterpart at slip.
With his country needing their leader to stand up and be counted to save not just a Test but the series as a whole, it was a strange and ultimately disappointing shot selection from a man for whom, perhaps for the first time, is beginning to show the effects of the strains of captaincy upon his game.
Aussie bowlers make inroads into batting card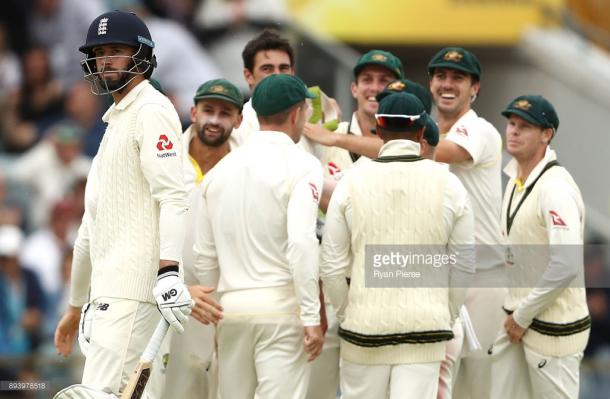 Knowing they must survive for the best part of five sessions in order to save the match, England's reply got off to the worst possible start.
Mark Stoneman, in only the second over, edged one behind off Hazlewood for four, and when Cook and Root had been removed inside the opening 15 overs there were very real fears that the game may be sealed within four days.
Yet, James Vince batted superbly well for his 55, demonstrating a staunch defence in addition to his usual array of eye-catching cover drives to repel the efforts of the home bowlers
There was nothing he, or any batsman in world cricket for that matter, could have done to prevent his dismissal however, falling foul of an unplayable Starc (1-32) delivery.
Bowling from around the wicket at the right-handed Vince, he angled one into the Hampshire batsman that hit a crack and deviated 42 cm away from its intended line to take out his off-stump.
Hopes now lie in the hands of messrs Malan and Bairstow, who have shown already in this match that they have the ability to put their Antipodean opponents to the sword.
With heavy rain expected on the final day, there may be several people of an English persuasion praying for a downpour in order to keep their hopes for the series alive.