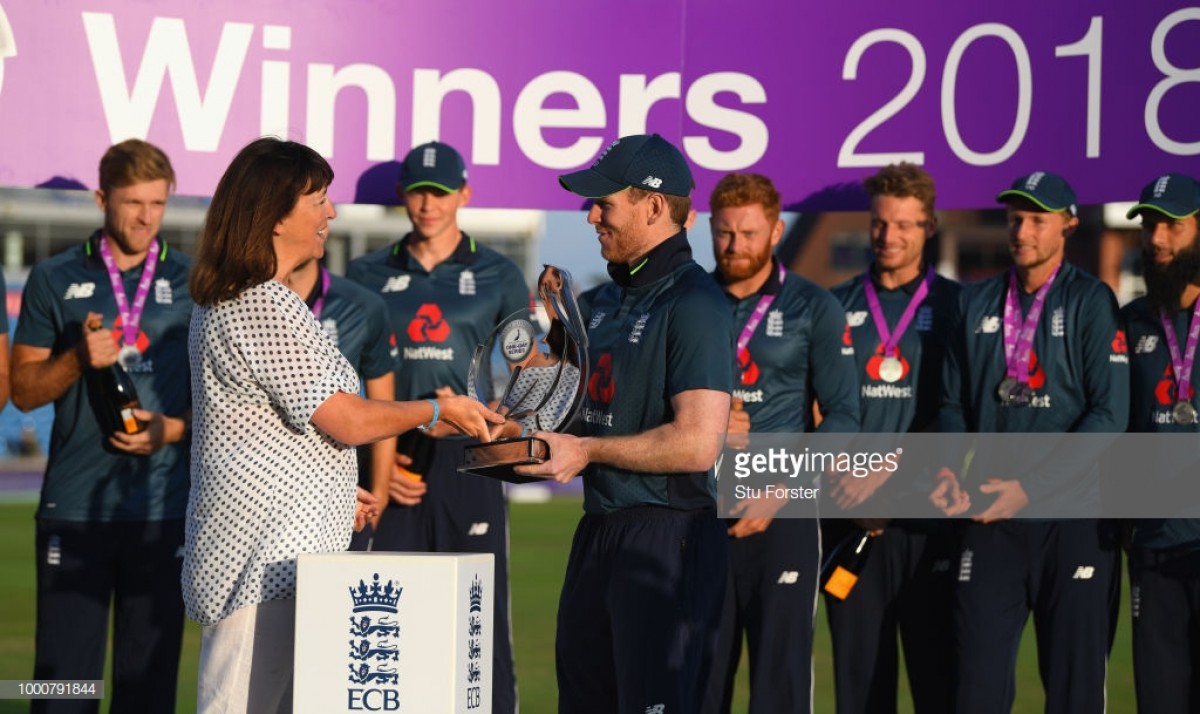 England waltzed to an eight-wicket victory over India at Headingley as they came out on top in the three-game battle between the two highest-ranked one-day international sides in world cricket.
Having levelled proceedings in the previous ODI at Lord's, Eoin Morgan's men - and particularly Joe Root, who made an unbeaten 113 in that match - displayed their class once again as they made a mockery of their target of 257 - winning with 33 balls to spare.
Led by a 186-run partnership between Test and white-ball captains Root (100*) and Morgan (88*) - who profited from an electric start from opener Jonny Bairstow (30 off 13) - they were never flustered, and used all of the experience that they have acquired in their combined 322 ODIs to effortlessly see their country home.
Bowlers turn the screw on Kohli and company
On a dry pitch that produced intriguing turn relatively early on, it was not quite apparent whether India's score was below, around or above par; with the ease of which England chased down their total, it was a score clearly 40 or 50 shy of being competitive.
Opening bowlers Mark Wood (1-30) and David Willey (3-40) kept their lines and lengths extremely consistent early on, constricting the Indian batting line-up as they prevented any lose deliveries to feed on.
The pressure eventually became too much for the usually-explosive Rohit Sharma, who could only muster a scratchy two from 19 balls before holing out to deep square leg with the scoreboard on 13 after 5.4 industrious overs.
Shikhar Dhawan upped the ante alongside Virat Kohli slightly, yet when the left-hander was run out by Ben Stokes for 44 having seen his request for a single from the non-strikers end abruptly dismissed by his captain, the tourists lost any momentum that had been built during the 71-run partnership between the pair.
Kohli was at his usual fluent best, demonstrating his exquisite hands and sublime timing as he effortlessly guided the ball to all parts of the ground, and when he was joined at the crease by Mahendra Singh Dhoni with the score at 125-3 off 24.2 overs, you sensed that if India were to post a competitive total then it would come from the vastly experienced pair.
There may have been a few nervous glances in English quarters as the partnership progressed to 31 with both appearing untroubled - however then up-stepped Rashid to dismiss the Indian captain with a sumptuous delivery.
Bowling over the wicket at the right-handed Kohli, the Yorkshireman produced a delivery that fizzed and drifted to pitch outside of the batsman's leg-stump, before spitting off the surface and demolishing the off-stump of the worlds number-one ranked batsman - the look of shock on Kohli's face upon dismissal saying it all.
From there on there was little serious threat posed by the travelling batting line-up, Rashid and spin-twin Moeen Ali continuing the earlier work of messrs Wood and Willey as they kept their lines tight and their economies even tighter - both going for under five an over - to tie the batsmen down.
Dhoni never really got going before he was caught behind off the bowling of Wood for 42, and despite some lusty lower-order hitting from Hardik Pandya, Bhuvneshwar Kumar - both with 21 - and Shardul Thakur (22), it appeared to be a score within the reach of England's explosive batting line-up.
Root and Morgan guide the way to success
Having suffered at the hands of spinners Kuldeep Yadav and Yuzvendra Chahal so far in this limited-overs Summer, there was a clear plan from the English openers to attack the pace bowlers early and gain the upper-hand before the introduction of the slower bowlers into the attack.
Openers Bairstow and James Vince (27) - in the side as a replacement for the injured Jason Roy - got their side off to a flying start, feeding on a sea of loose deliveries from the recalled Bhuvneshwar as they raced to 40 without loss inside only four overs.
Yet after Bairstow chipped Thakur (1-51) to mid-wicket and Vince followed the trend set by Dhawan earlier in the day in getting run-out, the job was left to the two most experienced batsmen to combat the challenge of the spinning Leeds wicket and set their side up for victory, having joined forces with 74 runs on the board.
Root was his typically busy self, nudging, nurdling and driving with confidence as he set about chipping away at the required target, whilst Morgan was dominant square of the wicket throughout.
There were chances to remove the two, however: Chahal over-stepped on the occasion that he had Root stumped when on 69, whilst Bhuvneshwar capped off a miserable day in the field both collectively and personally as he dropped a simple catch at mid-on off the bat of Morgan when the England captain had accumulated 85.
The England hierarchy will no-doubt be delighted with the manner of which they secured this series victory - not only in the way of which they convincingly won the two games that they did, but also in coming from 1-0 down.
Yet for now, it is just another test passed in their overall goal of winning the 2019 World Cup.