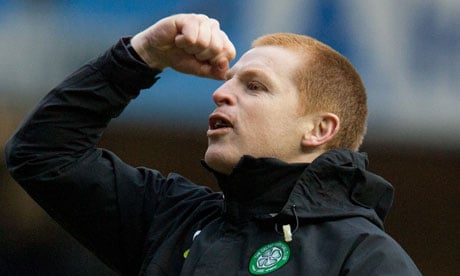 Yesterday Celtic manager Neil Lennon was brought before the football authorities in Glasgow.
Again.
He received a two match ban for answering some questions about the performance of referee Willie Collum after his side were defeated by Kilmarnock in the league cup final last month.
The main talking point was a penalty in the dying moments of the match that Lennon thought should have been awarded to Celtic.
I have a particular interest in this story because it was me who asked Lennon the questions at the press conference.
As a journalist I think that football managers and football players should have the freedom to express their emotions after a match.
http://www.philmacgiollabhain.ie/the-freedom-to-vent-is-part-of-the-game/
The entire game is about being emotional and letting those feelings spill out.
That is why so many of us love football.
It is a time for passion.
There is a suspicion among many Celtic supporters that Neil Lennon gets unfair treatment from the football authorities.
In 2010 he was lied to by a referee when the Irish man asked the official to explain whey he had changed his mind over a penalty decision.
http://www.dailyrecord.co.uk/football/spl/2010/10/29/sfa-back-referee-dougie-mcdonald-over-tannadice-penalty-u-turn-86908-22669266/
Yesterday Lennon was also tried for his behaviour at the recent Rangers Celtic game.
However the referee's version of events did not tie on with the Fourth official's report.
So that charge was dropped.
When he was sent from the technical area in that game at Rangers stadium it was decided by the security people that Lennon might not be safe in the Director's box.
He watched the second half on a screen in the media room.
I think it would be fair to say that Neil Lennon does not have a very high opinion of the judicial abilities of the Scottish football association.
In a so called "shame game" in the Scottish cup in which three Rangers players were sent off and there was a scuffle at the end of the match between Neil Lennon and Rangers manager Ally McCoist only the Irishman was punished.
http://www.dailymail.co.uk/sport/football/article-1376313/Celtic-legal-adviser-blasts-SFA-Ally-McCoist-Madjid-Bougherra-El-Hadji-Diouf-escape.html
When trying to analyse all of this the underlying issue of Lennon's nationality and religious background must be brought into the equation.
In Scotland this is the elephant in the room.
I was born in the 1950s in Scotland.
My father was from the West of Ireland and I was raised in the Catholic tradition.
I know of the hostility towards Scotland's Irish community.
I lived it.
Catholics of Irish heritage achieved occupational parity in Glasgow in 2001, yet the same ethnic group achieved that measure of equality in New York in 1901!
Now there is a young generation of people in Scotland who are proud of their Irish heritage and will not accept second class treatment.
In the Celtic manager they have a hero.
He is the Guardiola of Celtic.
He played for the club he supported as a boy.
Celtic is in his DNA and, as a young manager, this is his first job.
Although the club has always been open to all Celtic's roots are proudly Irish.
If Neil Lennon had been in another career he would be a Celtic supporter in the stadium cheering on the team.
Celtic supporters see him as one of their own and he is.
The reasons that Celtic fans love him are the reasons that many in Scotland hate him.
Lennon's most recent "trial" at the SFA happened at a time of raised tension in Glasgow.
Celtic's city rivals Rangers are facing possible liquidation and the end of their 140 years history.
http://www.philmacgiollabhain.ie/the-end-of-history/
In all of my life there has never been a Celtic manager who is such a hate figure for Rangers supporters.
However, the enmity for Lennon is not just confined to Celtic's arch rivals.
Last season Lennon was attacked on the touchline by a Hearts supporter during a match at Tynecastle stadium.
Millions saw the attack on live TV.
The man, John Wilson, was arrested and stood trial for assault.
During his trial Mr Wilson admitted assaulting Lennon, and his lawyer said Wilson was sorry for committing the attack.
The jury then acquitted Wilson for the assault!
Two men are currently, awaiting sentencing after being convicted of sending suspicious packages to Lennon.
They were originally charged with attempting to murder Lennon by sending Improvised Explosive Devices to him.
http://www.philmacgiollabhain.ie/the-price-of-silence/
Neil Lennon is a unique person in football management in Britain.
When I was waiting for the Celtic manager to come into the media room for the press conference after the League Cup Final the first person in was a huge man who follows Neil Lennon everywhere.
A professional tough guy he is there to protect the Irishman from further attacks.
I suspect there is no other football manager in Britain that requires this level of personal security.
At his home Neil and his young family live in an environment of panic buttons and bodyguards.
If I were to try to explain the Neil Lennon situation to someone from another country and not focus on his nationality and religion then I would be a friend of nonsense.
Lennon being an Irish Catholic is central to this story.
http://www.philmacgiollabhain.ie/the-neil-lennon-problem/
The real Neil Lennon is not the person portrayed in the mainmedia in Scotland.
If you only got your information from those media outlets then you would think him a snarling, aggressive thug who needs to learn manners.
The truth is more interesting.
http://www.philmacgiollabhain.ie/the-other-neil-lennon/
There is a disparity between the representation of Neil Lennon in the media and the reality of the man and that says so much about modern Scotland and its relationship with their Irish community.
I do not regret asking the Celtic manager those questions and I am sure that he does not regret answering them.
Neil Lennon is a good man.
However, he has become handy target for people who define themselves through their hatred of Irish Catholics and that is Scotland's shame.
You would not be aware of that fact if you were relying on the mainmedia and that is Scotland's other shame.