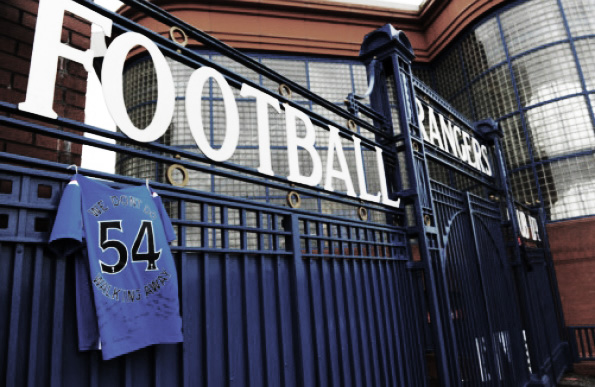 Rangers are dead.
I will not pretend that writing that sentence did not give me great pleasure.
It did.
I am glad that they are dead.
All of my life this "Scottish institution" was a powerful symbol that I was, by accident of birth, born into a country where I was not wanted and not valued.
If city rivals Celtic are an iconic manifestation of the existence of Glasgow's Irish community then Rangers came to symbolise xenophobia and hatred of my people.
By the early 20th century the Ibrox club brought in a signing ban on Catholic players.
Indeed Rangers legend Sandy Jardine recently said that when he had joined the club in 1964 there wasn't a single Catholic member of staff employed there.
Although that signing ban was publically lifted in 1989 when they bought ex-Celtic player Maurice Johnston another "policy" remained in place.
Since the Football Association of Ireland was recognised by FIFA as a separate entity in 1949 there has not been one single Republic of Ireland player to play in the Rangers first team.
During the last twenty years a Republic of Ireland international (full or U21) has played for EVERY other senior professional football club in Britain.
Yet this is not challenged by the media in Scotland.
The death of Scotland's "establishment club" could not have been scripted any better by a Celtic supporter working for a movie company.
For over a decade this club scammed the British tax payer while proclaiming that they loved the country more than anyone.
During that time Britain fought two wars and troops died because of inadequate equipment.
Yet this club invited soldiers in uniform to look matches for costless to make a PR point to the Irish club across the city.
It would have been better for the troops if they had paid their taxes like everyone else.
Rangers under their owner Sir David Murray brought in financial doping to Scottish football.
The country had a tradition of developing players who would go and play for bigger clubs in England.
Celtic had won the European Cup in 1967 with an entirely home grown team.
Being the first team from Britain to win Europe's highest club trophy inflicted a deep psychological wound on Rangers.
Murray wanted to replicate the success of the Lisbon Lions, but he knew he would have to spend money that couldn't be generated within football.
His business model, based on borrowing, brought in the plague.
Other clubs were forced to borrow to keep up.
Young Scottish players had little chance to break through as the league was deluged with foreign players on high salaries that they often didn't deserve.
There is now an inquiry into whether or not Rangers fielded players in contravention of the football rules.
The Ibrox club operated a "dual contract" system to thwart the taxman.
Although Rangers' history is now concluded with liquidation-they may also lose some of the honours that they won under Murray.
In May 2011 Sir David Murray sold the club to shady businessman Craig Whyte for a single pound.
The mainmedia called Whyte a "billionaire" with "wealth off the radar".
They were acting as secretaries for Whyte's PR people and failed in their duty as journalists.
As first written by this journalist in June 2011, Whyte had used future season ticket money to pay off the bank debt and acquire the club.
He used the money from Rangers fans to buy their club!
Whyte wasn't even a millionaire and ran the club by withholding taxes from the government.
This was in addition to the huge potential tax bill that had been accrued under Murray.
That case still to be judged on.
The reporting of the death of Rangers has been a victory for new media.
Bloggers have been ahead of the game throughout.
Finally serious journalists from the maingot in on the act.
Mark Daly from the BBC and Alex Thomson from Channel 4 News started to investigate the Rangers scandal.
Throughout this saga sports journalist in Glasgow remained obedient and "on message" that everything would be ok at Rangers.
Yesterday as news came through of the club being liquidated well known sports reports were derided on Twitter for their cowardice.
There is now a plan to have a New Company using the assets of the deceased club.
It is not clear what league the new club will play in.
However, the main thing is that Rangers are dead and in my opinion Scottish society will be the better for it.
The Ibrox club has provided a gathering point for the most toxic elements in Scottish society for generations.
Being a Rangers supporter was to be given a permission slip to hate Catholics and Irish people.
In 2008 the supporters came up with a song that mocked those who had died in the famine of 1847 in Ireland.
One million people died in that catastrophe.
One of them was my grandmother's uncle.
The "famine song" was ruled racist and illegal by the High Court in Scotland in 2009.
People in cities all over Europe shuddered when they knew that supporters of the Ibrox club were about to visit.
Now at least those fans will not have an interest in European competition.
They will not be missed.
It is not just Europe where the new club might be absent from.
It is now a distinct possibility that the new club calling itself Rangers will not be registered in time to play professional football in Scotland in the season starting in August.
An absence of a season will ram home the reality to those still in denial.
For some it is too big to take in.
However, it is a fact.
Rangers are dead.