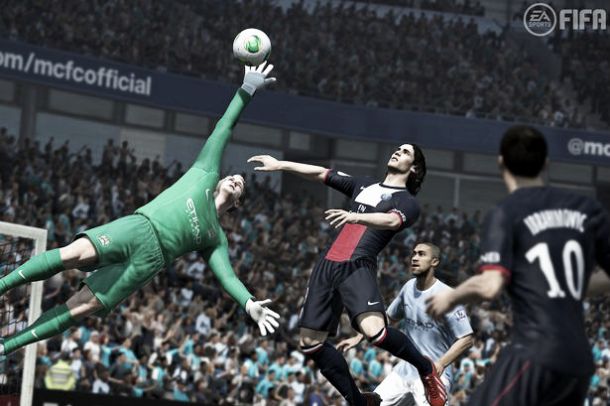 Seeing as how FIFA 14 has received such glorious reviews, we here at FIFA and EA sports are already brainstorming for the release of FIFA 15, in hopes of making it more realistic. There are a various number of ways this can happen, and we are experimenting with everything hoping to make FIFA15 the game of the century. To begin, let's take a look at what we're trying to improve on.
In FIFA 14, we extended bicycle kick abilities to every defender known to man, which raised the question, why can't keeper's perform this simplest of tasks? Fear not, fellow gamers, in the trailer of FIFA 15 (coming soon to theater and imax near you!) Petr Cech is seen scoring a 70 metre golazo via the bicycle kick, a feat which everyone from Di Gea to Neuer will be able to complete. This latest addition also saw the addition of wide turning radii, which wasn't accepted too well. Analysts have determined this is due to a new technology known as "widerangle." They hope to replace this system with a grid based one in 15 which will replace the wide turns with pinpoint ones, albeit only every 2-3 metres. Experts expect it look something like this (note, that obviously isn't what the gameplay will look like, but take notice of the pinpoint turns, which we believe addresses a major problem).
One of the most important additions which will make the game more realistic is team by team and player by player nuances. Love guiding the three lions to World Cup glory in FIFA? Tough, FIFA 15 takes measures to ensure your virtual team replicates the pitiful form of the real life team. Les Bleus fan? Find a new striker because Benzema is destined to end his scoring draught in the year 3152 AA (After Armageddon). Die Mannschaft supporter? You'll never beat Italy, but you can take solace in the fact that Gli Azzurri will never win another friendly or competitive match that doesn't guarantee elimination.
Are you an Arsenal fan who loves buying back Fabregas, Song, and Nasri (among others) in your career? The opening transfer window in FIFA15 features Manchester United buying Ozil, PSG buying Ramsey, and Wenger giving you £5m budget for the remainder of your career. Thrilled by that, United fans? You should be! In addition, you'll be given unlimited stoppage time to win those tough battles against Stoke, Bolton, and QPR that otherwise would have been draws. This goes hand in hand with bimonthly emotional collapses from Rooney, who still can't decide if he likes his new hair plugs. Liverpool? Every time you get close to replicating the magic of that Champions League victory over Milan the button which normally passes the ball on your system specific controller now bites the nearest opponent when you are operating as Louis Suarez. The game is slightly nicer to Chelsea and Manchester City, who have unlimited budgets, however, be careful not to slip up (or concede for that matter) at Stamford Bridge or Abramovich could fire you. Meanwhile at City, Joe Hart's good for an inordinate number of howlers, and can occasionally be found quivering in the back of the net (during matches) due to post traumatic stress from Pirlo's penalty. In addition to this, it's rumoured one of the programmers is a lifelong Stoke City hater, and as such, has limited Stoke to long balls and throw-ins; simple passes just aren't possible anymore.
It's not just the premier league that's taking the hit, either. Want to manage Madrid? Expect Florentino Perez to buy a player every couple years for their "marketability." While it doesn't sound too bad, you'll be thinking otherwise when he demands you start an aging Mick Jagger in goal ahead of newly acquired Thibaut Courtois because Perez heard he has "moves". Barcelona fan? Sorry, your team can only pass the ball sideways, and only shoot on goal from within the 6 yard box. In addition to this, Neymar is resigned to falling down every 20 metres in protest that "someone brutally beat him and he deserves a penalty."
In an effort to implement Financial Fair Play in La Liga, Cristiano Ronaldo will miss every third game running adverts for his new line of hair gel, while Barcelona will have all their money tied to paying Lionel Messi's back taxes, as well as fulfilling his porn star addiction. In other words, if you want to bring new talent to Catalonia you're going to have to offload the Argentine. Also, for kicks and giggles, Gareth Bale must make monthly appearances in a monkey suit.
Things aren't much better in Italy, either. By week 4 of managing Milan, Kevin Constant is the one and only top player because the entire team has fallen to injury and it's been determined Max Allegri has been suffering from Schizophrenia. A cut screen shows Massimo Morratti laughing with Taribo West; because, little did you know he's behind the Milan injury plague. Better luck however, if you support Internazionale; while you can't sign any Italian born players, you do have a "complain to FIGC" option that will relegate every other Serie A side enabling you to at least win the domestic double. Juventus? You have the option to purchase referees at your own risk – get caught doing it and in addition to all 29 titles being stripped your side is forced to field the overweight bidone trio of Amauri, Fabio Grosso, and Marco Motta. Roma, the team who has wanted to for so long to be an elite club in Italy, will be forever mired in an abyss of Totti tirades and Zdeněk Zeman cigarette smoke.
Want to manage a Ligue 1 side? Careful, you'll notice every player on your roster has the baby face of Marco Verratti, the nose of Zlatan Ibrahimovic, and the hair of Adrien Rabiot. It's quite frightening. Unless that is you're Monaco, then you'll be more concerned about the lack of any and all spectators at Stade Louis II and trying to figure out just how old Falcao really is, and how soon he might retire (hint, hint). In addition, not even the commentators care about the side, preferring to talk about the eating habbits of mules instead of the match you're playing.
And finally, we didn't forget about you, Bundesliga, well, not exactly. If you manage any team other than Bayern expect to lose your top players to the corporate-esque Bavarian side. Things aren't always peachy for Bayern however, as Arjen Robben is doomed to miss 80% of his chances from inside the penalty area, and by year two, the Pep Guardiola effect will be in full force meaning you also cannot pass the ball forwards.
Lastly, as I'm sure you've noticed, we've eliminated Dortmund and Tottenham from the game entirely and given them back to their respective hipster communes where they will fade into obscurity. R.I.P. Mkhitarian, you didn't know what you signed up for.
As always, we here at EA and FIFA are committed to bringing you the best product available, which provides the closest in-game experience. We greatly appreciate the money of all of our fans, and sincerely hope you all still have jobs for the FIFA15 release date.
Many thanks to those who gave ideas towards the game including (twitter handles) @calciolovesjack, @gjsportsblog, @Ervildo, @alexchaffer, @scottydoesknow.
As always, you can follow me on twitter @acoop13