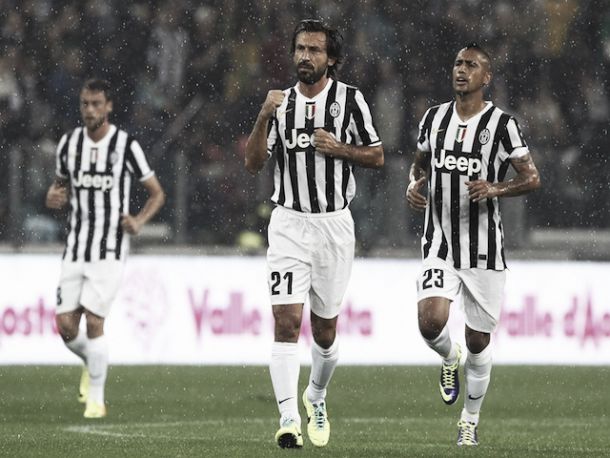 The so-called 'double pivot' is rapidly becoming a common term in the footballing word. But what does it actually mean?
In layman's terms, the 'double pivot' is the use of two holding midfielders, who each take it in turns to advance up the pitch – instead of one being given the job of constantly maintaining a defensive role.
This is largely why the idea has become much more popular in recent years, and has seen top teams like Barcelona, Bayern Munich and Juventus deploy slight variations of the formation.
The formation under inspection is the 4-2-3-1 formation, which gained its initial popularity in Spain during the 1990s and early 2000s. However, as aforementioned, it is now used by many teams across the globe. Jose Mourinho also assisted during the popularization process; he installed the formation throughout his 3 year stint in La Liga with European giants Real Madrid.
The formation attempts to prevent the team being out-numbered in the midfield areas. This is wonderful for the attacking players, who are given the license to roam in advanced areas and create problems for the opposition – with safe knowledge that the 'double pivot' will provide defensive reassurance, whilst allowing the attackers as much space as possible.
The two players in front of the back-four, known as the 'doble pivot' in Spain, provide protection and defensive cover for the defence. This relies on one player breaking up opposition attacks and the other prioritising the distribution the ball to his team's attacking players.
Therefore, it could be said that having this 'double pivot' in front of the back four develops a platform from which the team's playmakers can create chances.
The 'registas' - deep-lying playmakers – are the usual type of players to make up the central pairing. They operate from a deep position, in or behind the main midfield line in a defensive midfield role, where they can use space and time on the ball to orchestrate the moves of the whole team. They are renowned for their vision, technique and passing, especially their ability to provide successful long passes. It is also common for a box-to-box midfielder with good passing, technique, vision and tackling ability to play in this role.
The perfect example of this type of player is Andrea Pirlo of Juvetus, who has gained plaudits throughout his lengthy spell in Italy for his passing ability. His success has been more recently alongside former Manchester United midfielder Paul Pogba; the pair have formed a formidable partnership and have dictated the central areas for the Turin side. This central reassurance also allows full-backs to overlap their respective wide midfielders and create opportunities for dangerous passes or crosses.
Another big example of the 'double pivot' being successfully employed would be at the Allianz Arena with Bayern Munich. Defensively apt players such as Bastian Schweinsteiger, Javi Martinez and Toni Kroos have enabled teammates like Mario Gotze, Frank Ribery, Arjen Robben and Thomas Muller to have a lot of freedom and creativity – not to mention fullbacks Philipp Lahm and David Alaba being allowed to overlap their winger.
However, it is essential that the two players who complete the central pivot have good positional awareness in order to shield the back four efficiently. One of these two is normally more of a tackler, with the other concentrating on distribution. In the current Manchester City team, Yaya Toure and Fernandinho have formed an encouraging partnership. Fernandinho has done much of the tackling and has excelled in his defensive duties, whilst Yaya Toure is more aggressive and has shown his threat in advanced areas. The pair have complimented one another well.
The main thing about the link between the two is that they are both strong and fast, both are capable of posing as an offensive threat, but also both are defensively accomplished. They are able to endure long spells of enemy possession and attacks, and then counter-attack quickly – distributing the ball to the creative players like David Silva, Samir Nasri and Jesus Navas.
Ivorian powerhouse Toure has had an average pass accuracy of 92% so far this season, yet hasn't made a single defensive error. Despite playing the box-to-box role, the 30-year old has scored 5 and created 16 chances in 13 appearances for the Citizens. Meanwhile, partner Fernandinho – who has been City's unsung hero thus far – has managed to create 18 chances in 11 games. He too has a high pass completion, with 88% and an average pass length of 17 metres.
The formation is easily adaptable, too, to tailor to a specific manager's style of play. The 4-2-3-1 is dynamic, and is easily able to change shape. In fact, from a basic 4-2-3-1 shape, several other common formations can be produced quickly. The 4-4-2, 4-4-1-1, 4-3-3, 4-2-2-2 and 4-5-1 can all be produced with relative ease. This concept was shown by Carlo Mazzone, who at the time was managing Roma in Italy, when he said that "there are trends in football. This is a time of between-the-lines players. From a classic 4-4-2, we now have a 4-1-1-1-1-3-0 as we have at Roma. That transforms to a 4-3-3 in the defensive phase but the asymmetry is important as it helps the side press better as Guardiola will also insist in his side's interpretation of the 4-3-3."
Whilst the Italian never mentions the 4-2-3-1 directly, his message is that formations are adapting to suit particular playing styles and his belief that "asymmetry is important" is central.
Having two holding midfield players provides some symmetry, although the attacking options are usually permitted to wander and create space. This has been demonstrated at Manchester City, who have acquired Jesus Navas for natural width down the right flank, yet on the opposite side have Samir Nasri, who has been playing in the trequartista role under Manuel Pellegrini – between the forwards and the central midfielders. This idea has aided City to score plenty of goals this season – 37 so far – and yet only concede 12.
Another case in which the 4-2-3-1 has been productive is the transformation of Borrussia Dortmund under Jurgen Klopp. Players like Marco Reus, Henrikh Mkhitaryan and Jakub Błaszczykowski are not necessarily restricted to certain areas of the pitch. This allows optimum support for the forwards, like Robert Lewandowski and Pierre-Emerick Aubameyang, yet the team is defensively secure with an effective 'double pivot' in front of a solid back four.
So that's the 'double pivot' in all of its glory. And it's easy to see how the mechanic has attained that name. The two players are able to rapidly change defensive possession into chances and offer support all over the pitch. The formation brings fluidity and pace to the teams that use it.