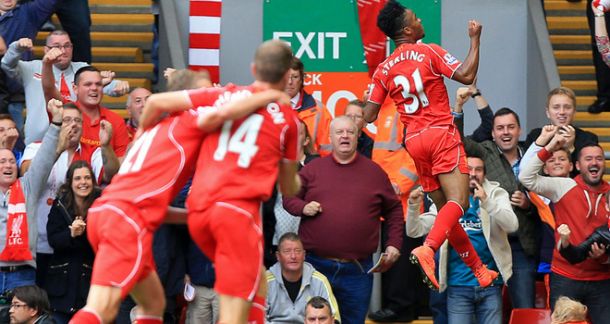 The 2013/2014 season saw Liverpool`s latest manager reinvent the tactical side of his management and return to his preferred formation of a 4-3-3 which he used superbly while at Swansea, a formation that Rodgers would've recycled week-on-week while managing the Welsh side.
Initially the determined manager decided to opt for a change in formation, switching to a 4-2-3-1 although the Northern Irishman ensured that his prominent philosophy remained and emphasis was clearly put on retaining the ball, playing neat and tight passes in refined areas. The first season wasn't as most Liverpool fans imagined and wanted, although if you ask the developing manager, it went exactly according to plan.
Towards the back end of the 2012/2013 season, Rodgers was faced with the ghastly challenge of fielding a Liverpool team for the final few league games of the season without the imperative character of Luis Suarez standing upfront after he was subsequently banned for a biting offence committed against Chelsea defender, Ivanovic, which resulted with a lengthy suspension of 10 domestic games. Rodgers along with the new January signings, Daniel Sturridge and Coutinho, finished the season in terrific form, including a 6-0 victory away to Newcastle. The Liverpool fans jumped at the chance to praise Rodgers, as his Liverpool side developed a new look 4-3-3 formation which seemed a lot for fluid than the laboured look that was associated with the 4-2-3-1 system that was played to incorporate the Uruguayan, Luis Suarez.
After a summer of distress for Luis Suarez, it was finally decided and agreed that the Uruguayan would stay at Anfield. Rodgers was again faced with the task and headache of fitting both Luis Suarez and Daniel Sturridge who had been hugely impressive so far for Liverpool, into the Liverpool XI. This again signified how Rodgers once again was forced to avoid using his favoured formation to incorporate the striking duo which was soon to be named S.A.S.
Brendan Rodgers initially didn't want Chelsea striker, Sturridge, but after the committee forced the move through, Rodgers was left to show his true flexibility as a manager, as he was forced into new revolutionised tactics to fit the pair into the starting XI.
Rodgers initially used a 3-5-2 formation which saw Suarez and Sturridge rekindling their brilliant partnership, although the openness of the midfield and defence made the goals conceded column take quite a hit. Next Rodgers was enabled to use a 4-3-3 formation with Sturridge, Suarez and Sterling playing in a 1 wide 2 central frontline, a formation which was depended on Jordan Henderson being tactically aware and committed to covering the idle wing play as well as offering a solution in the centre of the pitch.
Finally toward the backend of Rodgers 2nd season, as the club entered into a critical run in, to qualify for 4th place, Rodgers again switched to a new formation which led to Liverpool accomplishing 12 wins out of their final 14 games, which seemingly left `the reds` in a title hunt. The formation, 4-4-2 diamond. This meant that Liverpool fan favourite and captain Steven Gerrard returned to the `quarter back` role, while he was flanked either side by midfielders while it also allowed a number 10 playing in the hole behind 2 strikers. Liverpool flourished in this system. Steven Gerrard`s incapability's of playing solely on his own in the midfield was covered up by the high pressure sustained by the 4 man midfield which included, Jordan Henderson, Raheem Sterling and Coutinho.
With the departure of Luis Suarez during the 2014 summer, where the Uruguayan joined La Liga giants, Barcelona, for a deal in the region of £80,000,000. Rodgers was now given the chance to return to his preferred possession based game in a fluid 4-3-3. Although, Rodgers was made to do a volte-face, and considered sticking with the diamond formation that was so successful. Although the diamond formation was initially activated to benefit Suarez and Sturridge, the benefits Rodgers witnessed throughout the pitch meant the Northern Irishman would soon return to this attacking formation.
Liverpool began the 2014/2015 this past week with a 2-1 win over Southampton, with Rodgers fielding a 4-3-3 formation. However although the Anfield crowd initially witnessed the 4-3-3, the flexible team which included, Raheem Sterling and Jordan Henderson, often fell into the diamond system, which we can see here, just seconds before Raheem Sterling opened the scoring for Liverpool.
Brendan Rodgers' post match comments suggested that he wanted another top striker which would be interpreted that the Northern Irish coach will sign a striker in the coming days, to fully utilise the likes of Coutinho and Sterling in the diamond system.
Over the last few days Liverpool have been linked with a sensational move for PSG forward Cavani, a deal to see Falcao join on-loan, a cheap effective deal for Eto'o as well as, most recently, signing Balotelli from AC Milan, along with the papers suggesting that a deal for Bony may still go through. I've decided to look at which would be the best signing for Liverpool.
Strikers are normally judged by goals, although it`s not always that simplistic. However, last season, Cavani and Eto'o managed the most goals per minute, while Falcao, Balotelli and Bony all came out with similar stats, slightly behind Cavani and Eto'o.
In terms of assists Balotelli averaged the most, significantly more than Falcao, Cavani, Bony and Eto'o who all barely managed an assist. Also ,Balotelli and Eto'o lead the way in terms of chances created with the likes of Cavani, Falcao and Bony falling behind.
Balotelli managed to take the most shots outside the box per game, which may suggest he's not the striker that ticks all the boxes for Brendan Rodgers, with Falcao, Eto'o and Bony all having the killer instinct inside the box.
Cavani and Balotelli lead the way in terms of duels won, with Bony and Eto'o not too far behind, although this stat may suggest Falcao may struggle with the physical demands of English football, having only won 37% of duels while in France.
In terms of fouls suffered, Balotelli leads the way with an average of 3.75 fouls suffered per game with Eto'o and the likes attracting a lot less fouls.
Could Super Mario be the perfect replacement for Luis Suarez? Should Liverpool go for the goal scoring veteran of Falcao?
All stats provided by Squawka.