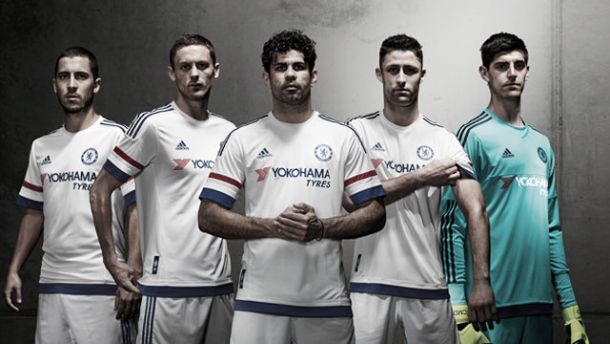 Chelsea and German brand Adidas today unveiled the new away kit for the 2015/16 season. The shirt was launched as part of the club's pre-season tour of the United States, and will be worn for the first time against FC Barcelona in Washington D.C. on July 28th. The new promo includes Eden Hazard, Nemanja Matíc, Diego Costa, Gary Cahill and Thibaut Courtois.
White is the colour
The kit features a white, red and blue colour scheme - which has been the theme of a number of classic away kits over the past 110 years. A white kit was also worn by the club across its UEFA Champions League-winning season in 2011-12 and was last seen as an away kit in the 2013/14 season when Jose Mourinho returned as manager for his second spell in charge.
According to the official Chelsea website, the design has been combined with the latest ''adidas performance technologies" which are designed to help players be "faster and more comfortable" on the pitch.
As with all Adidas football strips, it comes with their trademark climacool ventilation technology, which helps draw sweat away from the body. Along with that it provides "greater freedom of movement and comfort without sacrificing flexibility and resilience".
The away kit will be available to buy from Wednesday at selected Adidas and Chelsea own-retail stores, specialist sports retailers and e-commerce channels worldwide.
History of the white kit
The white kit has been famous during a number of Chelsea matches. It's most important, however, will probably be the 2-2 draw in the Camp Nou against Barcelona in the semi-finals of the 2011-12 UEFA Champions League.
That put them on the verge to win their maiden title only a few weeks later against Bayern Munich in Munich. Since Roman Abramovich took over, white was a kit colour from 2003-2005, 2006-2008, 2009-10, 2011-2014 and since the 2012-13 season, it was used as an away colour instead of third colours.