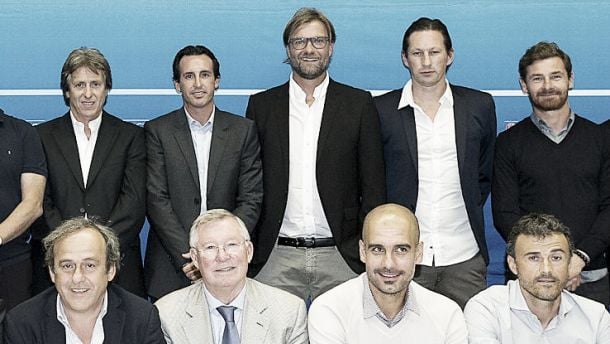 Sir Alex Ferguson has had his say on Liverpool's appointment of German manager Jürgen Klopp, admitting that's he's worried by the highly rated coach arriving on Merseyside.
Ferguson, former coach of the Reds' bitter rivals Manchester United, is one of the most respected men in football, having won 38 trophies in 26 years at the club.
Ferguson impressed by Liverpool hiring Klopp
He saw off several different Liverpool managers during his time in the North-West, but gave Klopp his seal of approval, insisting that the eccentric manager will be the right appointment at Anfield.
Revealing that he knows Klopp fairly well, thanks to their time together at the UEFA elite coaching classes in Geneva, Ferguson labelled it as a "good appointment" from Liverpool, adding that he thinks the German will do "very well" during his time on L4.
Scottish legend worried by Klopp's ability to transform Reds
Describing Klopp as a "strong, determined personality" who he "admires", the Scotsman told of how the former Borussia Dortmund boss' career so far has been a "stellar rise to the top".
All of this is a cause for concern for Ferguson and fellow United supporters, scared that Klopp could shake up the balance of footballing power in the North-West.
For a long time now have Liverpool lived in Manchester United's shadow, results wise, and Feguson clearly feels that Klopp can change things. Telling ESPN that he's "worried about it [Klopp taking over]", he might have just made Reds fans that little bit more excited about their future.
Klopp must wait another week to impress
For now, he's got another week to prepare himself for his first game as Liverpool boss, due to the current international break. Tottenham Hotspur will present his first challenge, with the Reds set to play them next Saturday.
Due to many senior players being away on international duty, Klopp has been taking the chance to get to grips with the other parts of the club. He took in an U18's game on Saturday morning, watching Liverpool's youngsters defeat Stoke City 1-0.