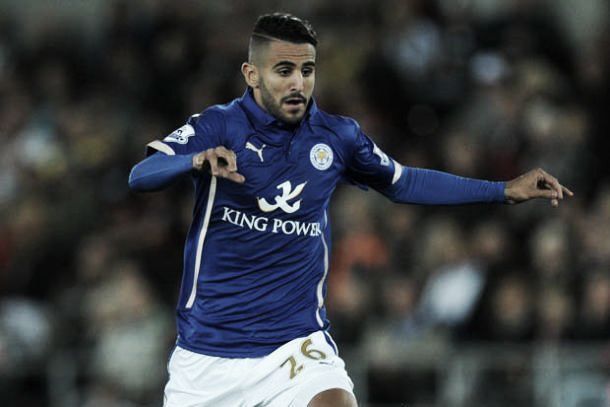 Widespread reports are suggesting that Manchester United and Paris Saint-Germain have opened talks with the representatives of the Leicester City midfielder, Riyad Mahrez.
The talks are over a possible transfer, but no-one knows when the transfer may take place. This is according to France Football, who say that Mahrez has been isolated by Manchester United as the main target to bolster their attacking threat. However, PSG are also in the market for the Algerian's signature and seem very keen to make a deal happen.
No surprise that Mahrez is attracting interest
It was only a matter of time before Leicester's star midfielder Mahrez would start to attract interest, and that time has come. The Algerian has been a vital part of the Foxes' rise this season, being directly involved in eleven of Leicester's goals in his last 10 Premier League appearances.
With stats like that, they'll do well to keep hold of the player, especially with the financial power that the biggest clubs in Europe possess in the modern day era.
The Ranieri influence
We know that Mahrez has become a much more consistent player under Claudio Ranieri, developing into an influential attacking threat. The Italian manager has used his player exactly how he wants to, playing him wide and just off the striker. There have been occasions though where Mahrez has been omitted from the starting XI, but the 24-year-old has thrived as a result when introduced.
Manchester United and Mahrez could be a perfect fit
If Manchester United were to capture the Algerian, the potential would be mouthwatering - putting him alongside players such as Anthony Martial, Juan Mata and Memphis Depay. It would be a force that many teams would fear, and he could fit in perfectly.
Mahrez would certainly light up the Theatre of Dreams, not only with the goals and assists, his tricks and chances created could help to bring back the added edge that United long for in attack.
The Red Devils currently lack an orthodox winger. Martial and Mata are the two players who currently occupy those spots, neither of whom are natural wingers. So you'd assume, if he did join, that Mahrez would go straight into the side.
Leicester will look to keep Mahrez
The Foxes will look to block any move for the Algerian though, with their desire to keep him known. They are having an excellent campaign so far, and keeping Mahrez in their team, they could be set for great things come the end of the season. It has been rumoured though if United did want Mahrez, then they would have to wait until next summer and be willing to pay a substantial amount of money.