 "The Special One" and Chelsea manager Jose Mourinho benched Spanish international forward Diego Costa in the fixture against London rivals Tottenham because of his lack of goals this league campaign, according to Ruud Gullit.
Will the discontent between the two continue?
The relationship between the aggressive Costa and strategic Mourinho became controversial after what appeared to be a war of words during the recent 4-0 victory in a Group G UEFA Champions League match midweek.
Mourinho put out the fire surrounding any issues involving the pair, but criticized his effort despite scoring against Norwich City in their 1-0 win the previous Barclays Premier League matchday.
When Diego Costa registered that he would not come on as a substitute during the 0-0 draw at White Hart Lane, he indignantly pitched his bib in the direction of Mourinho upon returning to join his teammates on the bench after warming up on the sideline.
The aggressive behavior the striker emits is nothing less than ordinary for him, but will not assist in returning him to the form of last season that will earn him a spot back in the starting lineup, according to Gullit in his BBC Sport column.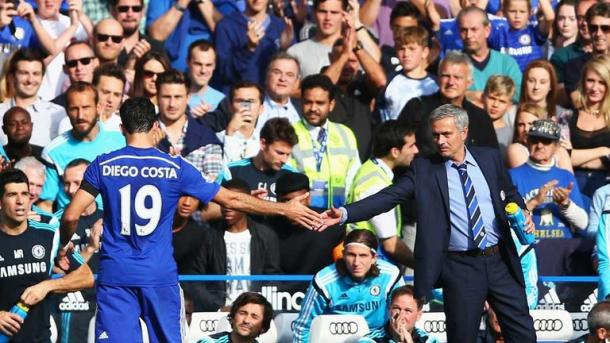 Can Mourinho afford to leave Costa out?
"Mourinho kept picking Costa when he was not scoring for weeks and weeks and also defended him when he behaved badly on the field," he said. Gullit continued, "He was very loyal to his player but there was always going to be a time where he would say 'enough is enough' and leave him out, and it came at the weekend."
Gullit spoke on how Mourinho's devotion to fighting for Costa regardless of his poor form may not help their current situation, "When you do that and the player himself still thinks he has done enough to be picked, then you have a problem. He believes, "That seemed to be what was happening with Costa's behaviour at White Hart Lane."
Gullit did, however, admit that he couldn't see it being a "permanent situation", due to Chelsea's need for "an answer up front".
Speculation has arisen recently in the media that Chelsea are linked with a few potential forwards in the January transfer window to replace Diego Costa and the possibility of the termination of Radamel Falcao's loan deal from AS Monaco in France. However, Jose Mourinho has denied these reports from several media outlets.