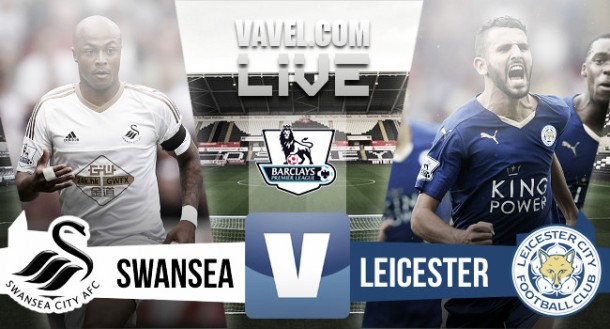 90+4 The final whistle goes. Vardy's goalscoring run is over, but Riyad Mahrez' hattrick guides the Foxes to an impressive 3-0 away win at the Liberty Stadium against a dire Swansea performance.
85' Some neat work from Barrow cutting in from the right. His ball finds Ayew, who slips as he shoots and is prevented from a consolation goal from Schmeichel.
80' Sigurdsson with a great effort from 25 yards, only for it to hit the upright.
76' Gomis is clear through on goal, but his effort hits Schmeichel. First time Schmeichel has really been challenged in the game.
75' Another great chance for Vardy. Played in by Kante, he takes the ball round the keeper but can only find the side netting from a tight angle.
74' Drinkwater's ball over the top finds Vardy, who knocks the ball over the bar. Tried to stab at it with the outside of his boot.
70' That goal all came from a Drinkwater clearance, and he has been outstanding today. Bossed the midfield with Kante.
68' GOAL TO LEICESTER! A MAHREZ HATTRICK! On the break, Kante carries the ball 30 yards, knocks it to Vardy who turns and finds Mahrez who slots it into the far bottom corner with his right foot. 3-0.
57' Chance breaks for Leicester with Kante down the middle. Tried to play it into Vardy but too much power behind it. The striker wanted it earlier.
52' Substitute Montero presses Simpson on the left flank, plays it into Sigurdsson who takes a touch and hits it wide with his left boot. Good chance. The Swans are still in this.
51' Chance for Leicester on the break with Mahrez on the right, cuts in and shoots for his hattrick but goes well over/wide. Had three options to his left, all were possibly a better option.
46' Huge chance for Swansea early on in the second half as Ki heads a free-kick against the crossbar.
47+3 The half-time whistle goes with Kasper Schmeichel not being forced into one save. Leicester will be pleased, though they could be four or five goals up. Garry Monk's team-talk will be crucial in how the second half goes.
39' Yet another glorious chance for the Foxes on the break. Swansea's defence were everywhere as Ulloa was played in practically clean-through, cuts onto his right and hits it well wide. HAS to do better there.
26' Too easy for Leicester. Swansea are working the ball into half decent areas but doing nothing with it. No players waiting in the box. The home faithful are becoming increasingly frustrated.
25' A golden chance for Mahrez to either square it in the area or grab a hattrick. On the counter, Ulloa knocks it to Mahrez clean through, but hits it straight at the keeper.
22' GOAL TO LEICESTER! Vardy brings it down on the counter-attack, knocks it to Kante who plays a delightfully weighted diagonal ball over to Mahrez (who looks to have been offside), who brings it down with a fine touch and passes it into the far corner. 2 for Leicester - 2 for Mahrez.
15' Huge chance for Vardy as he finds himself through one-on-one with Fabianski but hits it straight at the keeper. A rare miss. Perhaps he found himself with too much time.
9' At closer inspection, it seems Mahrez' goal came off his hip and not his arm.
8' Leicester are looking very up for this, chasing everything down. Swansea, on the other hand, seem to be panicking, hitting the ball long often.
5' GOAL TO LEICESTER! A fine inswinging corner from Marc Albrighton is knocked in by Mahrez. Suspicions of handball from the Algerian but no claims from Swansea. 1-0 Leicester.
1' We're underway at the Liberty Stadium, with Swansea in all white and Leicester in all black.
Join us at 3pm for kick-off!
Leicester City: Schmeichel Simpson Morgan Huth Fuchs Mahrez Kante Drinkwater Albrighton Ulloa Vardy
TEAM NEWS: Swansea City: Fabianski Naughton Bartley Williams Taylor Britton Ki Sigurdsson Ayew Routledge Gomis
The Foxes are not short of goals though, being the only team to score in each of their 14 league fixtures so far this season. Of course, Jamie Vardy has had a huge hand in that stat and if he scores tomorrow, he will equal Jimmy Dunne's record of scoring in his 12th successive game. Dunne achieved this in 1932 for Sheffield United, and with Vardy being a Wednesday fan, he has an extra incentive to take this record for himself.
Swansea will fancy their chances on Saturday afternoon, as both previous fixtures between the sides have ended in a 2-0 home win. In order to do that though, they need goals, and they have not scored in six of their last ten league games.
An interesting encounter awaits at the Liberty Stadium, as the home side will be wanting to press the Foxes and stretch their defence. On the other hand, we all know Leicester's quality comes when they are attacking at pace on the break. The midfield battle will be crucial in the match. If Swansea can hold their own in the middle of the park and get plenty of crosses into the box, they can challenge the Leicester defence. Yet, if Ranieri's men are their usual resolute selves, they could be leaving Wales with at least a point.
The players and manager however, are not getting carried away. A quote from Ranieri has remained apparent throughout the season so far: 'Our fans can dream, but not us.' In almost all of his press conferences he has reinforced the club's ambition to build each year, improving every year compared to the last. Looking at the club now compared to this time last year, they seem to be well on their way to achieving that goal for this season. 40 points is still their target, despite being in a Champions League place.
The midland side's miraculous start to this year has stunned football fans globally, and being joint-top in December, you can see why. Although none of us expected it, their story so far has been no fluke. Each game, the Foxes have worn down their opposition time after time, allowing them time on the ball, yet a strong compact force. Swansea, a possession side, may be frustrated throughout this, especially when it comes to the second half and Leicester, the fittest team in the league, are willing to take the scraps.
Another England international, Jonjo Shelvey, could find himself up against one of the partnerships of the season in Danny Drinkwater and N'Golo Kante. They have bossed the middle of the park for the majority of this season and teams are finding them a force to be reckoned with. Drinkwater could also have his name in the hat for an England call-up as he in particular has earnt himself the plaudits of the critics for an impressive campaign. The only thing missing from his game is goals.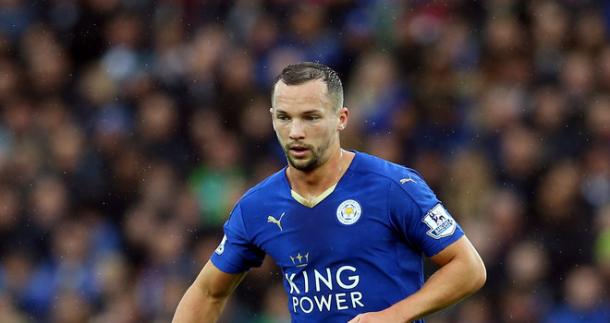 Drinkwater has been a key part of Leicester success this year. (Sky Sports)
Leicester's Jamie Vardy is also a man in form, though you probably didn't need me to tell you that. He earned his way into the Guinness Book of World Records last weekend, scoring his eleventh goal in as many matches, taking Ruud Van Nistelrooy's record away from him against his former club. The England forward will be looking to take his record even further against a tough Swansea defence, which Garry Monk said this week is 'sure' to prevent.
André Ayew is a player not playing shyly for the Swans this season however, with six goals in 14 appearances, which is no mean feat for a player in his first season in the Premier League. A forward-thinking striker who does not tend to have his back to goal and is surprisingly good in the air, Robert Huth and Wes Morgan will struggle to keep him quiet.
In his first managerial role, this is the first real test of his ability, as he tackles to subject of why his team are only 15th in the league. Of course it is still early, though a team wanting to establish itself in the league will want to be improving each year. His players are not performing badly, though the fans will want improvement, rather than complacency.
Swansea boss, Garry Monk has came under some criticism this year and some journalists have even debated whether he is the right man to take the club further. It is hard to wonder why his ability is being questioned, when in his first managerial season two years ago, he guided his team to a 12th place finish, and last season took them to an impressive 8th-place finish.
The Swans have made a steady start to the Premier League, sitting in a lukewarm 15th place, compared to a Leicester side which despite only surviving their Premier League status with two games to go last season, ended last weekend joint-top of the table and somewhat disappointed not to take more than a 1-1 draw at home to Manchester United.
Two teams predicted to be in a similar position to one another throughout this season come together at 3pm on Saturday afternoon with two very different stories of their seasons to tell.
Welcome to VAVEL UK's live minute-by-minute commentary of today's fixture between Swansea and Leicester City. Kick-off is set for 3pm but stick with us as we preview the game, and get team news before kick-off.