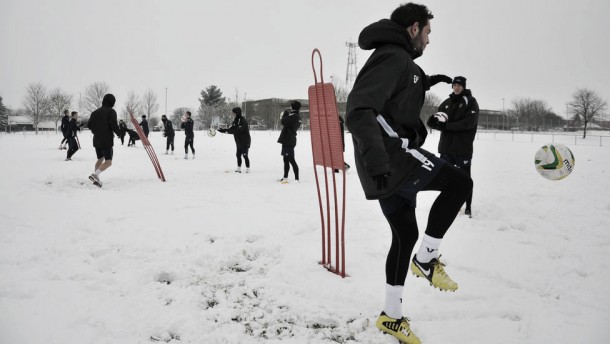 A year ago, Bastian Schweinsteiger would be relaxing in his family home. The Christmas markets of Germany with incredible aromas of bratwurst, Gluhwein and Lebkuchen may have been populated with the highest calibre of athletes; world champions. Thomas Muller, Schweinsteiger or any selection of German Bundesliga players may have been strolling through the German traditional markets in the holiday season.
This Christmas will be different for Schweinsteiger and family. As the light draws to a close on Christmas day itself, Schweinsteiger will leave the warmth of the house to train in the bitter Manchester cold at Carrington ahead of Manchester United's Boxing Day fixture against Stoke City.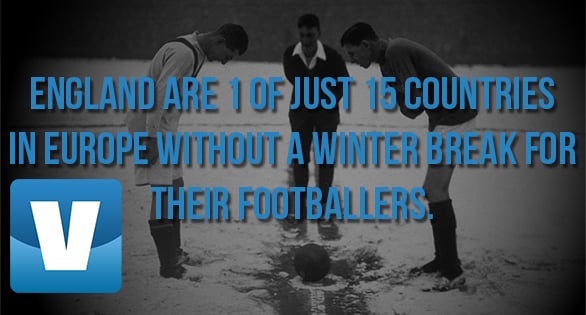 England have no winter break for their footballers while Germany, Spain, Belgium, France, Italy, Holland, Portugal and Turkey do. In fact, the English are one of just 15 leagues in the whole of Europe to have yet to introduce a winter break. Whether it is down to tradition for the fans or money for the business-like Premier League clubs, there is no doubt it is a pressing issue in English football, even if one of money.
Where there is little doubt too is that English football has declined somewhat. After having seven Champions League finalists in as many years, La Liga has overtaken the Premier League as most successful while Germany are clearly the best national side in the world.
It is not down to the lack of a winter break that Roy Hodgson's England side finished bottom of their tricky but 'get through-able' World Cup 2014 group consisting of Costa Rica, Uruguay and Italy. However, it may play a small part of a compounded issue and the lack of a winter break is hurting footballers and hurting the quality of the Premier League.
In the 2014/15 Premier League season, there was a total of 1181 injuries. The month with the most injuries reported, as of PhysioRoom.com, was January. While across Europe, players returned midway through the frosty month of January after their winter break, players in England toppled just like the British Christmas trees. 149 injuries were picked up in January, the peak time for physios around the country.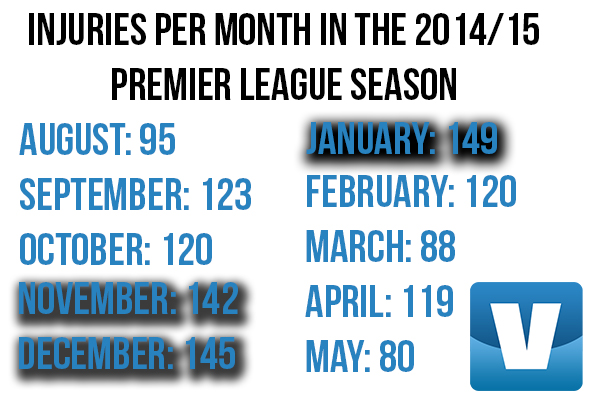 December closely followed suit with 145 injuries while November had the 3rd most at 142. October and February had 120 each while April had 119. There is a small, hazy trend formed in the data.
In the two months of the traditional European winter break, December and January, 25% of injuries of the entire football season were picked up. That is astonishingly high. Or perhaps, it is not.
The English football winter schedule is mayhem, it is bordering on senseless. As English football fans, Boxing Day would simply not be the same without us adorning our colours and trudging in the snow, if limited in England, to the pub or to the ground.
Tradition is brilliant and enjoyable, but change benefits all sides
Two days later, just abiding with FIFA laws of how often a footballer can play, the Premier League will see a further eight games players, with three of them televised. Away fans know better than anyone the impact of television companies on the game, with crazy schedules decided just weeks before the game.
This Christmas, Arsenal and Manchester City fans will bear the worst. On December 21st, the two big boys played each other on a Monday night at 8 o'clock. The City fans will have to travel down from Manchester with a limited train service subject to unreliability with snowfall and poor weather conditions; all on a Monday night as they try to afford the Christmas stockings for their children.
On Boxing Day, Arsenal fans will once more face an evening kick-off. The niceties of cousins and aunts will be lost as the Gooners drive down to Southampton in huge traffic jams.
Another late kick-off comes calling for Arsenal again two days later, this time at 5:30, luckily at home. Fellow London club supporters Chelsea will have to travel up to Manchester on December 28th and travel back down overnight.
The next day, Manchester City fans face a trip to Leicester for a 7:45 pm kick-off. The Citizens will also have to drive down to Watford for another late kick-off on January 2nd.
Meanwhile, the players are embroiled even further in this. Fans may be paying extortionate amounts of money five times in 15 days, but the high-end athletes who make up the Premier League will be facing fatigue, huge amounts of time away from family and still be criticised. Yes, they are paid sometimes sickening amounts of money but footballers are humans just like fans, in fact, they still are fans. They need time to rest, to recover both mentally and physically and they cannot do so.
Hamstring injuries peak in December and January, with 21 and 26 in each month respectively. Meanwhile, at the start of the season in August, there are just 11 and by the end of the season in May there were just 9 in the 2014/15 season.
The football Christmas tradition should not be lost, of course. It is one of the great times of the year in the football calendar, and something that makes the Premier League and Football League more special for many people than the star-laden Spanish and German leagues.
Yet there is a huge case for adapting the current system. For the footballers themselves, there is less fatigue in December and January. There is time to be spent purely with family, a godsend for those struggling mentally. Physically, injuries will go down hugely.
For us, the fans, there is also a break. For those relegation-threatened fans, there is a break to it all, even if we enjoy it. There is also a break from the expensive journeys to watch these players, tired and struggling mentally and physically. Due to the lack of a break, the quality of football decreases.
Arsenal - Chelsea was two days before Christmas in 2013. Built up to be a fantastic, thrilling game, it was a huge letdown. This brilliant rivalry that had built up even further with Jose Mourinho's summer arrival was nowhere to be seen. There were 22 players on the pitch all playing far from their best football.
That may be the same with some key fixtures this year like Manchester United - Chelsea. Quality decreases as tiredness creeps in, there is no doubt about that and we have to watch less boring games, without paying for them at an incredibly expensive time without football.
In lower league terms, football could benefit too, fans in particular. With fewer, or no, games during the period of poor weather, less games will be called off. There won't be a situation of traveling to Carlisle United from the South, turning up having sacrificed a nice Boxing Day with your family, and having the game called off.
That gutting feeling of traveling for hours only to have no reward for your efforts, no football to watch, will disappear for the main part.
There are still, of course, issues of destroying the Christmas football period. For the clubs financers, television money will be lost. As other leagues rest, Premier League teams rake in money with the whole world watching the only football they can find; unless they want to look to Belarus or Estonia.
With less games crammed into this two weeks, more midweek games become necessary and success in Europe may suffer, although with a break perhaps the players might rest and succeed in the long term.
We can have a winter break without losing great festive fixture list
It is for us all to come to our conclusion, but what is needed is a break at some point. It does not have to be at Christmas, although the players would appreciate it. Instead, while the other major European leagues return from their breaks in early/mid-January, the English leagues can take two weeks off until the end of the month. The quality of matches will increase, you won't have a strain on your pocket in December and we get to keep the wonderful festive period. It's time for a change.