London Bees have appointed Dave Edmonson as their new manager.
The Bees have struggled in WSL 2 in recent seasons, finishing third-from-bottom in 2015, but in Edmondson they have brought in a manager who has vast experience at the top level.
The coach managed Bristol City, formerly Academy, most recently, taking them to a Champions League quarter-final in the 2014-15 season. He also led Melbourne Victory to a W-League Championship in 2013-14 and took New Zealand's under-17 team to the World Cup.
Though the appointment has taken some time, with the Bees' season kicking off in less than two months, it is a quality one that the club and their fans will be thrilled with.
Edmondson to bring attractive football to the Hive
Speaking to the Bees' official website, Edmondson used his first interview as the club's boss as an opportunity to describe the playing style he will bring to the Hive, having admitted he is "really pleased" to have got the job.
He said that he and the team "think very similarly about the way that the game should be played," and he is going to use his experiences gained abroad to help the Bees "move forward."
Having spent a lot of time in "Asian football," namely in Australia and New Zealand, his personal coaching philosophy is "possession based" because of the type of football out there.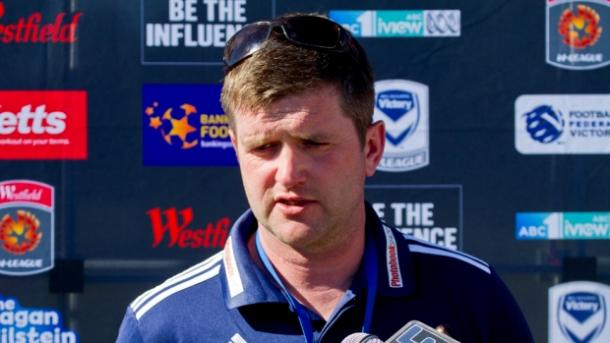 "I hope that we'll look to control games with possession football, but at the same time it'll be very attacking," he explained. Edmondson also added that he likes "to play with width, with some pace and a bit of aggression," and he is looking to implement this in London.
Long term and short term aims
The former Bristol coach, who succeeded Mark Sampson in the South of England, already has both long and short term aims for his spell with the Bees too, which he took the chance to explain upon his arrival.
In the long term, he believes that the "future" of the club is "really positive" because of "the structure and facilities that are in place."
However, with them struggling in WSL 2, promotion to WSL 1 is a long way away, even if he believes the team have the potential to be "competitive" in the top flight.
"In the short term we need to cement our position in WSL 2, and build a base to progress towards WSL 1."
To achieve these targets, Edmondson wants to have "a base of local young players coming through the club," and he wants to implement his philosophy so that they come into the team already "know[ing] how [the team] want to play."
More importantly though, he wants to ensure that there is a "professional behaviour" throughout the club. The manager does not see 'professional' as a term that simply means "money and payments," but instead, for him, "it's based on behaviour."
"We need to make sure that we're all on the same page with expectations, right from the first training session," he continued. This will then allow him to "analyse the squad" and see "if" and "where" he "need[s] to strengthen" the team.
Clean slate
A knowledgeable coach, Edmondson admitted that he is "aware" of a "few players" at the club, but reputations will count for nothing as he comes in.
When he was at Bristol, he said he "tried to be as aware as possible about all WSL 1 and WSL 2 teams" and so he would take "development squads" down to face the Bees. Therefore, he has "watched their first and second teams" over the years,
As a result, he recognises that "there are some good young players" at the club, many of whom have gained "international recognition" for their performances.
However, Edmondson described himself as "a coach that likes to come in and let players stake their claim for a place," and so "reputations don't really mean anything" to him.
"I'll take on board other people's comments," he said, but "it's very much a clean slate and a fresh start."
The manager said that "spots will be up for grabs" from the off and that it's all about how the players "perform." As he prepares the club for a big 2016 season, he hopes that "everyone will be enthused" by this competition and that it will benefit the team.
The Bees are in action on the opening day, facing 2015's bottom side Watford on Wednesday 23 March, and the players will hope to impress their new coach to be in that starting XI in just under two months' time.