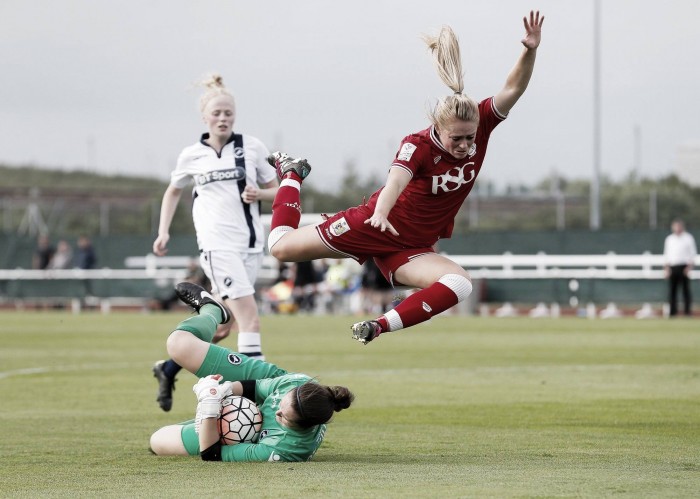 Promotion chasing Bristol City could be without key player Millie Farrow for the rest of the season after she was subbed off on Sunday with a dislocated shoulder.
The Chelsea loanee only returned from the same injury earlier this year, back in April, but she is set for another spell on the sidelines now after a painful fall in the Vixens' goalless draw with Durham at the weekend.
The challenge Farrow was caught up in appeared to be a routine tussle for the ball, with it more to do with her landing as to why she ended up in such distress.
After being assisted by the Durham staff as well as her own side's, the young forward was taken to hospital where it was confirmed that she has in fact redislocated her shoulder, with no timescale given for her return.
Coming at the end of the game, her injury was just more salt in the wounds for Bristol who struggled to break down one of their promotion rivals. The result between Everton and Yeovil Town later in the day would give the Vixens the same pain, with the latter - the league leaders - losing and the Vixens missing the chance to go level at the top.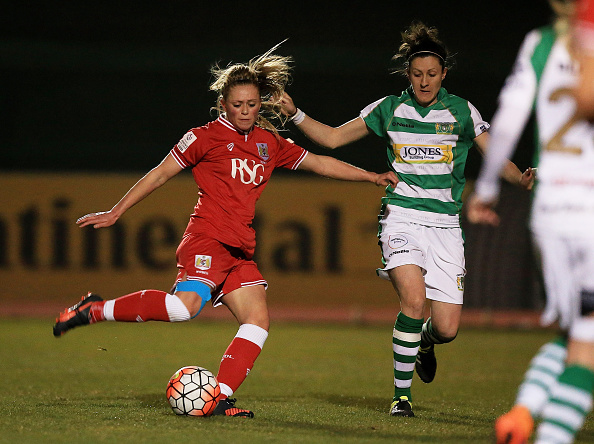 No Farrow, no party
Bristol have made the most of the loan market this year, with Farrow one of several players who have moved from WSL 1 clubs to the WSL 2 on a temporary basis.
Manager Willie Kirk has taken plenty of young talent from the big guns into his squad this term, and few have made as positive an impact as Farrow.
With eight goals in 14 games for the Vixens, she will be sorely missed as they look to continue their charge for the top flight, with her one of the brighter sparks in the draw on Sunday.
That goalless result may have been a taste of things to come for Kirk's side after this blow, given how potent Farrow has been this year.
However, with the amount of quality in his squad, the Scottish coach will be confident of filling her shooting boots with someone else, or at least adapting his side so that her loss is not felt as badly - though this will be some task.