Joel Asoro is one of many youngsters making the step up to Sunderland's first team. The Swedish starlet was given the nod by David Moyes as the manager looks to make the best of his agonisingly thin squad.
Asoro made his debut on 80 minutes on Sunday during Sunderland's 2-1 defeat to Middlesbrough. The 17-year-old has stated that he will keep his feet firmly on the ground and also looks to learn from mentor Jermain Defoe.
The striker told safc.com that he "was very pleased and I didn't expect to come on but when the manager gave me the call I just tried to do my best".
The youngster added, "He looked over and waved me back and I was thinking 'what, me?', so I ran as quickly as I could back to the bench and got my shirt on."
Asoro explained that he was very "grateful" for the reception he got, describing the atmosphere as "amazing".
The noise inside the ground seemed to strike a chord with him, "It meant so much to make my debut in front of the home crowd because everyone was screaming."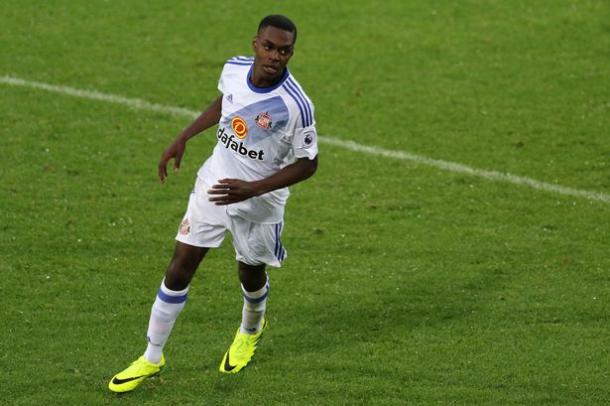 Pre-season breakthrough
The striker burst onto Sunderland's first team scene during pre-season in which he impressed Moyes. The striker is understandably taken back his current situation, which is a dream come true for a boy of his age, but is determined to keep working hard.
He continued: "The last month has gone so quickly and I thought that if I kept training with the first team I might get a chance at the end of the season."
Asoro admitted he was "very surprised to play" and has "tried to listen to all the advice" that David Moyes has given him.
The Swede said Moyes has "talked to [him] a lot and I've learnt a lot since he's come in", and also spoke about the "great experience training with Jermain [Defoe]".
And this won't be the last we see of Asoro. The youngster is clearly part of the club's plans as they look to add to their threadbare squad. But even if Sunderland do make some new recruits, Asoro will still be banging on the manager's door.
"I just need to be ready and keep working on the training pitch, taking any opportunities that come my way in my stride," he said.
Asoro concluded, "The day I played was yesterday and yesterday is not today, so I need to work harder because I'm far from done and I want this to be the start of something rather than the end."