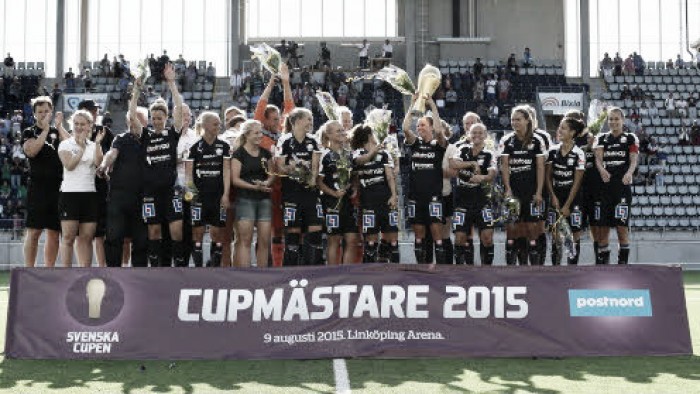 Linköpings FC are the current holders and if they do win it, they will equal Öxabäcks IF's record of six cups and they have yet to lose a single of their five finals. FC Rosengård has won two finals, last back in 1997, whilst they've lost their past two finals.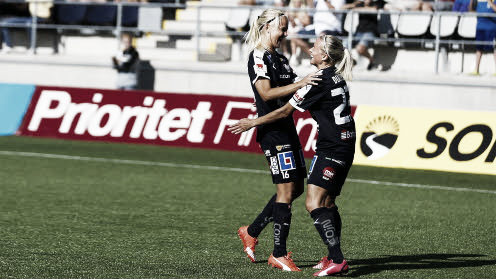 Route To The Final
Linköpings
Damallsvenskan sides enter the tournament in the Third Round between September and November 2015 (which consists of 32 sides), and Linköpings began their defence against a local side BK Tinnis who play in the Dam Division 3.
It was a comprehensive 8-0 win for Linköpings, although they led 1-0 at half-time thanks to Maja Krantz's goal. But they scored seven goals in the second half thanks to goals from Fridolina Rolfö, Claudio Neto, Venera Rexhi's double, Sara Olai, Pernille Harder and an own goal from Rebecka Stigenhed.
In the Fourth Round, they faced fellow Damallsvenskan side Kopparbergs/Göteborg FC. They picked up another clean sheet as they won. Two first half goals from Tove Almqvist and a second-half strike from Stina Blackstenius to secure a 3-0 win.
Once again, they faced Damallsvenskan opposition in the Quarter-Finals, this time, Mallbackens IF Sunne, and it was a comprehensive victory. They lead 6-0 at half-time, thanks to Rolfö's hat-trick, a double from Pernille Harder and one goal from Blackstenius. And the goals kept on coming, with Rolfö scoring two more goals and Joanna Andersson scoring twice as well.
Things were tougher in the Semi-Finals as they took on Eskilstuna United. They took the lead in the ninth minute, with Rolfö once again getting on the scoresheet, but that would be the only goal of the game as they reached the final with a 1-0 win. This means they are yet to concede in this season's competition.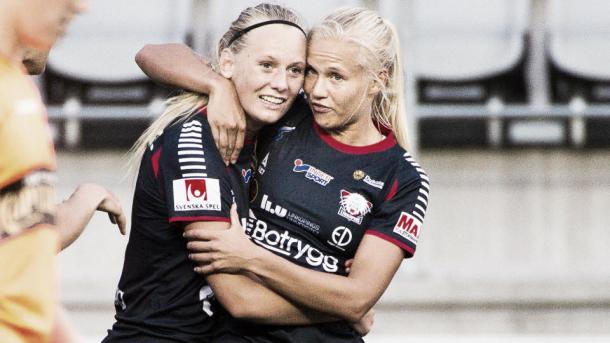 Rosengård
Rosengård's campaign began with an away tie against Elitettan (second tier) side IF Limhamn Bunkeflo. Rosengård took an early 2-0 lead with Kirsten van de Ven scoring twice. However, Limhamn pulled a goal back in the 27th minute through Anna Welin. Sara Gunnarsdottir restored Rosengård's two-goal advantage before Jossee Belanger gave the Damallsvenskan side a 4-1 lead at half-time.
Limhamn had a great start to the second half, pulling another goal back through Mia Persson. But any chance of a shock was ended by Rosengård's second-half performance with Malin Gunnarsson, Ebba Wieder scoring, Gunnarsdottir scoring her second of the game as well as van de Ven scoring two more of her, completing her hat-trick. The Elitettan club scored in the 90th minute through Maltida Ovenberger but van de Ven's fifth goal of the game saw Rosengård secure a 10-3 win.
They faced fellow Damallsvenskan opposition in the Fourth Round as they took on Kristianstads. On the stroke of half-time, Brazilian legend Marta opened the scoring before completing her hat-trick in the second half as Rosengård won 3-0.
Once again, they faced Damallsvenskan opposition in the Quarter-Finals, this time, Vittsjö GIK. Goals from Natasha Andonova and Hanna Persson saw Rosengård win 2-0 to reach the Semi-Finals stage.
There they faced Piteå. They had a 2-0 lead at half-time thanks to goals from Andonova and Lieke Martens. But as they say, 2-0 is the most dangerous scoreline in football and it was so nearly the case here as Piteå pulled a goal back in the 82nd minute through Felicia Karlsson. But Rosengård held on to secure their place in the Final.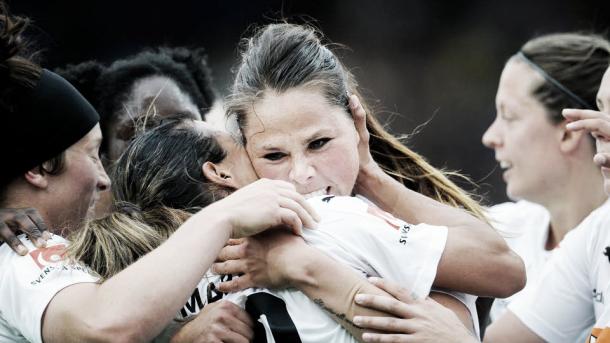 Head-to-Head
In recent games, games between these two have been balanced. In this season, they drew 1-1 in the Damallsvenskan, however, Rosengård thrashed them emphatically 5-0 in the 2015 Damallsvenskan.
Linköpings had beaten them earlier in the league as well as winning 2-0 in the 2015 Svenska Cupen Final, however, Rosengård won the Svenska Supercupen 1-0.
Topscorers
Rolfö is Linköpings's top scorer in this season's cup, scoring seven whilst van de Ven has scored five for Rosengård and is their top scorer. However, all of her goals came in the Third Round.