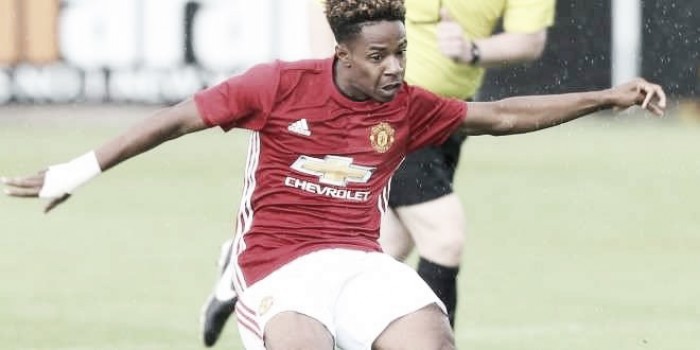 In an eventful, high-quality game, Manchester City took the bragging rights in Manchester at under-18 level after goals from Luke Bolton and Phil Foden gave them a 2-0 victory, the second following quickly after a sending off for Manchester United.
Sancho sets up City's opener
Despite an even first half, City went into the break with a one-goal lead. One of the Blues' finest talents, Jadon Sancho, dribbled past multiple United players before setting up an unmarked Luke Bolton, United's Jake Kenyon seemingly at fault for the space Bolton was left in. The City man used United's errors to his advantage, finishing past Ilias Moutha-Sebtaoui for the opening goal.
United's attacking quarter of Indy Boonen, Angel Gomes, Tahith Chong, and DJ Buffonge were all on the pitch, but were given too little service to tear City apart as they have done to West Brom, Middlesbrough, and Everton in the last few weeks. Gomes is Kieran McKenna's side's top goalscorer, while the quartet have helped United to score five in three consecutive games.
City were gifted an opportunity to double their first-half lead after poor decision-making from Moutha-Sebtaoui, a theme which has run through the new under-18s first-choice goalkeeper's opening few games this season. The United man picked up a backpass only eight yards from his own goal to give City a golden chance. United piled everyone on the line and managed to clear a powerful drive at them.
Chong had a late chance in the opening 45 minutes after Jake Kenyon put an excellent ball into the penalty area. Chong's shot was hit into the ground and saved comfortably by City goalkeeper Muric.
Both Phil Foden and Ed Francis came close to scoring just moments after the break and Jadon Sancho was denied by Ireland under-17 captain Lee O'Connor on multiple occasion. The two created an immense battle on the left of the penalty area throughout the ninety minutes, their talent almost equal. Sancho was City's Man of the Match and O'Connor United's, the latter's timing in the tackle astonishingly accurate and consistent to deny Sancho.
A first fight of the match broke out after Ro-Shaun Williams, who had been booked in the first half, shoved Ian Carlo Poveda before grabbing the City forward by the neck. Referee Kenwyn Hughes gave United the free-kick, Williams having been fouled, but dealt no further action to either player, perhaps luckily for Williams and United.
United goalkeeper sees red
McKenna tried to improve United's attacking potency by bringing on Joshua Bohui for Nishan Burkart but instead City continue their dominance. United goalkeeper Moutha-Sebtaoui came charging out of his goal to clatter Joe Hardy. Sancho took opposition to the reckless challenge and shoved Moutha-Sebtaoui, the United goalkeeper reacting by attempting to pull Sancho to the ground. Both teams got involved, with City goalkeeper Muric charging up the full length of the pitch to join the fight. It died down quickly, seeing Moutha-Sebtaoui sent off and Muric and Sancho given only bookings.
Moments later, after Max Johnstone replaced DJ Buffonge, the replacement goalkeeper was picking the ball out of net after Williams deflected Foden's shot into his own net, taking it ever so slightly away from Johnstone. Lee O'Connor's challenges prevented the scoreline from increasing further in City's favour, while United had only long range efforts on Muric's goal.