As November comes to a close, Tottenham Hotspur end the month with their third consecutive London derby as they travel to Stamford Bridge to face an inform Chelsea side.
In his pre-match press conference manager Mauricio Pochettino dismissed the idea of tensions running high again last season but instead believes that the game is instead about coming and "trying to play better than them". He also added that "they are in very good form" after winning six games in a row and this only adds to the challenge.
Battle of the Bridge forgotten
Last time Chelsea and Tottenham met at Stamford Bridge it resulted in a heated battle, which has since been labelled the Battle of the Bridge. The game saw Chelsea come back from 2-0 down to win Leicester the Premier League title.
Frustration grew throughout the game between Tottenham players as they broke the record for the most yellow cards picked up in a game as nine players made the book. Pochettino however believes that the game "is in the past" and therefore he does not need to speak to his players about controlling their emotions this time around. He added that "all is forgotten" as "it was a completely different period" for the club and tensions ran high for reasons that no longer exist.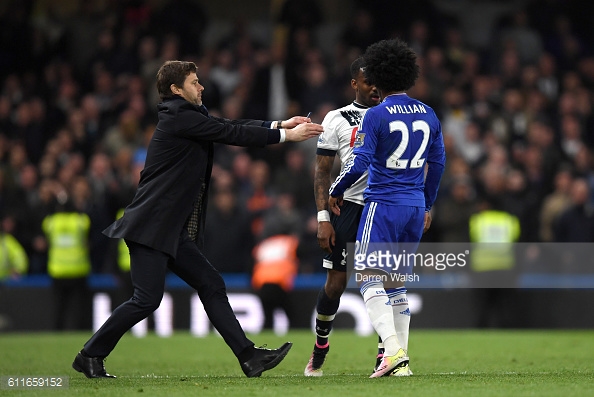 Injury dilemma continues
In the recent month Tottenham have suffered numerous injuries to their first team players. With Harry Kane only recently returning to full fitness Spurs are still without Ben Davies, Erik Lamela and Toby Alderweireld. Davies's injury would not have been a problem had Danny Rose not picked up him fifth yellow card of the season leaving him suspended for the derby. Pochettino dismissed the issue commenting, "We played against Sunderland with Jan Vertonghen at full-back" a position Vertonghen takes up for his country despite previously expressing his dislike for playing in that position at club level. Pochettino also added that "we can play with Kieran Trippier on the left or we can play with Kevin Wimmer" but the decision comes down to assessing the players after the game against Monaco and choosing those that " are available to play".
Discussing Toby Alderweireld's injury Pochettino recognized that the recovery period has taken longer than he expected. With Pochettino previously commenting that it was only a knock and the defender would be back quickly despite him picking up the injury nearly six weeks ago. The Argentine commented that "I don't want to be wrong again, we hope that as soon as possible he can be available again" adding that "today he was involved with the squad to do some boxes and with the ball" but "we'll see tomorrow if he can do the whole training session and next week will be key".