Sitting in seventh at Christmas with an EFL Cup semi-final awaiting him, Southampton coach Claude Puel could be excused for having a glass of wine with his roast this Sunday.
Except, this season has seen a different kind of roasting for Puel from his own supporters; many were unhappy with his supposed low-energy and slow-paced tactics.
This wasn't the case against Bournemouth on the weekend as the Saints came from behind to win 3-1 through a Jay Rodriguez brace.
Puel's change in tempo and personnel at half-time – with the score at 1-1 - saw Steven Davis replace Harrison Reed as Jordy Clasie slotted back into the latter's position at defensive-midfield.
His tactical switch-up completely upped the ante as the Cherries were penned back into their own half for large periods of the second half.
An image of the Frenchman's relief in reaction to Rodriguez's stunning on-the-turn volley could paint a thousand words, but ultimately expresses his sheer passion for the game - something Saints fans will love to see.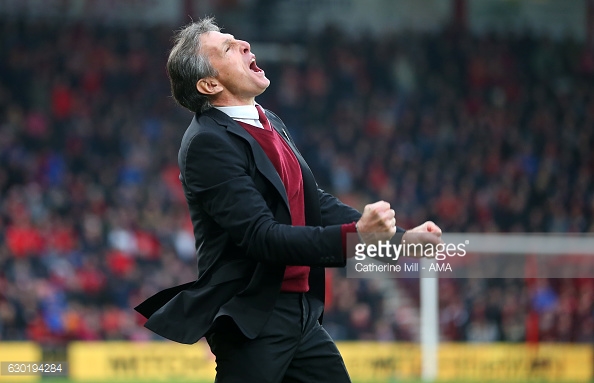 Midfield intensity
During a lot of games this season Southampton have been susceptible to sitting deep, allowing teams to try and break them down.
Only Chelsea (11) and Tottenham (12) have given up more goals than Southampton (16) in the Premier League, even though in the past, under Ronald Koeman and previously Mauricio Pochettino, the squad was taught to pressure with a purpose.
So it's a mystery whether this is due to Puel's new defensive shape or just the consistent back five; made up of Fraser Forster, Ryan Bertrand, Virgil van Dijk, Jose Fonte and Cedric Soares; that makes Southampton a tough nut to crack.
A change in intensity that may not suit fans of the South coast club; Puel's calm and patient approach doesn't always please the eager and impatient supporter.
Davis' introduction sparked a fuse in the midfield on Sunday though; suddenly every turn or pass from a Bournemouth man was met with a fierce fresh face.
Instead of being allowed time on the ball, the deep-lying duo of Jack Wilshere and Harry Arter were forced into going long – something that doesn't suit the slick short-passing style of Eddie Howe's side.
Southampton's ascendancy came from the moment that Rodriguez slotted home Davis' dinked pass, after a sweet back-heel from Sofiane Boufal making it 2-1 - a lovely bit of play showing signs of the real form Puel wants his teams to take.
After all, Nice scored 58 goals in last season's Ligue 1 campaign under him, with Paris Saint-Germain (102) and Lyon (67) being the other high-flyers in the league.
Clearly it's not Puel's idea to play at a slow pace; his players just need to perform to a higher standard than they have done – for example at home to Hapoel Be'er Sheva or away in Stoke last Wednesday.
When they have, Puel's tactics shine through, not only in the Bournemouth win but in also in the 3-0 victory over West Ham at the London Stadium. Even in a 2-1 loss at The Emirates where a contentious penalty denied him a point against Arsenal, the game could've been settled long before had Shane Long been more clinical in front of goal - no pun intended.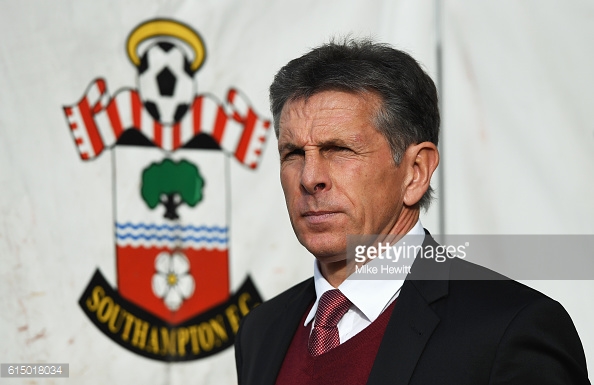 Unfortunate scheduling
Koeman's leaving gift before departing to Everton was a place in the Europa League group stages, as Southampton finished in sixth place - a feat he was unable to achieve at the start of the season after being knocked out of the play-off rounds by Midtjylland 2-1 on aggregate.
This in turn gave Puel a much tougher schedule for the resulting season's opening months; playing every two weeks on a Thursday night means there's only a day or so to prepare for the following Sunday game.
Inevitably, having less time to prepare in the week makes it tougher to implement a new tactical scheme upon your large squad and this was firmly evident in the European group games.
The intensity of Southampton's play in these games was below par, especially in all three away ties; fans travelled to Milan, Israel and Prague and never celebrated a single goal.
Even though Puel's side only lost one Premier League match tied to the same week as these group fixtures, performances in said-games were unconvincing.
Three 1-0 home wins (Swansea, Everton and Middlesbrough), two away draws (Manchester City and Leicester) and a devastating loss to Hull haven't been enough to win over doubtful Saints supporters.
Scoring fewer goals and seemingly showing a lack of attacking threat has seen some Saints fans turn against the French coach. Coupled with his composed post-match interviews, Puel's aura of patience can be insulting to people who pay substantial amounts to watch each game.
Many expected their team to carry on the fine form of last year, but Puel's subdued appointment was surrounded by mystery and not a lot of excitement.
Replacing top strikers
An unrealistic expectation given the sales of last season's joint top-scorers Graziano Pelle and Sadio Mane.
Mane, for example, has now been involved in 20 goals in his last 24 Premier League matches.
Pelle was never replaced in the summer whilst Mane's direct replacement Nathan Redmond isn't the same type of player; he lacks the ability to take over a game like the Senegalese international.
Not to say Redmond isn't talented - clearly the England U-21 winger has qualities Southampton need, but it has only been seen in rare flashes.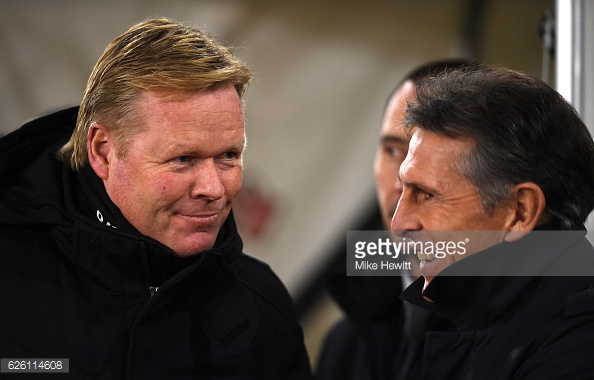 A similar case for Arsene Wenger
Going into his last season as Arsenal coach, Arsene Wenger should be known as a club legend by the majority of Gunners fans.
However, Wenger's tactics are constantly critiqued and his quotes constantly picked apart by the media.
Not one transfer window goes by without a feeling of desperation and eventual disappointment for the majority of the Arsenal faithful.
Arsenal's consistency under their French manager is nothing short of scintillating - all 20 seasons with him have seen them finish in the top-four.
Passionate supporters have grown impatient though, having to wait lengthy periods for the North-London club to win a league title, they haven't done so since the 2003/04's 'Invincibles'.
Manchester United saw consistency leave them in the form of Sir Alex Ferguson, and now have to face the reality of the gruelling competition for fourth place.
Wenger, like Puel, exudes a calm manner and as his nickname suggests - "Le Proffeseur" - he doesn't take to reacting to outside opinion.
Instead, managing his team the way he wants with his tactics enforced form the perfect formula for the Strasbourg-native.
Even world-class coaches like Pep Guardiola are finding it hard to gain the trust of their club's supporters. The ever-successful Spanish manager has faced heavy critiquing of his tactics since City's good run of form ended - when the problem most likely lies in the players he uses them upon.
There's much more to the game than just a manager and eleven men, each one has their own issues, confidence and preferences. Each week they have to deal with these problems, plus if a player misses an opportunity is it the coach's fault?
For example take the Chelsea loss, the 3-1 scoreline simply flattered Antonio Conte's side, if Sergio Aguero or Kevin de Bruyne had put away easy chances then the tactical decisions would not have come under scrutiny.
In Puel's case he hasn't had his winning moment just yet. Possibly beating Liverpool in the upcoming semi-final of the EFL Cup can provide that.
A trip to Wembley would for sure grab the full support of Southampton's faithful - they haven't had one since Alan Pardew 's 2010 side lifted the JPT.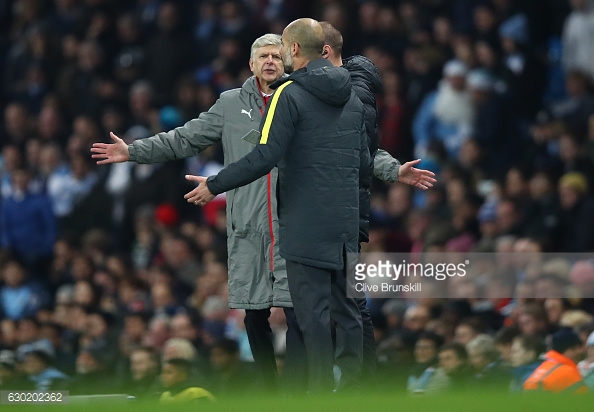 Puel's remarkable rotation
One thing that can be said for Puel is that his squad rotation has been on point, making full use of the academy. Koeman never did this in his short spell; proof of his negligence towards the younger players came in a post-match interview following the 1-0 loss to his former employers stating that he "wasn't aware of Josh Sims" in his time as Saints boss.
Sims has been one of the more outstanding academy players over the past couple of years, along with Jake Hesketh, Alfie Jones and Marcus Barnes. So in truth, Sims should've been on Koeman's radar.
For cup games, players such as Hesketh have been shifted into the starting eleven, but the balance of the side is never compromised. In Europe a similar line-up was used in all group games, albeit to no avail.
As far as the league is concerned, Puel has a trusted back five and his midfield three mostly consists of Oriol Romeu and Davis, with the third man switching between James Ward-Prowse and Pierre-Emile Hojbjerg. Whilst up top he's been unable to establish a consistent front three.
Why Southampton should be feared under Claude Puel
With Puel making full use of the academy, Southampton will soon be a near self-sustaining club. Sam McQueen was able to step in for arguably one of the best full-backs in the league in Bertrand. Reed stepped in at the weekend looking established and Sims has looked comfortable alongside more experienced players up front.
Prowse is now a mainstay in the starting eleven now also, having joined the academy at the age of eight.
The counter argument for this emergence of talent is one that reads "what if they're sold on too?" - a simplistic one since there hasn't been any academy graduates sold on in the last two years.
Luke Shaw, Calum Chambers and Adam Lallana all moved on in the same summer of 2014, paving the way for future talents.
On top of this, potentially having a freshly-confident striker in Rodriguez could act as a new signing; his two-goal performance was inconceivable following months of poor form.
Straight after his first goal, the former-Burnley man looked more energetic, latching onto over-the-top through balls, stringing passes and chasing down defenders.
Without the goals coming from their poacher Charlie Austin, someone has to step up or be brought in. When this happens Southampton should be feared.
A top-table side will always have both ends of the pitch sorted out, obviously. Chelsea are enjoying a rich vein of form right now under Conte in both aspects, defensively allowing the least amount of goals whilst also grabbing 35 goals, fourth best in the league.
A Fonte-led defence has never had many problems keeping clean sheets. The problem for Southampton lies in finishing chances, as they've certainly created enough.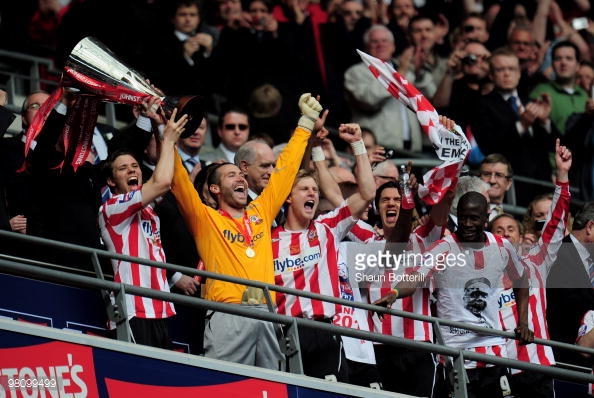 A doubtful St. Mary's
When Pochettino stepped into the shoes of Nigel Adkins, few knew who he was or what he had accomplished with his previous team – Espanyol.
However, Pochettino was able to quickly win over the fans with big home victories over Liverpool, Chelsea and Manchester City. Even alongside losses against Newcastle and QPR; previously wins under Adkins.
Forming affection for the man in charge is easy once you see your side beat the so-called 'big six' clubs.
It changes the perception people have of their team's coach and how well they're doing; one win against a top side means more to most than scraping wins against teams they're expected to beat.
But this isn't how it should be in football - coaches must be judged on a larger scale, getting rid of the magnifying glass on each individual game and replacing it with a larger scope of the season as a whole.
For Puel's short tenure, he's had to deal with a weaker squad than Koeman, a busier schedule and adjusting new and old faces to his own system – a more expansive one than the former Saints coach. All on top of trying to win over a doubtful audience.
On Koeman's arrival, everyone knew who he was. Whether he started out bad or good wouldn't have mattered. Most wouldn't turn against him quickly since his history and reputation in the game happen to be quite historic – a legendary defender who played for Barcelona and Holland at his peak.
Yet, Puel has succeeded in doing most of the above. As mentioned before his team lie seventh in the table with a possible cup final on the horizon. Koeman's Southampton at this time last year were sat 12th in the table having not won in their last five matches. An emphatic 6-1 loss at home to Liverpool in the EFL Cup a couple weeks earlier meant that there was no hope of a Wembley final either.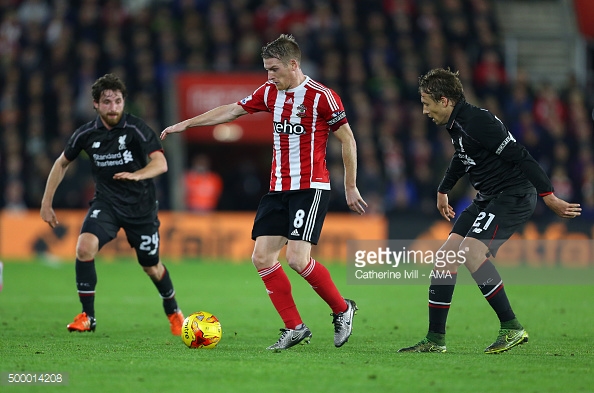 What the future holds for Claude Puel
At the weekend a change in pace saw Southampton bury locals Bournemouth. Puel will be hoping this performance was a sign of what's to come from his squad.
As for large parts of this season, his team has either scraped by or been unimposing in attack. The joy of watching Rodriguez score the third showed and if the team hits a run of form now there's still a long way to go in this season to turn the opposed into believers of Puel.
So is the ever-smartly-dressed man deserving of more credit from Saints fans?
Perhaps, time will tell whether Southampton's hierarchy made the right call in hiring him. Although, at the moment you'd imagine they're satisfied with their coach's use of youth and attitude towards multiple competitions.
In turn, the Southampton faithful should be satisfied too.