Hull City manager Marco Silva cut a frustrated figure as his side lost to Arsenal in controversial circumstances. The Portugese manager was impressed by the way his side played but was left disappointed with a couple of decisions by referee Mark Clattenburg.
"The referee apologised to my players at the start of the second half"
Alexis Sanchez netted the opener with his hand, though referee Clattenburg let the goal stand despite seemingly discussing the validity of the goal with one of his assistants. Silva admitted "Arsenal scored the first goal with a handball and the referee apologised to my players at the start of the second half but it is not good for us. But we make mistakes and sometimes referees do the same".
Silva also felt that Kieran Gibbs should have received his marching orders when he pulled Lazar Markovic to the ground in the second half. The Hull manager explained "Arsenal should have maybe only had ten men. Markovic had the chance to go one-on-one with the goalkeeper. It is another important decision in the game".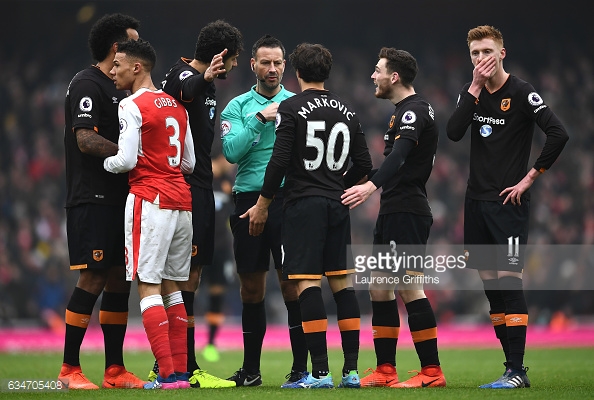 Silva pleased with performance
Silva admitted that Hull made a nervy start but improved throughout the contest. He added "we didn't start well in the first half and we were losing the ball in some important zones but after this we started to have better control in the game".
The second youngest manager in the Premier League felt his team could have earned at least a point from the game if they were more clinical in front of goal. He explained "it was a very good second half for our team and we controlled it. Arsenal caused us a couple of problems with counter-attacks but we had our chances to score and to change the result. We didn't have a good day because our final decisions with those chances weren't good".
With "time to rest and time to work on things for the next game" Silva will now turn his attentions to Hull's next fixture against Burnley in a fortnight.