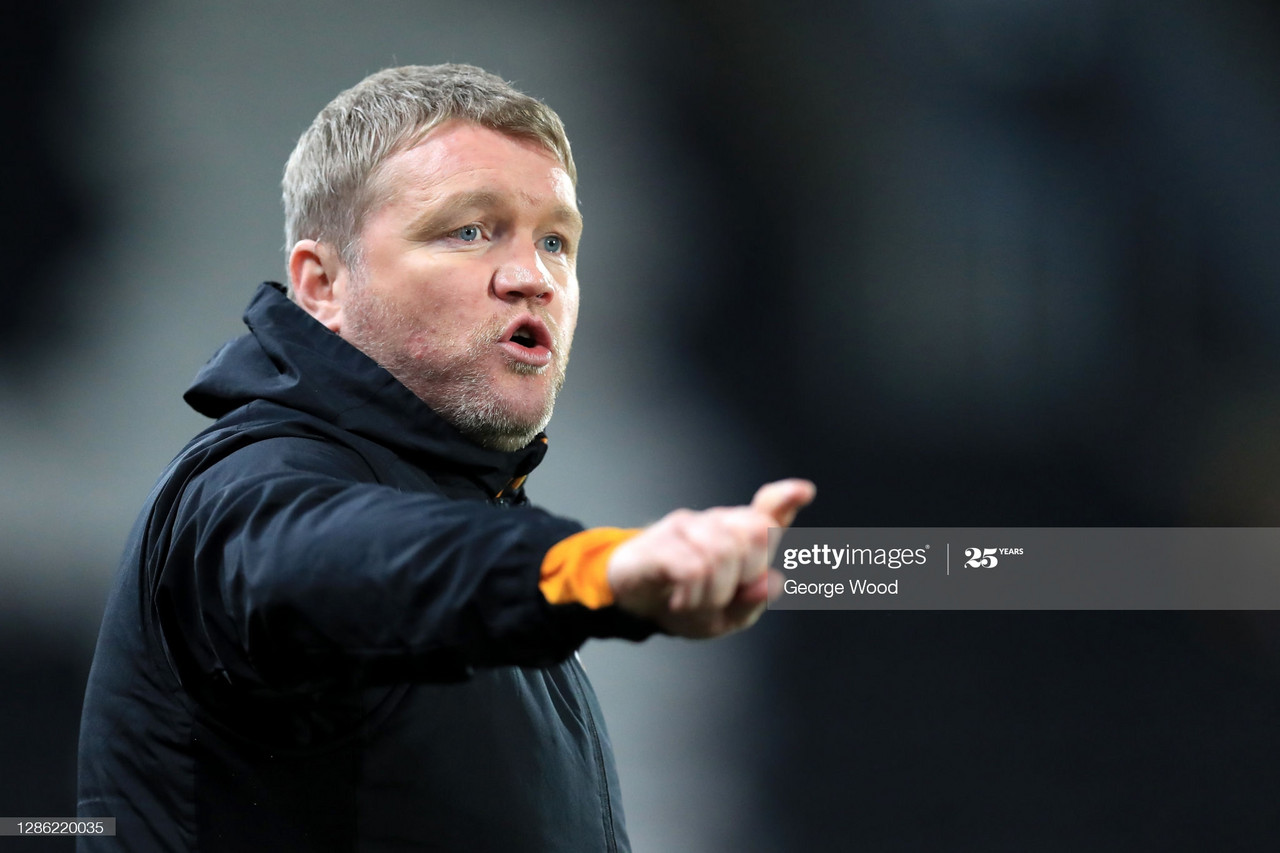 Grant McCann's Hull City's seismic shift in form has landed them at the summit of League One with a game in hand over their pursuers. City's flying start in their lowest tier for 15 years has laid bare their potential to dominate the league, but optimism from a proportion of fans has been marred by scepticism of McCann's ability to sustain similar results in the Championship.
McCann's first ever season in the Championship as a manager was a calamitous horror show. An unparalleled downfall in the second half of the season, including a dismal 8-0 drubbing to Wigan, saw his side reap only 6 points from a potential 60, branding them with the worst form record the Championship has ever seen. Despite being just two places off the play-offs on New Year's Day, McCann's side finished cowering in 24th in his inaugural season in the second tier.
(Photo by Nathan Stirk/Getty Images)
Hull fans can be more than forgiven for erring on the side of caution when thinking about a return to the Championship should City continue their impressive run of form in League One. McCann's prior display does not offer much for fans to day dream about, but upon dissection there are elements of the reformed side that coaxes East Yorkshire to dare to dream again.
Talent, identity, personality- McCann's built a proper team
The side can now be declared as 'McCann's, with only George Long, Jordy de Wijs and Dan Batty remaining from his first starting XI. The team he has put together for this year's campaign are beginning to stir a sense of confidence, character and identity.
Youthful homegrown talent is finally penetrating the starting XI ranks. Keane Lewis-Potter, Jacob Greaves, and Billy Chadwick have shared years of experience and time to gel in the academy, the triumvirate of academy graduates diffusing their local pride and authentic desire to win throughout the dressing room.
(Photo by Dave Howarth - CameraSport via Getty Images)
Fans have lauded the highly impressive Josh Emmanuel, and the permanent signing of the potent Malik Wilks has given the 21 year-old a place to build a highly promising career. Fellow survivors of the relegated Championship side George Honeyman and Reece Burke are utilising their experience and ruling their areas of play with comfort in the lower tier, Reece Burke especially enjoying the new partnership with Greaves.
It has reached a point where Hull are brimming with so many exciting options, fans are yearning to see more of players who have attracted curiosity in their cameos. Martin Samuelsen and James Scott have tantalised viewers with their creativity and have provided some beautiful goals in their short stints on the pitch. It seems a long time since fans have been this excited about so many names.
(Photo by Mark Fletcher/MI News/NurPhoto via Getty Images)
Brilliant and entertaining characters such as Tom Eaves, Malik Wilks, Josh Magennis and newly captained Richie Smallwood are engaging fans and also creating a sense of personality about the starting XI, of which have been lost to the passing ships of loan players, short contracts and inconsistency of the higher ranks City have endured since 2017's demise.
(Photo by Alex Dodd - CameraSport via Getty Images)
Will it be enough for the Championship?
Albeit in a lighter league, Hull City's sense of stability in results and personnel is beginning to make them feel like a unified collective, a team. It is likely McCann will become the longest serving manager since Steve Bruce, set to top Nigel Adkins' seventy-eight matches at the helm, and already surpassing the fleeting visits of Leonid Slutsky, Marco Silva and Mike Phelan.
Experience as a consistent collective was a crucial missing element in his first year in charge, but the consistency, unity and confidence created under his management could put the mourning of last season to bed, and give McCann an opportunity to regenerate his reputation in the Championship next year.
Embed from Getty Images

(Photo by Andrew Kearns - CameraSport via Getty Images)