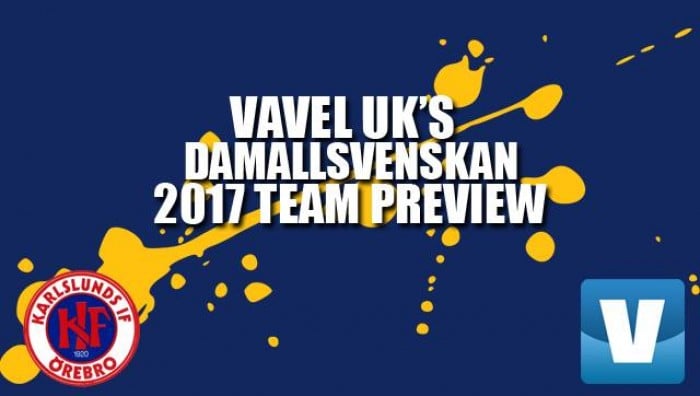 Last season was a campaign to forget for KIF. They finished 8th, getting just five wins, eight draws and nine losses in the process. Canadian forward Melissa Tancredi scored eight times, which was five more than Lejla Basic and Michelle de Jongh, who scored the second most goals last season. Veronica Perez and Julia Spetsmark had four assists each.
Departures
There has been somewhat of a turnover at KIF this offseason. A total of ten players have left. Marie-Éve Nault, Melissa Tancredi, Jennie Wecksell, Elin Johansson and Lina Domberg have all retired. Anna Björk Kristjánsdóttir, Sejde Abrahamsson and Ogonna Chukwudi have all joined fellow Damallsvenskan sides in LB07, Hammarby and Kristanstad. Furthermore, Verónica Pérez has joined up with Seattle Reign in the NWSL, and Sarah Michael now plays for Rynninge.
New season, new names
With ten players leaving it was a given there'd be quite a number of new recruits. Jenny Hjohlman has been brought in from relegated Umeå. She has suffered a lot from injuries, but has so much potential and quality. If KIF can keep her healthy and get the best out for her, they might have themselves a new top scorer. Hjohlman is not the only new attacking player in the KIF fold, as Emma Jansson has been brought in from Eskilstuna United.
Perhaps the biggest turnover has happened in defence, where Frida Svensson has joined from Eskilstune, Hanna Terry from QBIK, Emma Östlund from OSK Söder and Marina Pettersson Engström makes a welcomed return from retirement. In midfield KIF have added Emelie Andersson from Mallbacken and Fanny Andersson from Norwegian team Kolbotn.
This season
KIF is a much better team than what last season showed. They have the quality to finish much higher and play better than what they did, but too many players didn't find their usual form. There's been a huge change of personnel before this season, which has its positives and negatives. On paper they have a really good squad, and they should be finishing at the top half of the table, and perhaps even make a push for medals. It's all down to how the new players adjust and what they can contribute with.
I don't see them taking a medal this season, but it is certainly an interesting team, who I think will get better over the course of the season. Coach Martin Skogman has stated that he is aiming for fourth place this year.
Who to look out for
The returning Marina Pettersson-Engström played 10 seasons with the club before taking a break from football in 2016, and this is despite being just 29 years old. Before her break she was one of the best central defenders in the league and if she can get back to that level, KIF is going to benefit immensely.
Freja Olofsson is an interesting player. She is just 18 years old, but has two Damallsvenskan seasons behind her. She played 20 games last season, 12 of them starts. Last season it was evident that she was a player with bags of potential, and I don't see any reason why she won't add to that this season. She's versatile and can play both as a defender and as a midfielder.
If KIF are to have a top half finish, they need to score goals, and Jenny Hjohlman could very well be the player who delivers those. Another attacking player to keep an eye out for is Julia Spetsmark, who, despite KIF's bad season last year, was one of the players to impress the most.
Lastly, the just 16-year old Emma Östlund is a huge defensive talent, who I know KIF has very high expectations for. She has had a good start to her career with KIF, and while she may not get many starts if other defensive options are fresh, there is always a tangible excitement around players with her potential.
Squad:
Goalkeepers: Carola Söberg and Mimmi Paulsson Febo.
Defenders: Frida Svensson, Hanna Terry, Hanne Gråhns, Marina Pettersson Engström, Maja Regnås and Emma Östlund.
Midfielders and forwards: Emma Jansson, Michelle de Jongh, Julia Spetsmark, Adelisa Grabus, Linda Hallin, Freja Olofsson, Lisa Dahlkvist, Lejla Basic, Emelie Andersson, Fanny Andersson, Emma Lindén and Jenny Hjohlman.