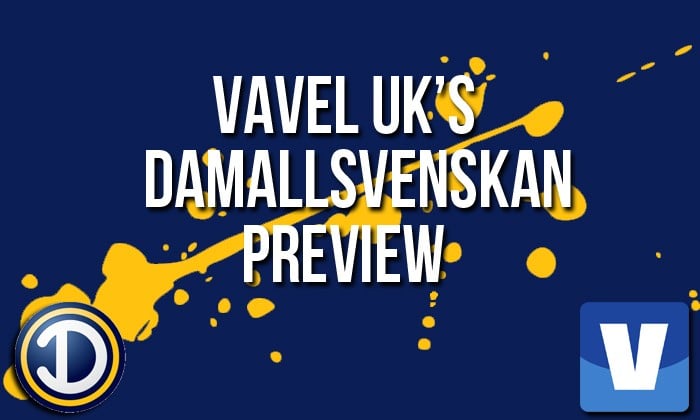 Following a week off due to the International break, the Damallsvenskan returns in earnest with the top two still battling it out in earnest for the title.
With six matches remaining, the battle at the bottom is certain to intensify too, with half of the league still in danger of finishing in the bottom two.
Linköpings FC – Djurgårdens IF FF
Linköping have had a near perfect season. Their only loss of points came in a 1-1 draw with Rosengård away from home, and with Rosengård dropping points against both Djurgården and Vittsjö, the advantage is very much in Linköping's court.
Linköping lead the league by a point from Rosengård, and have a game in hand, but they also know that any game from now on is crucial, and if they drop points Rosengård is there to take advantage.
Saturday's game against Djurgården is by no means a walkover on paper. Djurgården, who were promoted ahead of this season, have surprised everyone. They are currently fifth in the standings, just four points behind third and in their last game they defeated Göteborg 2-1, which can be added to their list of big results – biggest of them all was perhaps the draw against Rosengård.
Emilia Appelqvist has played a huge part of why Djurgården has performed well. The midfielder, who has become a regular for the Swedish national team controls the midfield, and is important both going forward and also defending. Mia Jalkerud has also been in fine form, which her eight goals so far this campaign prove.
Linköping have a whole palette of stars, the biggest being Pernille Harder. The Dane has 17 goals in 15 games and she also has five assists – two of those coming in Linköping's 2-0 win in the last game. She leads the Damallsvenskan top scorer chart, but is closely followed by her team mate Stina Blackstenius who has 16 goals. Left back, Jonna Andersson has also been a key player this season, which is evidenced by her ten assists.
Linköping only just managed a 1-0 win when they visited Djurgården earlier in the season.
Mallbackens IF Sunne – Vittsjö GIK
Both teams managed impressive draws in the last round. Mallbacken drew Eskilstuna, while VIttsjö drew with Rosengård.
Mallbacken were outplayed in their latest match, but a point is a point, and points are something Mallbacken needs. The team is currently second to last in the stadings, but they are only two points behind Kristianstad who sit one place above the relegation line. Mallbacken have only managed to win two games, and they have to turn that around if they want to remain in the top Swedish league.
Last year they just escaped relegation in the last round of fixtures, so they know how to do it. Madelen Janogy and Zoe Ness will be key to their survival and have both scored three goals this season.
Vittsjö showed tremendous defensive work in their 0-0 draw with Rosengård, and this was despite missing Josephine Chukwunonye and losing Ifeoma Dieke in the first half. Three points on Sunday would mean Vittsjö would have a comfortable cushion down to the relegation places. Linda Sallström has been in fine form this season, and the Finnish international has five goals and three assists.
Back in June the two teams shared the spoils in a 1-1 draw.
Umeå IK - KIF Örebro
KIF Örebro has perhaps been the biggest disappointment this season. Most people expected them to be higher than ninth in the leagu, which is the position they currently occupy at this point, but that is where they are. A huge reason for this is the fact that they have only managed to score 18 goals in 16 games. It is not because the team lacks strong players. Melissa Tancredi, Hanna Gråhns, Marie Eve Nault, Carola Söberg and Michelle de Jongh are all good players.
They've also added Swedish international Lisa Dahlkvist, who unfortunately got injured during the international break. In their last game Örebro disappointed when they lost to Kvarnsveden to continue their bad run of form which has seen the team has lost three games and drawn one since the Olympic break.
Umeå haven't had a much better season than their opponents. The team, who at one point had half the squad out with injuries, is in last place and favourites for relegation.
Umeå have been hit hard this season with injuries, and this has ruined their season to date. However, the former powerhouse in European football is only three points away from Kristianstad above the relegation line, and now that some of their players are starting to get back from injuries, they might be able to mount a challenge.
In their last game they almost drew with Piteå, but a goal in the 88th minute saw Piteå take all three points. Umeå could however take some positives from the game. Hanna Folkesson was back for the first time in 15 months, and could be a crucial player in the final stretch. Before her injury she was one of the best midfielders in Sweden. Hanna Glas also played most of the game after her injuries. If Umeå can get back Lina Hurtig and Lisa Lantz things are starting to brighten up for them.
Umeå and Örebro met in the first game of the season back in April, and here it finished 1-1.
Kvarnsvedens IK – Piteå IF
Kvarnsvedens got a huge result in the last round when they took all three points against Örebro which meant that they are now six points clear of relegation.
In that game Tabitha Chawinga and Tiffany Weimer got the goals, and these two are also the two main threats in the Kvarnsveden team. Chawinga has proven time and time again what a class player she is, and she is a nuisance to any defence.
Piteå are one of the most in form teams right now, and they have overtaken Eskilstuna and are now in third place. Piteå knows they only have one single point down to Eskilstuna, and that staying ahead of them (as well as Djurgården and Göteborg) will be a battle.
With Göteborg and Eskilstuna facing each other in this round as well, there is a chance Piteå could gain some points on either or both of them. Goalkeeper Hilda Carlen, left back Lotta Ökvist and top scorer Felicia Karlsson have all had strong seasons.
When Piteå hosted Kvarnsveden earlier in the season it resulted in an entertaining 2-2 draw.
Kopparsberg/Göteborg FC – Eskilstuna United DFF
Both Göteborg and Eskilstuna are aiming for third place this season, and three points in this game is a necessity. Eskilstuna is in fourth place just one point behind Piteå, and while their 0-0 draw with Mallbacken was a disappointing result, three points in this match would go a long way to make up for that.
Mimmi Larsson, who moved to Eskilstuna before the season, has been a constant threat, and has scored seven goals this season, while newly acquired Australian international Chloe Logarzo has also showed positive signs in her first few games for the club.
Göteborg have had a very inconsistent season. They are currently sixth, and are eight points behind Piteå in third with a game in hand. Göteborg has proven this season that they have what it takes to beat anyone, but they have also shown that anyone can beat them.
The club signed Pauline Hammarlund ahead of the season, and she quickly proved that she was the right signing, having scored eight goals this season. Midfielder Filippa Curmark and goalkeeper Jennifer Falk have also been pivotal his season, as has Swedish international Elin Rubensson, who missed the last two international games due to an injury.
It was a goalless draw the last time the two met back in late June.
Kristianstads DFF – FC Rosengård
Despite not losing once this season Rosengård can't afford to drop points in this game. The three draws they have had this season mean Linköping have the upper hand on them in the title race and they will be determined to get back on track after their draw with Vittsjö.
Rosengård have a vast amount of high-profile players including the biggest name of them all in Marta, with the Brazilian superstar having scored 11 and assisted five five this season.
Ella Masar has also had a great season. The new signing has made an instant impact and has scored 10 goals, just one less than Marta. Lotta Schelin, who recently moved to the club, has proven to be an important signing with a few late game winning goals. She was out with an injury in their last league game, and Rosengård will hope she has managed to get fit during the international break.
Kristianstad have struggled this season, but a few good results mean they are two point above of the relegation line. The team has had financial issues, and as a result there weren't many reinforcements before the season which has been evident.
A lot of Kristianstad's success depends on Johanna Rasmussen, and the Dane is the teams top scorer with five goals. They have recently loaned Denmark's starting goalkeeper, Stina Lykke, to replace their injured keepers, and if they want something from this game, Lykke needs to be at her very best. In their last game Kristianstad played Linköping, and ended up with a 2-0 loss.
The two played each other in the opening game, where Rosengård ran out as winners after a 2-1 result.