Former-Manchester United defender Jonny Evans believes that Michael Carrick can play for many more years. The West Brom defender paid a heartfelt tribute to Carrick while talking to United's official website.
Carrick will extend his stay at United to 12 years after signing a new one-year deal last week. The English midfielder will have his testimonial game on Sunday at Old Trafford. He completed the set of trophies last Wednesday when Manchester United beat Ajax in the final of Europa League.
Carrick has physique to continue his playing career
The 35-year-old midfielder had insisted earlier this season that he would think about retiring if United didn't offer a new deal in the summer. Carrick has not played frequently under José Mourinho, but still played a crucial role for the Red Devils. He still has a role to play in the dressing room and pitch if utilised cleverly.
Evans admitted that Carrick has "the best physique of a footballer I have ever seen." He further added that the midfielder is a "great professional" and "looks after his body perfectly." The former United defender backed Carrick to keep on playing for the club for many more years. Evans also said that Carrick deserves this testimonial thoroughly for a wonderful career at United.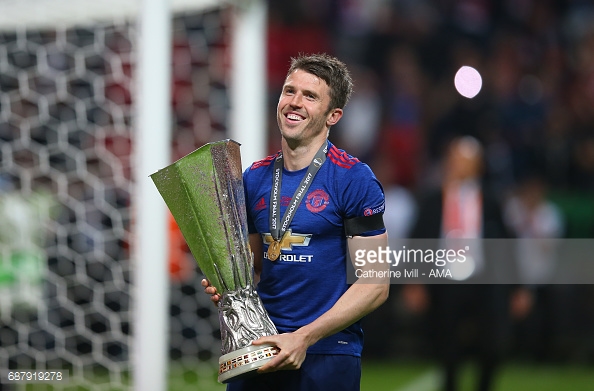 It was a dream come true to play with Carrick
The Northern Ireland international insisted that "playing along with Michael Carrick and Paul Scholes was a dream come true." He further added that the duo helped him settle into the team and always encouraged him to pass into midfield immediately, taking the pressure off him as a centre-back.
With the potential departure of Zlatan Ibrahimović and Wayne Rooney in the summer, Carrick could remain the only experienced head in the dressing room. José Mourinho has hailed Carrick as a great professional and he will need his experience to mount a title challenge next season.