 With a first name like Mauricio, a brief history in La Liga and having played as an Argentine central-defender, Southampton fans could be forgiven for feeling some form of déjà vu yesterday evening.
Similar to some appointments gone by, Mauricio Pellegrino's was another somewhat-shocking but enthralling one - especially in comparison to Claude Puel's subdued announcement last summer.
After leaving Alavés on the 29th of May, Saints themselves announced two weeks later that Puel would be stepping down as head coach - quite the timing.
Perhaps the prospect of managing in the Premier League lured the 45-year-old away following a prosperous campaign with the Spanish side.
Not only did Deportivo finish in a highly-respectable ninth place, their fairy-tail Copa Del Rey run was one win short of a coveted trophy.
Ahead of that final, Pellegrino poetically explained that "sport instils values that go against the grain of the rest of society...it reinforces the feeling of being part of something greater than yourself".
Saints may have seemed like a calm sea on the face of the horizon, but beyond that and within the club the storm that was brewing this past year became more and more apparent.
Divisions between supporters and coaches, coaches and players and even the stands themselves, grew at an alarming rate.
With this in mind, a coach that preaches togetherness and the presence of mind to act for a team instead of yourself could not come at a better time.
Unfortunately the task at hand with Saints is mammoth: changing the attitudes of a fan-base, winning support and games.
All on top of the ever-growing scrutiny in the modern game, begging the question: can Pellegrino bring back the good times to the South coast?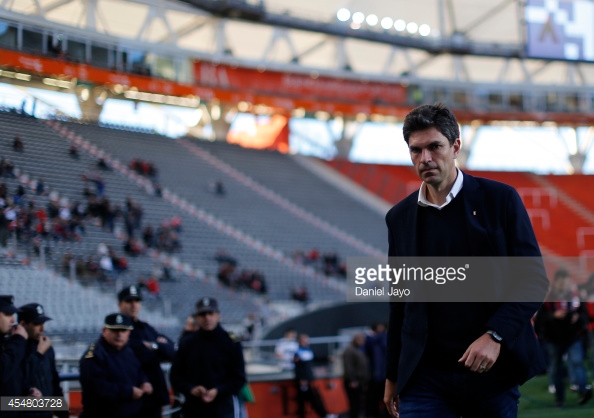 Mixed Past
History doesn't have the definitive answer, nor will it always show one even in the case of experienced managers. Compare Mauricio Pochettino and Puel's history and their spells with the Saints and you'll see how things don't always work out how the masses predicted.
With Valencia, Pellegrino was always on the backseat, door unhinged slightly - this is a board who have shuffled through 10 managers since sacking him in December 2012 after all.
A successful Champions League group outing was overshadowed by a disappointing start to the season and only seven months into Pellegrino's managerial debut he was left to find work again.
Despite recent events, the board of Southampton are a lot more patient and supporting in their approach, there won't be such a massive rush to beat the world come Christmas.
Unfortunately for the Argentine, Saints' fan base are not equally tolerant of staggered results, but they recognise when their team is at the very least making a positive effort - something that Pellegrino will likely restore.
Not only that but his history in the Premier League with Liverpool, playing and then assisting to Rafa Benitez, will serve to help in bundles.
One minor criticism of Puel was his grasp on the English language; Pellegrino is fluent, insightful and, with no offence to his predecessor, interesting.
Sometimes the basics of eye catching interviews and memorable moments from a coach can slant fans away from the occasional dreary performance - in Puel's case both were often dull, flat.
While Alavés' 41 goals last year put them 4th worst in terms of scoring, context has to be taken into count here - this was their first La Liga campaign since 2006.
Southampton clearly have some talent to score goals - in Manolo Gabbiadini, Sofiane Boufal, Nathan Redmond and Charlie Austin - but defence is where the club have held their own in recent years.
Pellegrino's side only allowed an astonishing 43, just two more than the champions Real Madrid. But with Fraser Forster coming off the back of a lacklustre season, Virgil van Dijk, Cedric Soares and Ryan Bertrand all being linked away, re-building a strong foundation could be key this summer.
Those Good Times
It seems like an unreachable memory to look back to Southampton's May of 2016; wins against Manchester City, Tottenham and lastly Crystal Palace secured an impressive 6th place.
Finishing just three points behind Manchester United and City meant that Saints qualified for the Europa League group stage - the first time in their history.
Everything seemed rosy, fan-favourite Ronald Koeman remained publicly loyal to the club and had been able to strike the right balance between attack and defence in his two seasons thus far.
Years of stars leaving only to be replaced by equally capable professionals paid off and the board were reaping every award for intense scouting and planning.
Unfortunately for them and fans alike the story of their return to the top flight flipped on its head this past season.
All the joy and positivity replaced by misery, anxiety and complaints.
In some ways this was a result of Graziano Pelle and Sadio Mane not exactly being replaced in similar fashion to their former teammates.
In step a manager in Puel who didn't exactly turn heads, remained reserved and un-enigmatic, add an uninspiring Europa League campaign and relentless league draws - the result was the ending of those bright and brave times.
In Pellegrino, Saints needed a fearless leader; Puel was often too cautious in approach.
Additionally, a coach who isn't afraid to be up front with his team and spark trust and unity — sadly the latter clearly lost the majority support of his dressing room.
In those final five home games - in which, Saints didn't muster a goal - St. Mary's showcased a disjointed and lethargic eleven every time.
Signs point to yes when asked whether Pellegrino is the right man to turn back time and fix the mood of this hapless Saints squad.
His record of being a great communicator, lover of working for one another and overall philosophical forward-thinking when it comes to football should re-connect and transcend this talented side.
Where Puel was correct in principle, his words didn't translate onto the pitch, Pellegrino speaks wisdom but can use that to better his team - Alavés were known for their flexibility in formation and capable of beating the likes of Barcelona.
Time will tell whether the switch from Spain to England will prove as successful as it did for the previous Mauricio, but in any case, it will be an exciting adventure for the red and white.