If you were watching football 20 years ago, you will have noticed a change in the way the game is played today. The basic laws of the game are unchanged, but authorities have made tweaks to try and make the game of football safer for the players. They have succeeded.
There is nothing wrong with that, who doesn't want to see the great players play without fear? Raheem Sterling, Philippe Coutinho, Eden Hazard, Mezut Ozil and Cristian Erikson are to name but a few who need protection. So does Paul Pogba.
All of those players could have played 20 years ago, but all of them would have had to learn self-preservation. In 1997 Wimbledon was still a Premier League club, and Vinnie Jones was still one of their players. He was yet to embark on his thespian exploits.
You can't single out Wimbledon for all the bad things at the time, but they epitomised anti-football. Braun over brain.
Players needed to protect themselves
As a player, rather than an enforcer, you still needed to be able to look after yourself. You either had to learn how to get your retaliation in first, or you needed to know how to jump. No simulation necessary.
Where is all of this going? Well, it is a little bit of background to show how far football has come in making the game about the gifted players, rather than the less gifted.
It is also trying to go some way to show a bit of context to the argument that Pogba did not commit a red card offence against Arsenal. And if he did, then it is clear that football is becoming a non-contact sport.
Let's go back to the days before the Premier League started. Yes, there was football played before the re-branding occurred. The "old" First Division in the 80's was an even different spectacle to '97 and certainly to the one we see today.
On April 4th, 1988, Liverpool hosted Manchester United at Anfield. Liverpool were on their way to another League Title. Yes, in the version of football before the PL, Liverpool won championships. Football may have changed in the years since this clash, but the rivalry between the two teams and fans hasn't.
Whiteside was the enforcer
Sir Alex Ferguson knew this only too well. On that particular day, United were 3-1 down and had only ten men on the pitch after Colin Gibson had been dismissed. With half an hour remaining, he sent on Norman Whiteside and Jesper Olsen.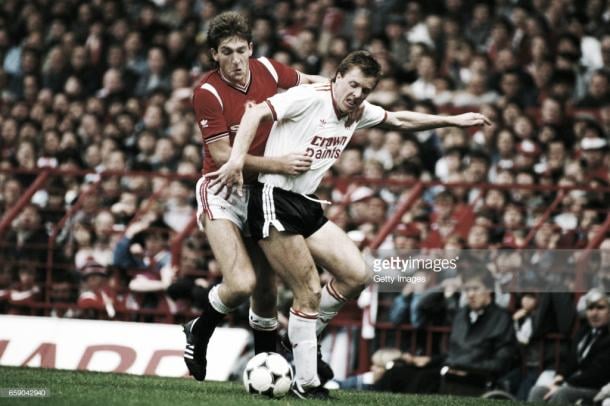 Olsen was a beautiful player, a fleet of foot winger. He was also one that needed jumping skills, as he didn't do tackles. He was introduced to add flair, and he did. Whiteside was introduced to smash anything that got in his way. And he did.
Not least one particular gruesome tackle on Steve McMahon. McMahon was Liverpool's 'hard man' and he was running the show in the midfield. That is until Whiteside hit him with a stamp/tackle on the ankle that would make some of today's pundits feint.
That changed the course of the game, and despite the numerical disadvantage, United got the upper hand and came back to salvage a 3-3 draw. It felt like a win.
The game as a whole was brutal. A white-hot atmosphere and nobody shirked a challenge. It just wasn't allowed. Yet for all of the crunching tackles, there were hardly any complaints from either side.
Games like that were was gripping, and that was the norm at the time but there was a real risk of serious injury.
Carragher's regret
Fast forward to the same teams, the same ground and the same fixture on March 6th, 2011. Now we are a lot closer to the modern day in terms of what was acceptable in a challenge.
Yet what Jamie Carragher did that day was a throwback challenge. Liverpool were leading 2-0 and Nani received the ball on the left wing. He had only just swapped sides from the right, so maybe Carragher thought he would engage him early.
He did that alright. Nani received the ball, was in mid-turn and Carragher went through him just under the knee with a lunging challenge.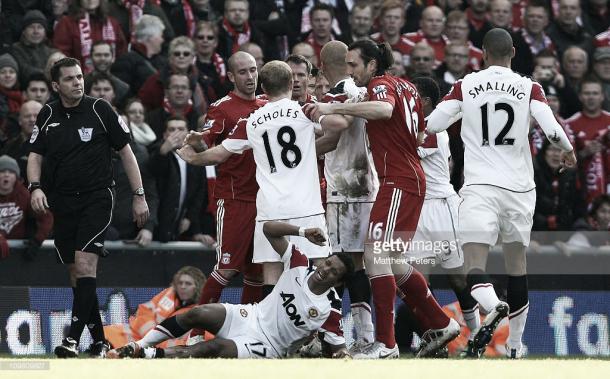 It was wicked and a "leg breaker" but Nani escaped with a large gash, amidst some tears, on a stretcher. It was the exact scenario that authorities were trying to clamp down on. A more physical player stopping a technical one with brute force.
Carragher escaped with a yellow card, as did Whiteside all those years earlier. In many ways, Carragher's was much worse. It was done at pace and his 'victim' was not a tackler, whereas Whiteside's could well dish it out himself. Yet everyone now deserves to be able to play without fear.
Whilst Pogba is a physical specimen, who has real strength, he is also a footballer first and foremost. A very gifted footballer, that needs protection as much as anyone.
No intent from Pogba
The referee in the Arsenal-United game was Andre Marriner. He is not a spectator, and he would not have been applauding when Pogba was doing a few outrageous things with a football. He couldn't have failed to notice though, and know how Pogba plays the game.
"He's not that type of player" is a phrase trotted out when a player makes a bad challenge that is seemingly out of character. It doesn't really wash if the challenge is bad. Yet Pogba's wasn't even a challenge.
It is clear he is not trying to "do" Hector Bellerin, he is trying to nick the ball (with the outside of his foot no less), which he does after it ricochets off the Spaniard's prostrate leg.
He didn't have many ways of avoiding Bellerin, given the way Bellerin went into the challenge - he pretty much stretched his legs out to block the ball.
One journalist on Sky Sports Sunday Supplement program declared that this incident was a "great slow motion red card" and added that Marriner did excellently to spot it. He and a colleague both admitted that did not think anything untoward had occurred when they saw it live.
That tells it's own story. Yes, Marriner saw what happened, but when you watch it in real speed, the amount of time Pogba spent on Bellerin's leg was fractional, as he was in possession of the ball again in a split second.
So this wasn't a stamp. This wasn't a lunge to go through a player. It was a player running at pace trying to poke the ball away from a defender, and if Bellerin actually tackled conventionally, Pogba was actually putting himself at risk with the way he challenged.
Accidents will happen
In the same game, Laurent Koscielny collided with Nemanja Matic. Matic won a free header defending a corner, but Koscielny decided to make a challenge presumably to try and put Matic off the clearance.
He was fractionally late, but the head clash left Matic stunned. It could have been worse. Nobody mentioned that clash in any sinister terms, and rightly so, but it could have been a lot more serious than the one Pogba had become embroiled in.
Worse things still happening and going unpunished
That incident was so far removed from the two seen at Anfield previously described, but It also had nothing in keeping with one at Vicarage Road a mere couple of weeks ago.
Watford took on West Ham United on 19th November, and with less than a minute on the clock, a long ball was played up to Andy Carroll. Stop me if you have heard this before. A young debutant called Marvin Zeegelaar was the Watford defender required to challenge Carroll, and he did just that.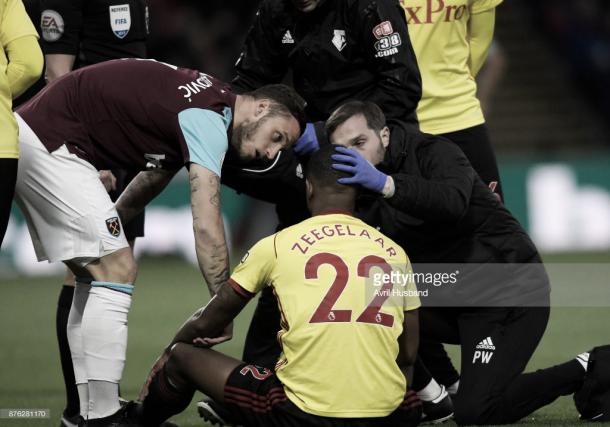 His prize for doing so was an elbow to the face, and a broken nose to boot. An elbow to the face can be accidental, but when Carroll is the culprit then more often than not there is a question mark.
There should have been no question mark, as he assaulted the poor young chap. He faced United a few days later in a mask. Carroll escaped not only a yellow card, but the challenge wasn't even called a foul. The referee that day was Andre Marriner.
The game of football is much cleaner, and much safer than ever. Yet there will always be the odd incident that belongs in the past. The likes of Carroll's, not Pogba's.
If Pogba's challenge is deemed a red card offence, then the tackle or challenge may as well be outlawed, and Andy Carroll may as well hang up his boots. Except for when Marriner is officiating.