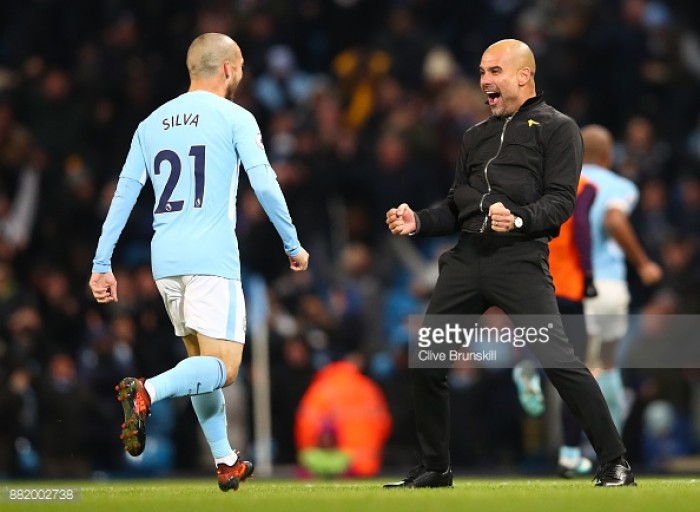 Manchester City manager Pep Guardiola spoke to the assembled press Friday afternoon ahead of City's FA Cup clash at Cardiff City on Sunday.
Tactics
When asked about what he knew about Cardiff City, Pep Guardiola made it clear that he and his staff were not taking the matchup against the Championship side lightly. 
Pep said: "I saw Mansfield v Cardiff and realised immediately the way they play, they do to quite well. We have to defend high because if we defend the box they are so strong.
My staff know more than me. They are third in the Championship. We are playing away. It will be tough.
We know exactly how complicated the game will be. Last season against Huddersfield Town, we needed a replay. It's a team on top form. Tall team, set pieces, aggressive one against one."
Transfer Non-Update
The gaffer was asked early on about the rumoured transfer of Aymeric Laporte from Atletico Bilbao, but Guardiola refused to comment:
"You will know it if it happens."
When asked about a potential move for Fred from Shakhtar Donetsk, the manager once again refused to confirm or deny interest: 
"Here is not the place to talk about that. I don't want to talk about players who are playing for other clubs."
Silva Luck Charm
While David Silva has not played in all of the recent matches due to the health of his newborn son, the Spaniard is currently holding an impressive Premier League stat. Silva has won his last 24 games in all competitions, the longest run for any player since the league began in 1888.  
Pep made it clear that Silva is vital for his squad and crucial to the continued success of the club:
"That's why he plays every time," Pep said in response to Silva's winning record. 
"It's a good record. With David we are a good team. He's a special guy. When he is able to play, he plays. If he can't because of his son. His son, his wife and his family are the most important thing."
Guardiola wasn't short on words to describe how important Silva is to his squad:
"David is so, so important to our team, but we try to make all the players feel they are important. David knows alone he cannot do it. With and without the ball, we know what we have to do. 
David has played a lot of games, has a lot of experience and he has a huge personality to play.
The difference between the top players and the rest is that in difficult games, they make a step forward. David always steps forward."
Injury Report
While Benjamin Mendy, Gabriel Jesus, and Fabian Delph are all still out with injuries, Pep confirmed that the others have no injury worries:
"No everyone is okay. He [Kyle Walker] is good. He breathes!"