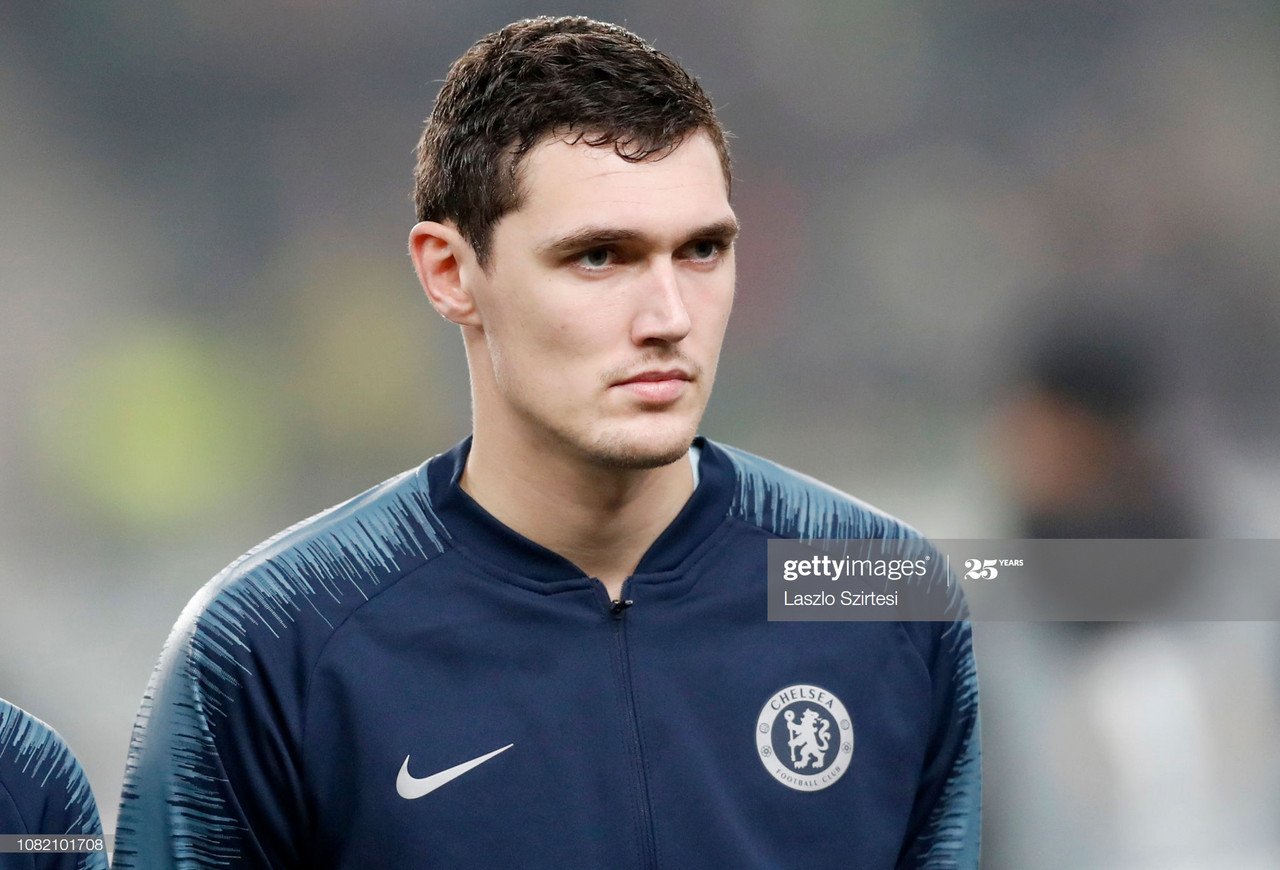 It certainly hasn't been an easy path to regular first team football at Stamford Bridge for Andreas Christensen.
The Danish central defender joined Chelsea from his boyhood club Brondby in 2012 at the age of 15, but didn't make his professional debut with Chelsea until he was 18, in a League Cup tie against Shrewsbury Town in 2014 where the Blues won 2-1, as Christensen played the full 90 minutes at right-back.
After featuring in the Chelsea U19s' UEFA Youth League victory over Ukrainian side Shakhtar Donetsk in April 2015, Christensen finally made his Premier League debut the following month, replacing John Obi Mikel in a 3-1 home victory against Sunderland.
Life on loan in Germany
The end of the 2014/15 season saw Christensen leave Chelsea for German side Borussia Mönchengladbach on a two year loan. After an impressive debut season in Germany, Christensen was voted Gladbach's Player of the Season, ahead of the likes of captain Granit Xhaka and forward Raffael - the latter scoring 13 Bundesliga goals that season.
Gladbach attempted to sign the Dane following the conclusion of the 2015/16 season, but Chelsea rejected numerous bids from the German side, including a £14m offer, for their talented centre-back.
The following season, Christensen helped Gladbach reach the Europa League Round of 16, scoring twice on route to that stage, but they were knocked out by German neighbours Schalke on away goals.
Back in blue
Christensen returned to Chelsea at the start 2017/18 campaign, and went on to make 40 appearances under then manager Antonio Conte that season, including three in the club's FA Cup run. However, when Maurizio Sarri replaced Conte in the summer of 2018, Christensen made just 15 appearances under the former banker's management, with Sarri preferring a centre-back partnership of Antonio Rudiger and David Luiz.
Now under the tutelage of Frank Lampard, Christensen has produced calm, composed defensive displays when called upon, with the Chelsea boss varying his centre-back pairings, playing Christensen alongside Rudiger, Fikayo Tomori and Kurt Zouma throughout the season.
The now 24 year-old spoke about his footballing roots as a young boy, revealing how he wasn't a defender by trade.
''I've always loved football, but I started out as a striker, doing all the tricks and scoring goals. Then I went into midfield where I touched the ball a lot and you had to be really good technically.''
''That helped when I came to Chelsea. As a defender, I had to be comfortable and be able to drive into midfield and that is a big part of my game now.''
Promising future ahead
He spoke about the youth coming through the ranks and how they're all making their debuts together.
''Players that have come through the Academy, not necessarily the same age, are starting to come into the senior team together. Guys like Tammy [Abraham], Mason [Mount], Fikayo, Reece [James] and Callum [Hudson-Odoi], we're all coming through together.''
The Dane went on to talk about his early career in London and how Lampard and his backroom staff have helped him in making his way into the first team.
''I had my very first training session at Chelsea with Joe Edwards [who is now Lampard's right-hand man in the Stamford Bridge dugout]. One-on-one in the old dome, working on jumping and my first touch."
''I knew Jody Morris too, because he had come to train with us when we played under Dermot Drummy. Jody was still playing at the time, so he was keeping himself fit and helping to push us so we were at the highest level every session. He's still like that now.''
''Dermot's training sessions were great and they've definitely helped prepare us for the style of play we utilise under Frank. It is high-intensity, exciting football with a big focus on energy and movement. I think the energy in our game has definitely gone up a level this season.''
''A lot of faces in the coaching team are familiar and it's great for the club. It's a bit like the old times and everyone is enjoying working under Frank and his staff at Chelsea.''