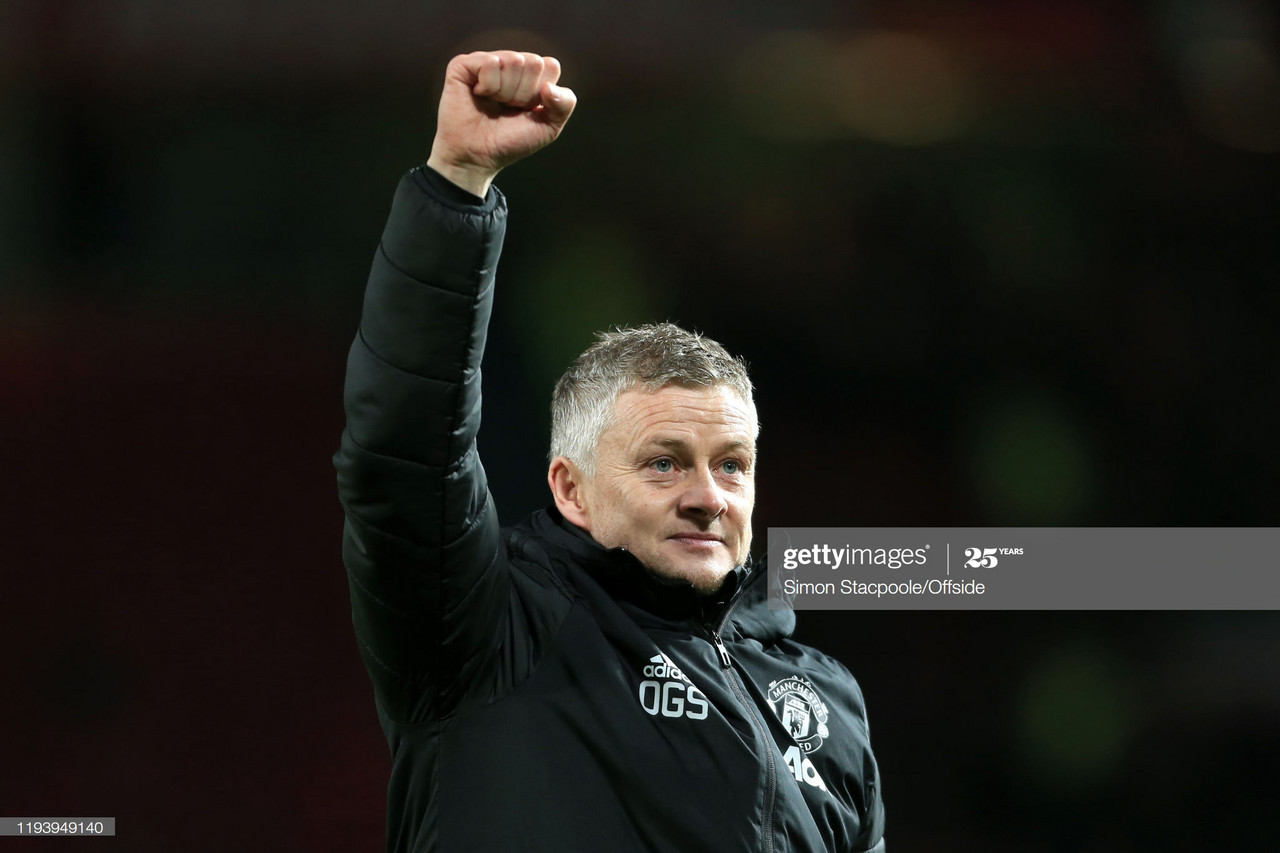 Ole Gunnar Solskjaer's appointment as permanent Manchester United manager was predicated not on results, but on a number of intangibles.
Without a doubt, the success of his caretaker spell was persuasive, and the extraordinary comeback win against Paris Saint-Germain was one of the highlights of the post-Sir Alex Ferguson era.
But had a manager similarly inexperienced, but not so embedded in the folklore of Old Trafford, overseen such a revival, its unlikely it would have led to a permanent appointment. It was clear that someone like Mauricio Pochettino was a perfect fit for the club, and trophy winning alternatives like Massimo Allegri were available.
Solskjaer's primary measure of success was not to be results, but instead the restoration of the somewhat mythical 'spirit' of the club. The attacking football, yes, the culture of a thriving youth academy, of course, but it was more than that. It was the very direction of the club itself.
It seems, as we approach the eighteen-month mark of Solskjaer's tenure, that he has done just that. All the noises coming out of the club are positive, and whilst the very real concern over the Glazer family's motivations are as present as ever, there is much to be pleased about.
Leadership on and off the pitch
Let's take the football side first. How often was the word 'character' used when describing the player Solskjaer sought in the transfer market? It was noticeable that Jack Grealish's recent flaunting of the government lockdown was seen to particularly damage his prospect of a move to Manchester, with the United hierarchy not looking kindly on such selfishness.
Solskjaer's signings have all seemed to fit the right mould. Bruno Fernandes is clearly a strong character, and Aaron Wan-Bissaka and Dan James have quietly gone about their business.
Then there is Harry Maguire, burdened with the tag of becoming the world's most expensive defender. He has risen to the challenge however, becoming club captain within six months. Since then, he has truly tried to imbibe the culture and history of the club.
In a recent interview with Gary Neville, Maguire revealed how he had spent days meeting as many members of the club's staff as he could, getting to better understand their roles and the way the club is kept running behind the scenes.
It ties into the time Solskjaer takes to make everyone connected with the club seem valued, from presenting Cath on the front desk with Norwegian chocolate upon his arrival, to remembering the names of staff members who he hadn't seen since his playing days. It's a characteristic Sir Alex Ferguson prided himself on, and one which made the club such tight unit during the Scot's reign.
Off the pitch, Maguire was reportedly influential in organising the thirty percent pay cut taken by United's players – before the Players United initiative across the country – with the proviso that the money saved by the club was given to Manchester's NHS. He was later one of the captains helping to organise Players United.
Then there is Marcus Rashford. It is hard to know where to start with Rashford, whose ability to make people smile on the pitch is matched by his extraordinary ability to do so off it. In living out his childhood dream in the public eye, he provokes no resentment from those of us who shared it, but instead admiration for his generosity. Indeed, if I was to achieve such riches and such fame at such a tender age, I wonder if my behaviour would be as commendable.
Over Christmas, Rashford's 'In The Box' campaign led to huge donations homeless shelters around Manchester. During the coronavirus pandemic, his efforts to raise money to feed children who would otherwise have been on free school meals has raised over £20 million. Rashford was on free school meals for a time himself, another example of his desire to remember his background.
Then there are the simple things. Rashford has judged a primary school's poetry competition after receiving a letter from a hopeful student; he has constantly interacted with young fans over Twitter. During a recent skype call with young a United fanatic, he recalled having met the fan before: "Have you still got those boots I gave you?"
What these examples demonstrate is the character of the leading figures in United's squad. Ferguson would often look at personality as one of the deciding factors over whether a player was signed. It's reportedly what stopped Di Maria coming to United from Benfica, a decision that looks wise given his struggles under Louis van Gaal some years later.
It's a character that Solskjaer, alongside assistants Keiron McKenna and Michael Carrick, are trying to instil in the new generation of academy talents. A Guardian article last week revealed that the parents of young players in isolation were being encouraged not to force their children to train; the club wanted them to retain some semblance of a normal childhood, and by their logic, those that continue to be dedicated to their football by choice will by default be those most suited to the club.
Academy Head Nicky Cox has organised Q&A sessions with top figures: Solskjaer, Carrick and Rashford have already done sessions, as well as Ryan Giggs. It may have no affect on some players, but for others, it will be a crucial connection to the club in a time of real uncertainty.
Reconnecting with the Old Trafford faithful
As well as re-connecting with the players, Solskjaer era United has connected with the fans in a way not seen since Ferguson's retirement. The character and charitable exploits help, as does the introduction of young, local talent like Mason Greenwood and Brandon Williams.
But there is a sense the club is pushing in the right direction for fans too. When the Europa League match in Austria against LASK was put behind closed doors in March, all those with tickets were not only refunded, but given a payment of £350 by the club to make up for lost travel costs. For Twitter critics, it was all too easy to dismiss such a payment, from a club with profits as astronomical as United, as a PR stunt. But for fans who spend money they don't necessarily have to follow their side across the continent, these small gestures mean a great deal.
A lot of credit has to go to The Red Army, a supporters' group whose aim is to restore the atmosphere at Old Trafford. In conjunction with the club, members are allowed to stand in a designated section of the ground, usually in the Stretford End. Seats are allocated to keep friends together, as opposed to the arbitrary allotment of season tickets. Standing is advisory, singing is compulsory.
The latest initiative is to introduce 'youth season tickets' for supporters aged 16-25. Costing just £285, or £15 per game, the aim is refresh United's vocal support and allow the new generation on the Stretford End to flourish. There is concern on many Premier League terraces that match-going fans are aging; season tickets bought decades ago are not given up, and young supporters are finding the cost increasingly prohibitive. The Red Army are doing impressive work to combat this.
Then there is the most recent announcement, that United have been given permission to introduce rail seating in small area of the ground next season. It's a small step, but one in the right direction, and puts United in a good position to introduce safe-standing should the law in England ever be changed. The fact that United are just the second club to have such a proposal accepted, behind Wolves last year, reinforces the idea that their thinking is less reactive than it was in the immediate post-Ferguson confusion.
Getting the important things right
Despite the ridicule of their claim to have over six hundred million fans across the world, United is a behemoth of a club, and success can too easily be defined purely through results and spreadsheets.
But what is a football club really, when all is said and done? It's a family, a community, and a representation of values, whose primary goal is not simply to win, but to connect with the supporters who dedicate so much of their lives to following it.
Manchester United may well be some years off another title, but there are signs that, in the most fundamental way, they are back on track. Under Solskjaer the spirit of the United, which was in danger of being lost, has again been found.
For online cynics with no real connection to the club there is a constant derision of Solskjaer that is barely worthy of comment. But for those who follow United up and down the country, the club feels closer now than it has in years to the one we fell in love with.