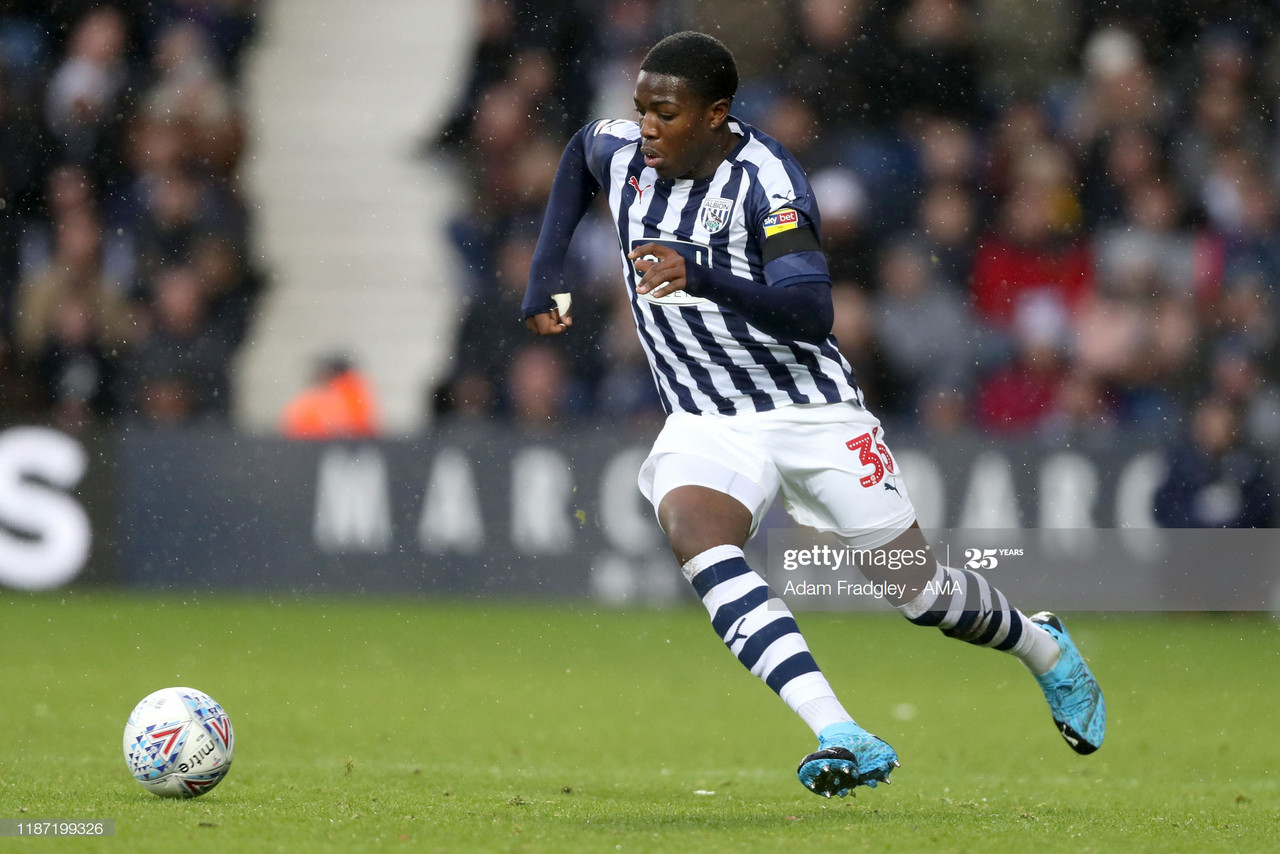 Despite only having 21 Championship appearances to his name, West Bromwich Albion defender, Nathan Ferguson, is highly regarded as one of the most exciting prospects in football.
Ferguson has been attracting attention from the elite in European football, with sides such Juventus, A.C. Milan, Atletico Madrid and Tottenham Hotspur all registering an interest in signing the England Under 20 international.
However, it was Crystal Palace who, in the January transfer window, emerged as dark horses in the race for the promising defender.
A reported fee of £11 million was agreed upon between the two clubs, with Ferguson set to travel down to London to complete the formality of a medical and, in the process, become Roy Hodgson's record signing at Crystal Palace.
Despite playing a full 90 minutes for West Brom in a 2-1 loss to Cardiff City only 2 days prior to the transfer agreement, an injury was unearthed during the medical which caused Palace some concerns about paying the full transfer fee.
The Eagles' hierarchy felt a reduced transfer fee would still allow Palace to take a gamble on signing Ferguson; the injury unfortunately resulted in the defender needing surgery and a lengthy recovery time out of football.
The transfer broke down; the injury was deemed too risky for Palace to take a chance on, and as a consequence, Ferguson returned to West Brom to undergo surgery on his knee which would rule him out for the rest of the season.
Palace continue their courtship
As the transfer to Crystal Palace failed to materialise in the winter due to the injury found in his medical, in addition to Ferguson being unwilling to sign a new contract at West Brom, the defender was left with no other option than to run down his contract and leave his future destiny in the hands of the free transfer market, with his contact set to expire on June 30th.
However, according to various reports from The Athletic, although the transfer had broken down, the relationship between Crystal Palace and Nathan Ferguson had not.
Palace have kept tabs on Ferguson during his rehabilitation process and have cemented themselves in pole position to bring the promising defender to South London once his contract runs down.
Versatility
One of the reasons why Crystal Palace have been so keen to bring Nathan Ferguson to the club is the defender's vastly impressive versatility.
He learned his trade as a centre back before breaking into the first team at West Brom under new manager, Slaven Bilic. This season, his ability to play at both full back positions has taken Ferguson's game to the next level, and in the process, he has become a key component in helping the Baggies to be in real contention for a return to the Premier League.
In his debut season, Ferguson has looked cool, calm and collected at both right back and left back. He has shown his natural defensive prowess and averages a 1.8 successful tackles per every 90 minutes played. Whilst Joel Ward, Ferguson's potential future competition, has averaged around 0.83 tackles per 90 minutes this season for Crystal Palace.
Ferguson has also displayed impressive and imperious capabilities when going forward, scoring a stunning 20 yard strike against Queens Park Rangers from left back early on in the season; he demonstrates a real attacking threat when going forward in attack from either full back roles
Palace have been in the market for a right back for over a year now, due to the sale of their own academy full back, Aaron Wan-Bissaka, to Manchester United, and they have been flirting with a potential cover for left back, Patrick Van Aanholt, for a number of seasons.
Bringing in Ferguson will provide healthy competition for long serving right back, Joel Ward, with Martin Kelly the only viable option thus far as a suitable replacement when Ward is unavailable for selection.
Ferguson would push Ward all the way and would be hotly tipped to take the right back position from him, as Ward lacks certain attacking abilities that are needed to become a top Premier League full back.
Ferguson's impressive versatility and ability to play anywhere across the back four will be an important asset for Palace, especially as he could fill in at left back, with Van Aanholt currently being the only recognised first team player in that position.
In addition, although Palace are blessed with a wide selection of centre backs at the club, James Tomkins and Scott Dann are prone to injury and Mamadou Sakho could potentially leave Palace in the summer, with Lyon looking to bring the former France international back to his home country.
This could play into Palace's hands as Ferguson could slot in at centre back if needed due to his experience in the position from his time playing there as a youngster.
The youth aspect
In February of this year, Roy Hodgson fielded the oldest Premier League line up of the season with an average age of 29 years and 230 days in a 3-1 loss away to Carlo Ancelotti's Everton.
The defeat highlighted Palace's ageing squad, with a general consensus from within that Palace would address the issue in the upcoming summer market.
Bringing Nathan Ferguson in would be a real statement from the club when starting the rebuild.
Ferguson could be the foundation upon which Palace build. The squad has been starved of any real investment for a number of seasons, culminating in Hodgson having to do his job with one hand tied behind his back.
But for Hodgson, who is heading into the final season of his contract extension, the feeling from the hierarchy is that the ex-England manager will be rewarded with a budget this summer to finally build the squad which he has longed for since taking over from Frank De Boer in 2017.
Ferguson will be an exciting signing should Palace convince him to join at the end of his current contract. He will certainly push Ward all the way for a starting role at right back, provide excellent cover for Van Aanholt at left back and would do a job at centre back if call upon.
A tribunal fee would be likely to be somewhere close to the £11 million fee which was agreed in principle back in January. However, for Palace, it will signal the start of the future, with the club finally looking to invest in promising youth with excellent potential which Nathan Ferguson has in abundance.