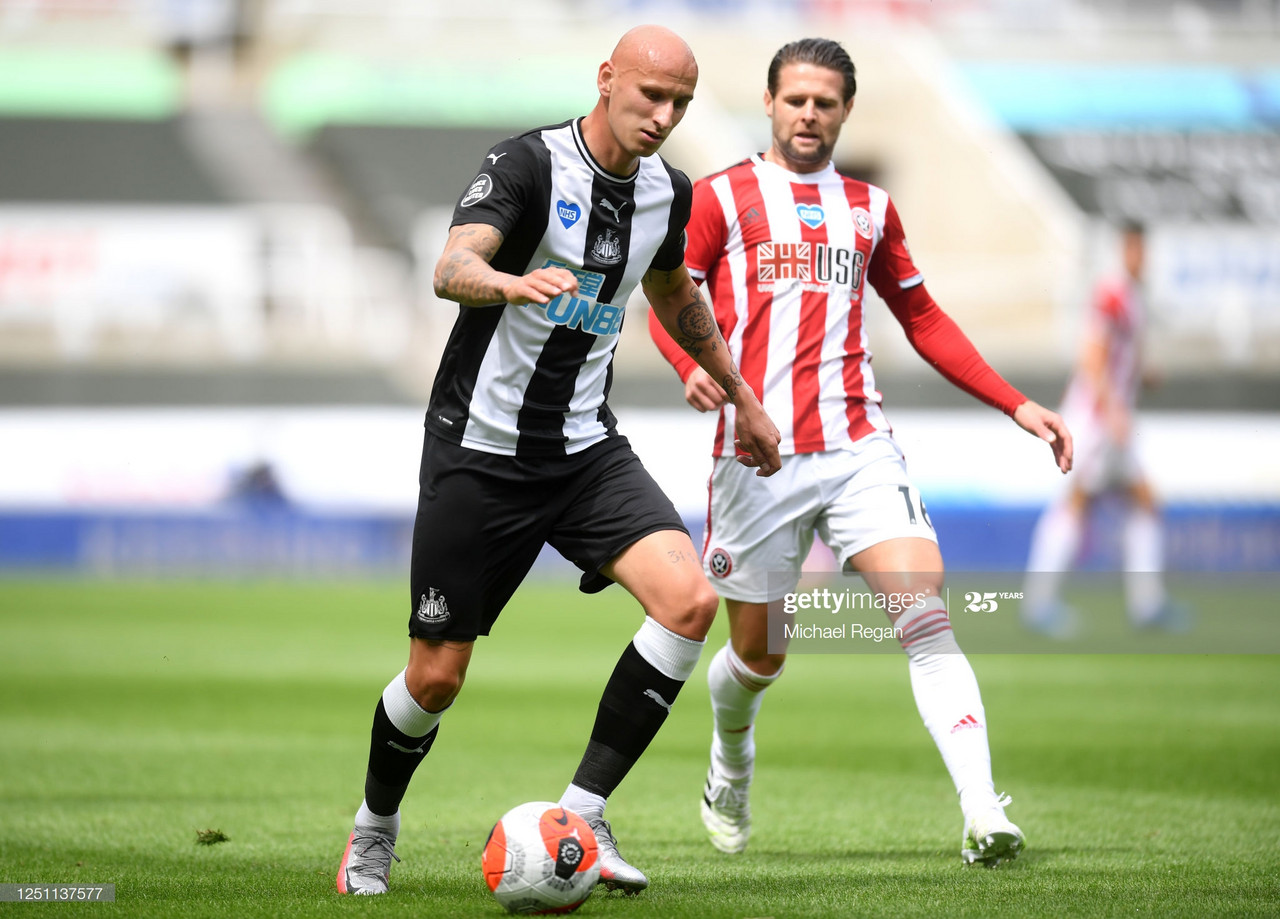 A lot of the plaudits were rightly given to Allan Saint-Maximin yesterday following Newcastle United's 3-0 Premier League win over Sheffield United. However, a less eye-catching but just as pivotal performance came from midfielder Jonjo Shelvey.
Shelvey was the underrated star performer and absolutely vital in helping Newcastle claim all three points. His performance had everything you'd want from a midfielder.
His main job was to shield the back four which he did brilliantly throughout. He broke up the play with important challenges, committed cynical fouls when he needed to, and tidied things up in the box when the defence needed help.
Doing the work behind the scenes
With that though, he was so good at turning defence from attack. A few times he picked up the ball in a centre half's position and then sprayed it a good 30 or 40 yards out to one of the flanks with pinpoint accuracy.
Without wanting to sound hyperbolic, his passing was reminiscent of Paul Scholes at times. As dazzling as his long range passing was, his short passes were also key.
Whenever the pace of play slowed he would be able to speed things up with a first time pass. He was like the conductor of a choir ensuring a harmonious pace that allowed the artistry on display to continue to dazzle rather than fall flat.
Take Newcastle's second goal as an example. It came from Shelvey winning the ball just inside the Sheffield United half and jabbing the ball to Isaac Hayden.
The speed with which he did this, helped Newcastle to catch the Blades short at the back. Hayden then calmly played in Matt Ritchie who rifled the ball beyond Dean Henderson to double Newcastle's lead.
Simple, but effective
Whilst the assist and the shot took centre stage none of it would have been possible if it wasn't for Shelvey winning back possession and launching a swift counter-attack.
There were also many occasions where Newcastle won the ball back in the middle of the pitch and Shelvey made lung busting runs into the attacking third. Twice he would have been put clean through on goal if the quality of the pass to him had been better.
There aren't too many players who can win the ball and make these sort of intelligent attacking runs in the same phase of play. It also shows the trusting relationship he has with Hayden as he knows if he makes an attacking run Hayden will hold position in case Newcastle lose the ball and have to defend.
This is not to say Shelvey doesn't track back but it just ensures that his runs aren't to the detriment of the team.
As already alluded to, Shelvey was defensively excellent in yesterday's game. One key moment that stood out was at 2-0 when a loose ball dropped on the edge of the area to Enda Stevens who lashed at his shot and it flew high and wide of the target.
However, the reason he hit the ball so inaccurately was that Shelvey closed him down incredibly quickly which meant Stevens was forced to rush his shot. It was a clever piece of defending as Shelvey didn't make his body really big or throw himself in the way of the ball so as not to risk giving away a penalty.
He simply just ran at Stevens and obscured his view of the goal. It was effective as Stevens snatched at the chance and ballooned his effort off target.
It is often the 'ugly side of the game' that gets forgotten when it comes to appraising the performance of a team. However, this is quite often where games are won and lost. Shelvey's graft set the tone and allowed players like Saint-Maximin and Ritchie to express themselves and grab the headlines with telling contributions.
However, the truth of the matter is that without Shelvey, Newcastle's performance and result would have been very different.