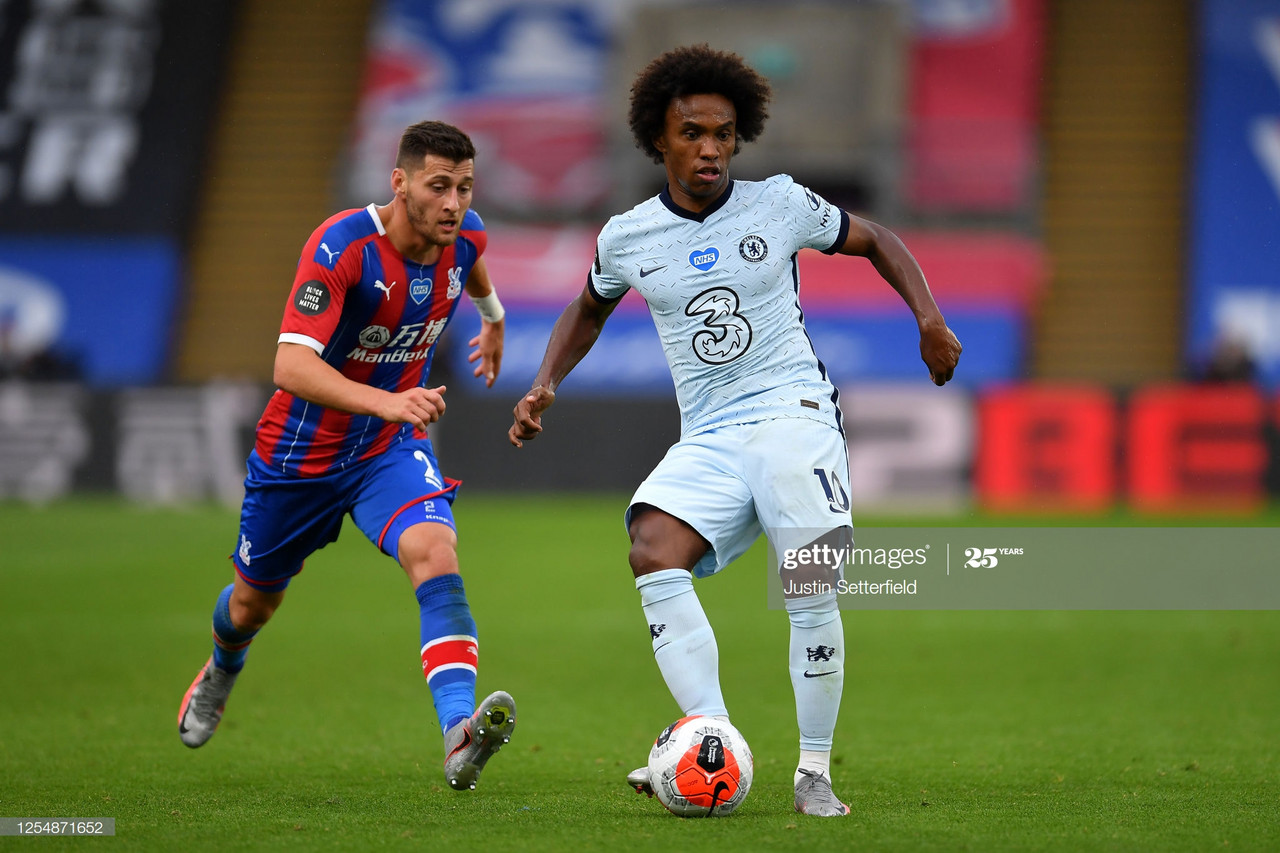 With five minutes gone at Selhurst Park, the ball has found its way out to Willian on Chelsea's right-hand side, who has begun a foot race with his former skipper, Gary Cahill.
Several strides in, Cahill sharply pulls up, having pulled his hamstring in his attempts to stay toe-to-toe with the Brazilian.
Willian went on to square the ball to Olivier Giroud in the box, who swept in the first goal of the contest.
Bittersweet
The Blues boss, Frank Lampard, felt extreme sympathy for his friend Cahill, but also stated that the laws are there for a reason and that it is down to the referee to stop proceedings.
Speaking to Chelsea's press core, he said: "Any team would continue in that situation. Willian is through on goal.
"If that wasn't the situation the game would be stop-start all the time. That is why we give the referee the decision.
"For sure I have sympathy, because I know Gary, we are friends, and you could see straightway that it was a bad injury the way he went down," continued the Blues all-time leading goal scorer.
"But then we had to play on and finish the action, no one is kicking the ball out in that situation.
"It is not one of those (where you kick the ball out), but you obviously feel sorry for Gary on an individual note.
"I know for head injuries the game would always stop but for injuries like that it doesn't stop. That is pretty clear."
End of season nerves
Any match in the English top division brings with it an outpour of emotion for any manager, but for Lampard, this match in particular, was nervier than most.
The Blues had to overcome what at times seemed like military bombardment from Palace in the closing stages, with their boss, whilst praising defensive efforts, stating that the game should have been under control by that point.
He continued: "We should have had the game under much more control at that point.
"At two-nil we should have carried on and controlled the game better, and then at three-two we had a lot of chances in the second half, chances to finish it off – slightly wrong decisions maybe on the final pass or shot and that invites pressure."
Despite the frustration at elements of his side's performance, Lampard did have praise for some of his players that were able to stand with their heads held high.
He began by speaking about Kurt Zouma and Kepa Arrazabalaga, both of whom were essential in making sure the Blues left south London with all three points.
He said: "Kepa made a great save and Kurt Zouma made a great tackle and in those last moments it was nerve-wracking for us.
"The finger-tip save by Kepa was huge and that is what he is there for, so credit to him for that one.
"To be a top team you need keepers making those type of saves for you, to pull you through.
"It was fantastic from Kurt and at Watford he played a really great game as well. Imposing, great defending, good on the ball and that is everything I want.
"Defenders won't always get credit for those moments, the goal scorers get those, but his was a tackle that saved us two points. I am really pleased with him."
A man in rich form
He also reserved praise for goal scorer Christian Pulisic, who put the Blues two-nil up, as well as Brazilian, Willian, who provided two assists for his sides cause.
He continued: "Christian is hugely important. He has great talent, we know that.
"At the start he came here in difficult conditions in terms of him not really having had a break, but he started to play really well and now he has moved his game on another level, not just in how he is going by people but there is real end-product.
"You look at the top attacking players in the world and they score goals and make assists regularly that win games and at the moment he is doing that, so I am delighted with him.
"Willian was extremely influential, and he and Christian are a big threat for us.
"The impact Willian is having in all the games at the moment, with his speed and how he travels with the ball, and his quality, we all see it every game.
"He has been brilliant for us."