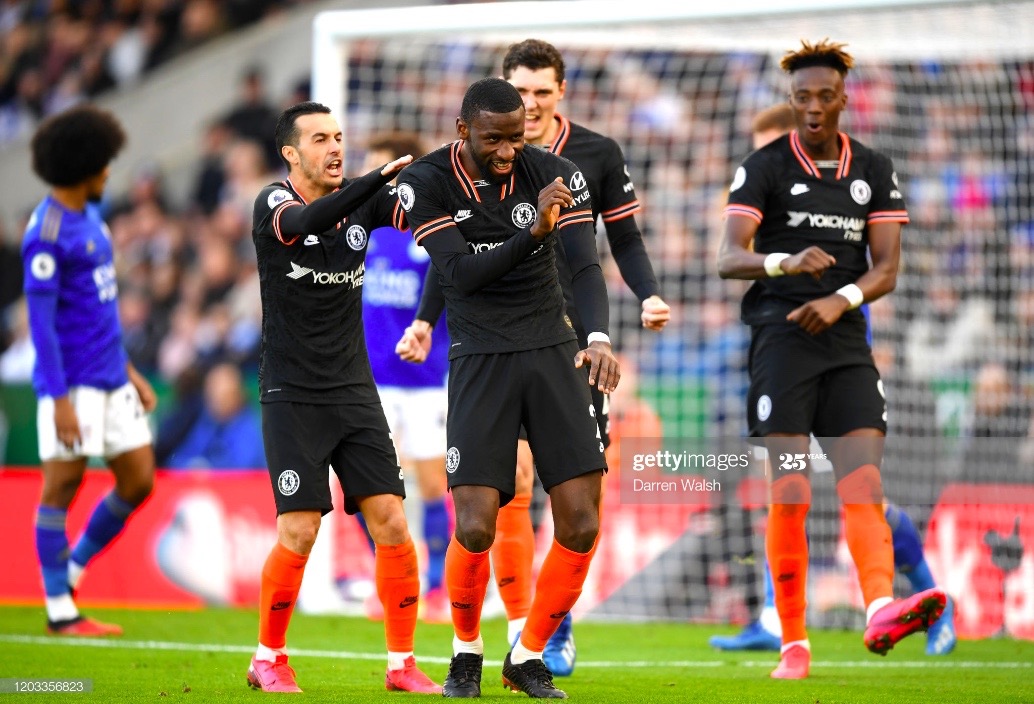 Off the back of a 2-1 win over Manchester City, Frank Lampard and his Chelsea side will be looking to extend their good run of form into Sunday's clash against Leicester.
With Leicester dropping four points in their first two Premier League games against Watford and Brighton respectively, Chelsea are definitely looking to pounce on Brendan Rogers' partly-demoralised side.
That said, here's our predicted starting XI:
I'm expecting Kepa to keep his starting spot in the FA Cup, having played well against Liverpool nearly four months ago. He looked sharp and aware against Man City two nights ago and will look to stop the likes of Jamie Vardy and James Maddison from getting on the scoresheet.
FACT: Kepa has only started twice in the FA Cup for Chelsea, once in a 2-0 loss to Manchester United and against Liverpool in a 2-0 Fifth Round victory.
Reece James - Chelsea's Jack of All Trades.
The man is great going forward and defensively, with stats comparable to Trent Alexander-Arnold and Aaron Wan-Bissaka.
Having played no football since the beginning of the restart, it'd be good to see him get some minutes on the right-hand side and going up against Leicester left-back Ben Chilwell.
FACT: James has a better Cross Accuracy % than any other Chelsea defender this season with 23% (5 or more crosses).
Manchester City front three Raheem Sterling, Riyad Mahrez and Bernardo Silva had an extremely quiet games when facing up against Rudiger alongside his centre-back partner Andreas Christensen.
The German international also had a solid game against Aston Villa, with the 27-year-old looking good on both the defensive and attacking side of the ball.
Having been out with a groin injury for almost half the season, Rudiger has come into the side in recent games and solidified his partnership with Christensen.
It would not surprise me at all to see Lampard keep the same central core in his defence, with this pairing finally coming to fruition.
FACT: Rudiger scored his only two goals this season against Leicester in Chelsea's 2-2 draw at the King Power stadium.
Andreas Christensen has thoroughly impressed both the fans, as well as Lampard, when paired with Rudiger since the return of the Premier League.
The Danish international will be pushed into this starting XI role now by Lampard, allowing for the pair to get stronger together rather than a constant changing core.
Against a fearsome Leicester attack, Chelsea have to have someone to drop back and be a safety net when needed, and Christensen is definitely that player.
FACT: Christensen has the best Pass Success % of any Chelsea player this season in the Premier League with 91%.
The Blues captain is the obvious choice to start against Leicester on Sunday, after he's had a great return post-lockdown.
The Spaniard bagged two of his five assists in the Premier League this season against Aston Villa last week, and held Manchester City's attacks off well.
FACT: In the squad, Azpilicueta has the most FA Cup appearances for Chelsea with 27. Only Olivier Giroud has more total appearances (29).
Playing N'Golo Kanté as the lone defensive midfielder against City was a bold tactical call from Lampard after the average performance against Villa, but it certainly paid off.
I'd expect to see the same played again here against Leicester, but this time it'll be Jorginho. The Italian, coming back from suspension, has definitely been Chelsea's best defensive midfielder this season.
Whilst Kanté has played well in the first two games of the season, I wouldn't blame Lampard to rest him to give Jorginho some much-needed minutes.
I can also see Billy Gilmour here, but I think Gilmour coming off the bench would be more beneficial to the side - starting Gilmour against West Ham and Watford in our two upcoming league games would be better for me.
FACT: Jorginho has the most ball recoveries for Chelsea in the Premier League with 214, 72 more than N'Golo Kanté (142). He also has the best Tackle Success % of all Chelsea midfielders this season with 60%.
Ross Barkley has been Chelsea's magician in the FA Cup so far, so it would be an obvious choice in the midfield for Lampard.
Partnered with Mason Mount on Thursday night's game against Man City, Barkley created chance after chance, almost scoring himself.
Lampard has certainly been impressed with his impact on the game alongside Mount, which means that there won't be any changes in this part of the midfield.
FACT: Barkley has been involved in 50% (3/6) of their FA Cup goals this season (two goals, one assist).
Mason Mount has been a little gem in Chelsea's midfield this season, and will get the nod over Matteo Kovacic again against Leicester tomorrow.
His creativity looked on point against both Villa and Manchester City, and alongside Barkley will prove too good for Leicester.
Mount's creativity is shown in his stats also, with 10 direct goal contributions (6 goals, 4 assists) this season.
FACT: Mount has a goal and two assists against Leicester this season, both assists coming in the away fixture at the King Power Stadium.
Willian scored the winning penalty against Manchester City on Thursday night, and created the chance with a great run down the wing for a cross.
Having signed a contract extension to allow him to play until the end of the season, WIllian has been a long-time servant of Chelsea so it's entirely possible Lampard will use him to his fullest in his last few games for the club.
Having grabbed eight goals and six assists this season so far across all competitions, the Brazilian will look to produce more goal contributions to better his numbers of previous years.
FACT: Willian has never had a direct goal contribution against Leicester in 6 Premier League appearances.
Tammy Abraham will be back in the starting lineup after coming off the bench in both games post-lockdown, both times for Olivier Giroud.
This time, he'll start over the Frenchman after having a decent 28 minutes against Manchester City where he should've converted a chance if not for Fernandinho's purposeful handball to stop the ball from crossing the line.
Tammy had been a goal machine for Chelsea in the early part of the season, but injuries have seen him play limited minutes for a while now.
Hopefully he can keep injury-free, and see Lampard play him a lot more for the remainder of the season.
FACT: Tammy Abraham leads Chelsea in goals this season with 13 in all competitions.
Christian Pulisic, when fit, has arguably been POTY material for the Blues, bagging a perfect hattrick earlier in the season, as well as scoring the equaliser against Villa in our first game post-lockdown.
He also pocketed a goal against Manchester City, springing to a mistake by Benjamin Mendy and Ikey Gundogan to slot home the opener.
The US international has missed all 3 FA Cup games so far this season with injury, and will be looking to further impress Lampard with his first FA Cup goal for the club.
FACT: Christian Pulisic has now scored seven Premier League goals this season, the most of any player in the competition aged 21 or under.